Luxury Gift Collection
Our Luxe collection is a curation of the finest and most unique gifts for those exceptional occasions. From the best in gourmet gift baskets to designer gifts for her the Luxe collection delivers the pinnacle of what Olive & Cocoa stands for... simply unique gifting!
You'll find luxury handbags in Italian leather and hide and high-fashion pieces made from fine silk, cashmere and rare wool. Browse our collection of unique and splendid decor for the home, premium floral arrangements, and fine jewelry for the most discerning woman of taste. For him, a designer throw made from alpaca, or exclusive desktop timmings for the office add luxury to his daily routine.
Each luxury gift has been hand selected by tastemakers and aficionados, connoisseurs and fashionistas and is 100% guaranteed to delight. You may even find an irresistible gift for yourself while you're at it. But don't worry, we won't tell! All of the Luxe collection are assembled and packaged with care, ready to be delivered to that special recipient.
Featured Luxe
Silk Lotus Robe
Captivating lotuses bloom gracefully on a royal purple background for a wearable luxury fit for a queen. Woven from supremely soft 100% silk, our unlined Silk Lotus Robe is completed with a matching silk belt to finish the look. Women's one size fits most robe arrives gift wrapped...
View Details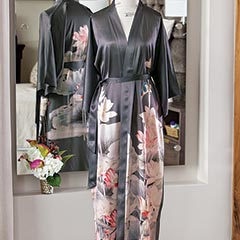 Concorde Jet
An adjustable, faithful recreation of the legendary supersonic Concorde Jet. Impressively sized and admirable from all angles, our replica is perfect for those who are passionate about aviation and engineering. Jet measures approximately 34" long and arrives adorned with a fluffy...
View Details