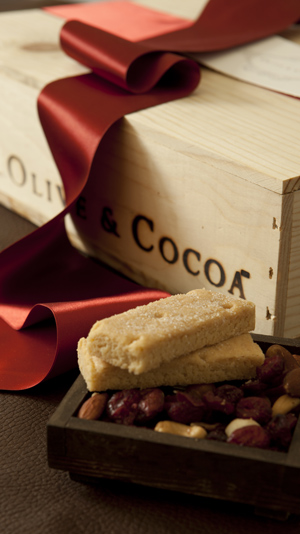 BUSINESS GIFTING
Bring an artful touch to business gifting with a uniquely inspired gift from Olive & Cocoa®. A gift from our specially curated collection provides you with the perfect tool for growing and developing strong business relationships.
Given with thoughtfulness and sincerity, business gifts help you establish a personal connection with the recipient and gain recognition and exposure for your company. Whether expressing gratitude for a client's business, a warm welcome for a new employee's arrival or a pat on the back for a job well done, a corporate gift from the Olive & Cocoa® collection is sure to leave a lasting impression.
An important implementation for your business, we believe a corporate gifting program should be personal, easy and meaningful. Let us be your strategic partner in maintaining strong client relationships through our expertise in artful giving. After all, we build the gifts that build powerful relationships.
OUR BUSINESS GIFTING SERVICES
100% Satisfaction Guarantee
No minimum order
Free gift wrap and elegant cards
Easy recipient list transfer
Dedicated Gift Specialists
Account management services
Personalization options
REASONS TO GIVE
Welcome to the Team
Administrative Professionals' Day
Recognition and Rewards
Career Achievements
Milestone Anniversaries
Company Summits or Conferences
Holiday Company Parties
Client or Vendor Gifts
Employee Retreats
Incentive Programs
Exceeding Sales Goals
Recommendations or Referrals
Call or Email today and let us help you create the perfect business gifting program!
800.538.5404 | Sales@oliveandcocoa.com