Wedding bells are ringing! Whether you're celebrating the union of close friends, being there for the marriage of a family member, or congratulating a business associate on their nuptials, you should aim to always give the best wedding gifts ever. The key to tasteful wedding gifting is choosing the right gift to reflect your unique relationship with the couple. From functional gifts to be used around the home, to meaningful keepsakes, our gifting experts break down the basics of memorable gift shopping with the 10 best wedding gift ideas for a newly married couple.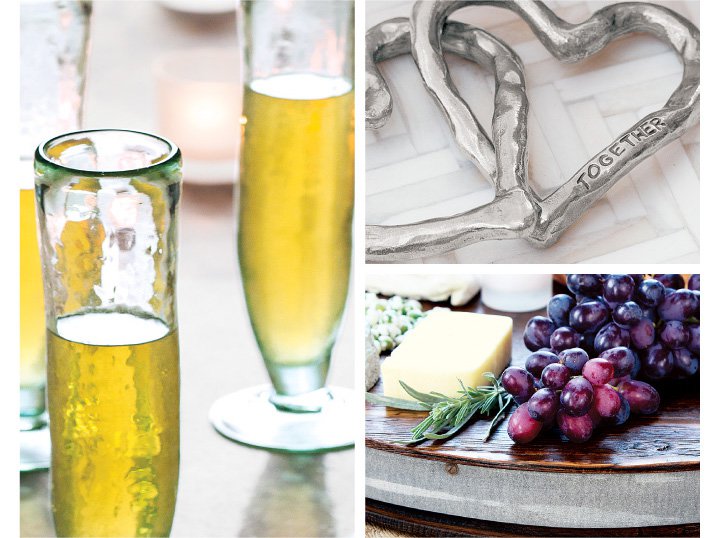 GET THEM SOMETHING PERSONAL
Personalized wedding gifts are the perfect choice for casual friends, extended family members, and even those you're close to. These gifts recognize the uniqueness of any couple-- often displaying a customized message for the lovebirds. Personalized wedding gifts are timeless, helping to reflect the familiarity of your relationship with the couple. In addition, these wedding gift ideas are easy to appreciate and are applicable to any pair of newlyweds!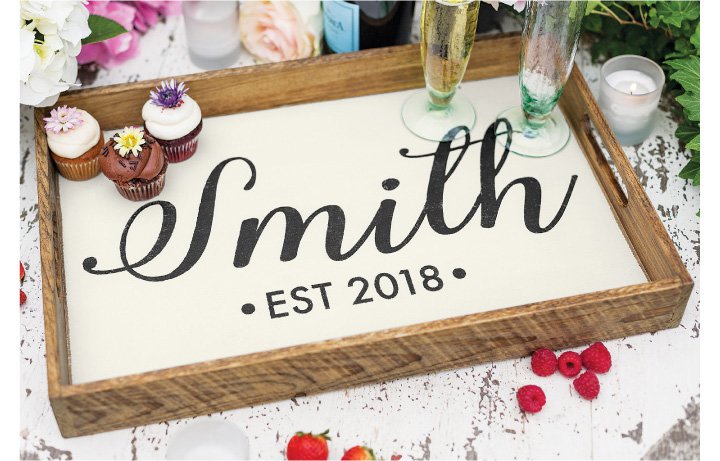 Personalized Serving Tray
Breakfast in bed with a personal touch! This customized tray artfully displays the last name of the newly married couple as well as the year of their big day. Not only can this tray be good for making eachother breakfast in the mornings (a critical part of any relationship), it also acts as a great serving tray for get-togethers with family and friends.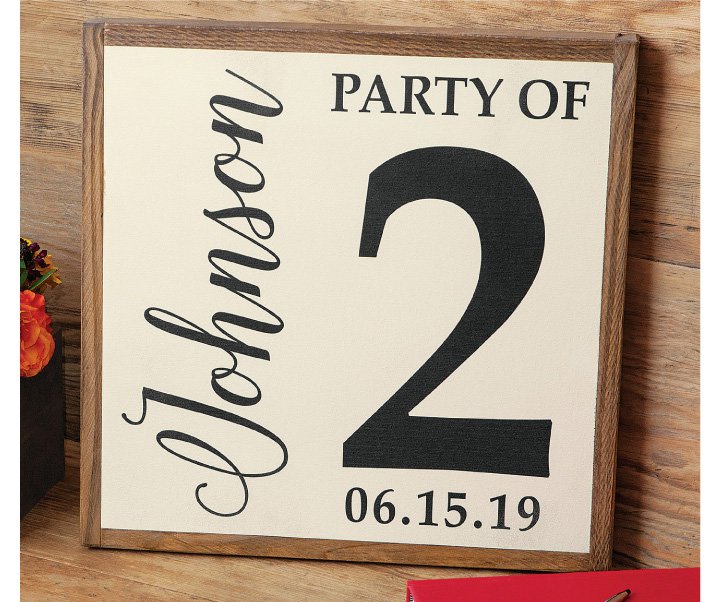 Personalized 'Party of 2' Sign
Mark the moment the couple's two lives merged. This stylish hand-painted wall display matches perfectly with a variety of home decors. It is customized with the last name of the newlyweds and the date of their wedding, and will certainly leave a lasting impression on the couple.

GET THEM SOMETHING SENTIMENTAL
Sentimental wedding gifts are perfect for those couples who save ticket stubs from the concerts they've shared together, and seashells from their carribean vacation. If you're a close friend or immediate family member, sending a charming token of the couple's love for eachother is a sweet gesture.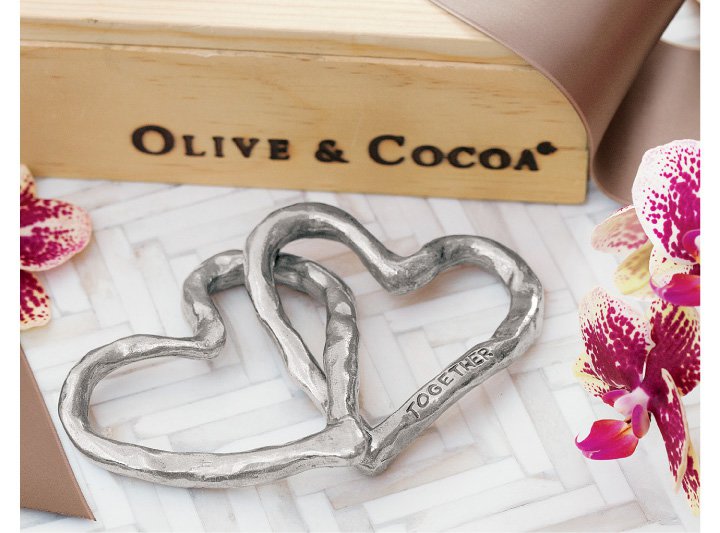 Eternally Linked Hearts Sculpture
This beautiful Eternally Linked Hearts Sculpture is cast from pewter and stamped with a meaningful "together". Make a statement with this simple, yet powerful statement of the couple's devotion to each other.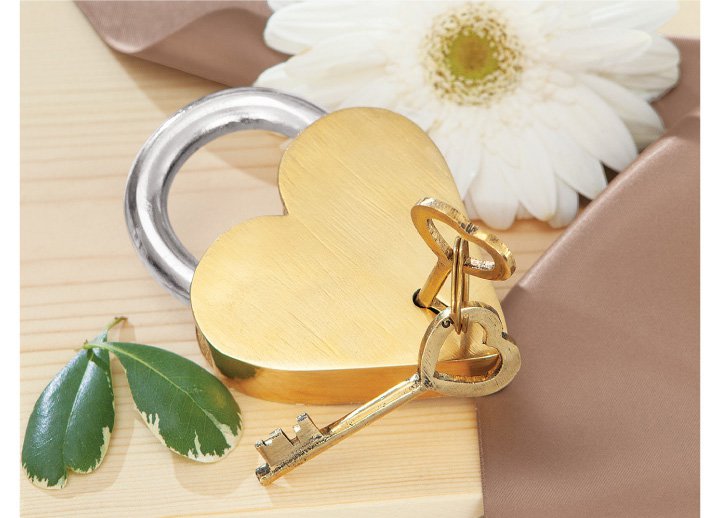 Gilded Parisian Love Lock and Keys
In European culture, placing a love lock on a bridge symbolizes endless love between two people. This functional lock and key combination is just as unique as the love that the couple shares. It is gilded for a stunning presentation and crafted from a sturdy metal. A thoughtful gift for any newlywed couple.

GET THEM SOMETHING ROMANTIC
We all know a couple that lives for romance! Sipping wine on the beach and slow dancing in the living room is routine for couples of this nature! If your relationship with the newly-weds is close and comfortable, wish them many romantic times ahead with a gift that celebrates their dreamy love affair.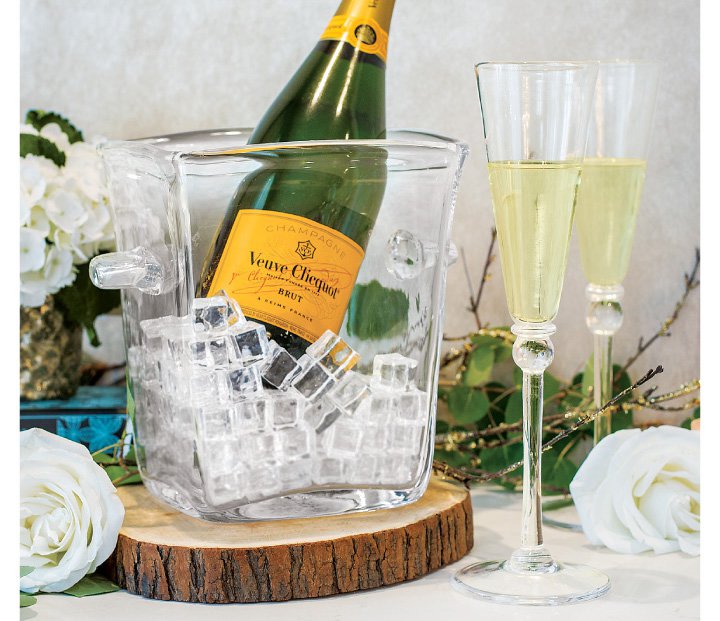 Simon Pearce Woodbury Chiller
& Heartland Flutes
Hand crafted by Simon Pearce artisans, this brilliantly designed chiller is accompanied by a duet of elegant champagne flutes, making it the ideal compliment to a romantic dinner for two. When the romance has concluded, this chiller can also double as a flower vase for their regular day-to-day moments in life.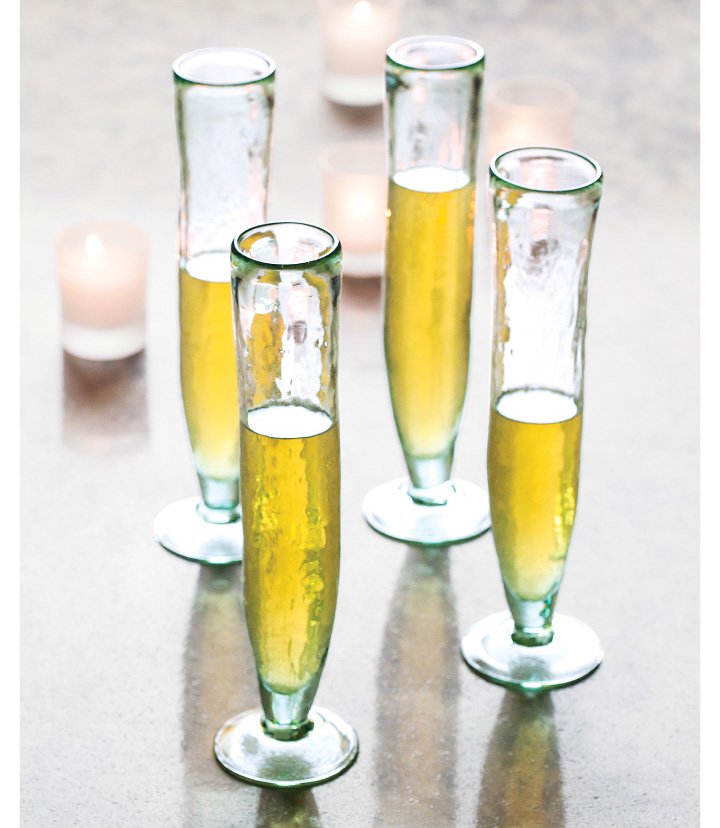 Delancy Champagne Flutes
Make a toast to the happy couple with these artful champagne flutes! Every sleek, yet sturdy, 8-ounce flute is carefully crafted from recycled glass-- giving them each their own unique appearance. Any couple is sure to use these trendy champagne flutes, making it a safe bet for a variety of lovers.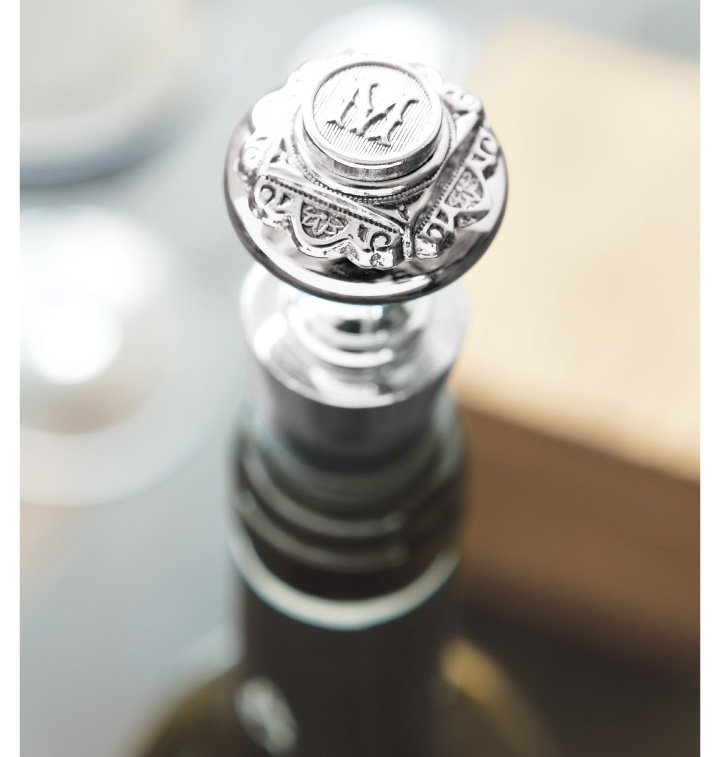 Monogrammed Wine Stopper
Be the reason the newly married couple turns one romantic night into two, without having to pop another bottle. Custom-made with the letter of your choice, this dazzling stopper keeps an open bottle of wine, fresh. Personalized, romantic, and sure to leave a lasting impression on any couple with a romantic side.

GET THEM SOMETHING FOR THE HOME
To congratulate a casual acquaintance, client, or friend-of-a-friend on their marriage, gifts for the home are customary. But before running out the door to buy a toaster, take a peek at these options for practical, yet elegant, gifts couples can use to entertain houseguests.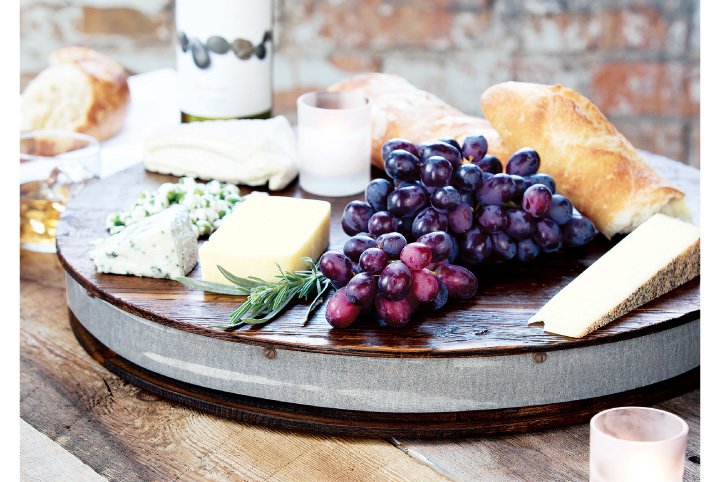 Reclaimed Wine Barrel Lazy Susan
This 20" wide lazy susan is hand crafted from authentic European wine barrels from the 19th century. It is a useful tabletop accessory for many households, making it easy to access any food that is placed on top. Wrapped in with a beautifully embellished band edge made of galvanized steel, this wedding gift will stand out amongst many and be something the happy couple cherishes for years to come.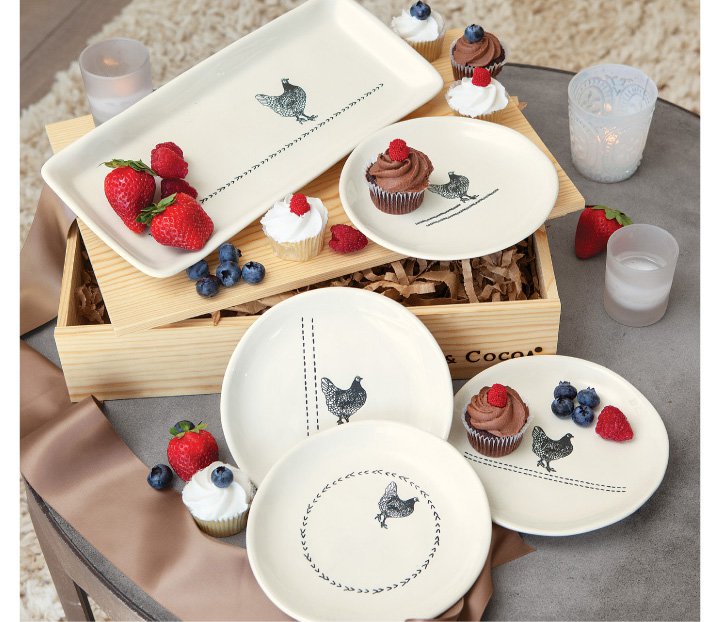 Farmhouse Tray and Plates Set
If you truly know a couple's style, try leaving a lasting imprint on their home with this charming farmhouse tray and plates set. Stamped with various patterns of chickens and stitching, this set includes 4 ceramic round plates and 1 ceramic platter-- a welcome addition for any couples who appreciate the wide open air.

Whether your relationship with the newly married couple goes back years, or is nothing more than a casual or business acquaintance, choosing the best wedding gifts comes down to finding something that echoes the cherished relationship you have with the couple. By selecting a personalized, sentimental, romantic, or household wedding gift, you can ensure that your gift will be seen as thoughtful and meaningful, helping to create happy memories for years to come.
Every Olive & Cocoa gift arrives with a personalized message on a gorgeous velvety card. Wedding gifts are wrapped by our gifting experts and placed in beautiful hand crafted wooden crates, accompanied by satin ribbon, creating an unboxing experience unlike any other.
Choose one of these elegant wedding gift ideas or explore our expertly-curated collection for many more gifts that the special couple will never forget. Everything else will be taken care of by our team!