Meaningful Thank You Gift Baskets, Flowers, & More
Remember to thank those who touch your life in ways big and small. There is no better way to show your appreciation than to give a unique thank you gift from the heart. Our collection of food gift baskets, spa sets, florals, home decor, and customized gifts are carefully curated as the perfect gifts to say thank you.
Whether you're looking for an elegant floral arrangement, an original piece of decor to beautify their space, or a thank you gift basket full of delectable snacks and treats to satisfy their cravings, the gift ideas you'll find at Olive & Cocoa are sure to be the best thank you gifts that can be delivered.
Our thank you gift box crates include collections of savory goodness with gourmet meats and cheeses, nut medleys and dried fruits. Or maybe you want to deliver something a little more sweet? We also offer thank you gift baskets with decadent chocolates, designer cookies, or sweet confectioneries. Hand-picked, the gourmet food items that go into each collection provide a variety of tastes and preferences to eliminate the guesswork of gift giving. Our thank you gift baskets are always received with gratitude and will be the best thank you food gifts you can find.
If a nice floral arrangement seems right for the occasion, you'll love our selection of fresh florals. Each thank you floral gift comes expertly arranged in eco-friendly stained wood boxes and ready for display upon delivery. Our floral arrangements come in a variety of hues and unique combinations that complement the season and occasion. We also offer a wide selection of lush succulent gardens in one-of-a-kind potagers that are perfect for sprucing up a desktop or living space. Olive & Cocoa has the thank you flowers you've been looking for.
For a thank you gift with a personal touch, we offer fun and charming pieces for their home decor, scented candles that are exclusive to us, at-home spa crates for a self-care night, or elegant personalized wood serving trays you can have monogrammed with their name on it.
Whether you're sending business thank you gifts to clients or partners or looking for the best thank you gifts for friends and family members, you'll find the gift with the perfect sentiment in our thank you gift collection.
As a reputable company, we put customer service as top priority. All thank you gifts and gift baskets are guaranteed with 100% satisfaction upon delivery.
Featured Thank You Gifts
Flavorful Favorites
Send warmest wishes with a gathering of delectable favorites. Medium includes tomato basil cheese, two-tone pretzels, everything flatbread crackers, toffee dusted almonds, spicy mixed nuts, pastel jelly beans, dill mustard, and seasoned pretzels. Large adds almond biscotti, sundried...
View Details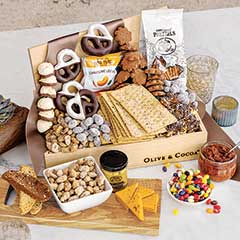 Thank You Book & Chocolates
Send sincere thanks with wise words and a bit of chocolate covered bliss. Filled with sentiments of gratitude and inspirational quotes, our "Thank You" book comes paired with milk and white chocolate dunked cookies, malt balls, graham crackers, raisins and toffee almonds. Large...
View Details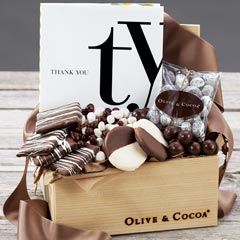 World Of Thanks Cookies
Thank you. Merci. Gracias. Thanks. Bright and grand, these deliciously thick sugar cookies express your appreciation. Eight oversized cookies arrive gift wrapped together in a hand crafted wood crate with ribbon.
View Details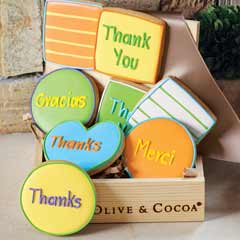 From the Blog
A small gesture of thanks can go a long way in showing a client that you truly appreciate their business. Below are a few ways to let them know how much it means to you, from the classic handwritten note to an indulgent array of treats for the whole office to share.
Write a Note
Take the old school route and send a personalized handwritten thank you note with your thank you gift. The break from email will make your client's day--who doesn't love receiving snail mail?
Send Flowers
Brighten your client's mood by sending a colorful bouquet of fresh flowers to their office. The Farmhouse Fleur arrangement comes in a hand crafted wood box, which can be reused as a planter or storage container once the flowers are no longer in bloom.
Give the Gift of Green
Grow your client's garden by sending a small succulent arrangement. Succulents are resilient plants that require little maintenance, making them ideal for office environments. Our Giselle Succulent Trough makes a chic and elegant option.
Make it Personal
Go the extra mile and have an item created especially for your client. Our Personalized Luggage Tag is ideal for jetsetters, and the Monogrammed Wine Stopper will surely come in handy during office happy hour.
Indulge Their Sweet Tooth
Send something the whole office can share and savor--a box of beautiful gourmet chocolate. Our Thank You Book & Chocolates is sweet and sentimental at once, and the Chocolate Bliss will delight even the most discerning chocolate connoisseur.