Free Elegant Gift Wrap
Every gift from Olive & Cocoa is hand wrapped and presented with care, whether in a hand crafted wood crate, signature market wrap, or our reusable canvas totes. Our white glove service includes thick satin ribbon and a beautiful Olive & Cocoa folding card personalized with the message of your choice in beautiful script—never an extra charge.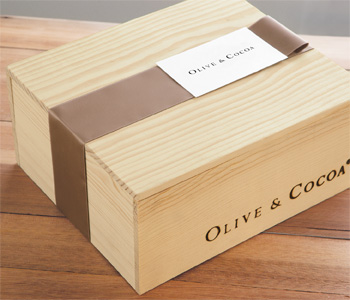 Hand Crafted Wood Crates
Each individually made by hand, our
signature wood crates bring a stylishly
modern take to gift giving. Dressed
with thick satin ribbon and an elegant
gift card, our crates are rustically
refined and can be re-used as a unique
desktop inbox or storage caddy
after the gift has been enjoyed.
Market Wrap
With a simplistic yet chic look,
our signature market style gift wrap
makes an elegant impression. In rustic
brown paper adorned with a thick
satin ribbon bow and elegant gift card,
market wrap elevates gift packaging
to a beautiful new level.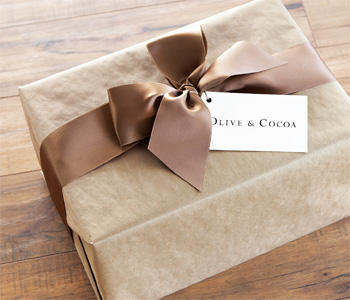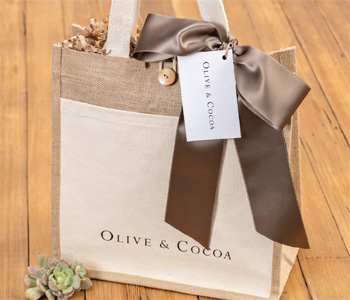 Canvas Tote
Our signature Olive & Cocoa
canvas totes bring rustic appeal and
modern practicality to gifting.
Adorned with a thick satin ribbon bow
and elegant gift card, our canvas totes
are a chic little extra that will be enjoyed
by your recipient again and again.
Elegant Gift Card
Personalized with your custom message,
every gift arrives topped with a beautiful
Olive & Cocoa folding card.
From one simple message for all to a
personalized sentiment for each
individual recipient, we'll make sure
your thoughts are expressed with each
gift just the way you'd like.