Sweet and Savory Snack Gift Baskets & Crates
Whether you're looking for a gift basket with a hint of sweet or salty, our sweet and savory gift baskets are sure to satisfy everyone's cravings. Each food gift basket and crate is curated with flavor and quality in mind, hand-picked by the taste experts here at Olive & Cocoa. From decadent chocolate baskets to savory snacks, our snack gift baskets are designed to satisfy all of your gourmet snacking needs. Our mouth-watering gift baskets and crates range in selection and size, so you're sure to find the perfect tasty treat.
These snack gift baskets also make perfect gifts for snack lovers or anyone who enjoys a gourmet snack. Treat someone special to a delicious and healthy surprise, it just might make their day! Our sweet and savory collection of gift baskets is a wonderful way to send thanks, love, appreciation, admiration, or even to just say "hello." Olive & Cocoa makes sending your gift a breeze, all you have to do is choose the perfect gift basket, and we will ship it to any home, office, or apartment.
So sit back, relax, and allow us to send a delicious savory treat to your friends and loved ones from the comfort of your own home. Our snack gift baskets are exquisite, but they are delivered with ease. And, as always, our gift crates are backed by our 100% Satisfaction Guarantee. So, if you aren't completely satisfied with one, feel free to try another!
Featured Food Gift Baskets
Tastes for Everyone
From cheeses and crackers to nuts, spicy salsa, and a bit of chocolate, everyone is sure to find a favorite treat to devour. Petite includes tortilla chips, roasted salsa, white chocolate pretzels, mixed nuts, and chocolate almond bark. Medium also includes salami, farmhouse cheese,...
View Details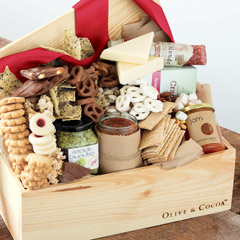 Lots of Little Holiday Goodies
A collection of all-time favorites gift wrapped in a hand crafted wood crate with ribbon. Petite includes rocky road popcorn, white chocolate peppermint bark, milk chocolate pretzels, mixed nuts, and red Aussie licorice. Medium adds white chocolate peppermint popcorn, chocolate covered...
View Details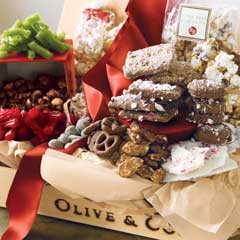 Let It Snow Sweets
Sweet wintertide wishes make the holidays most delightful! Medium includes 3 white chocolate sandwich cookies, a snowman truffle, cotton candy "snowballs," white chocolate candy cane hearts, marshmallow snowflakes, chocolate caramel squares, and rocky road popcorn. Large also includes...
View Details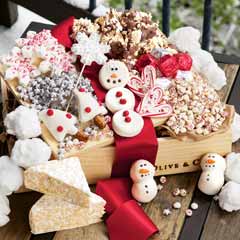 From the Blog
Never underestimate the power of food when it comes to gifting. Whether you want to send a care package to a family member in another town, congratulate a colleague, or comfort a friend after a loss, a food gift basket is always a tasteful choice. Before you shop for another gift, read our five reasons why food may be your best gift-giving choice.
Everyone Loves Food
Food is a necessity, but it is also a comfort and a luxury, so food gift baskets make a great gift not only for your foodie friends, but for anyone. Many people find savory foods comforting, so savory gift baskets make a great choice when sending a care package or condolence gift, while candy gift baskets make for a light-hearted gift that's perfect for birthdays and holidays. When it comes to romance and the chilly winter months, rich, decadent chocolate gift baskets are perfect for the occasions. Food crates and gift baskets can be just as personal and thoughtful as any gift, especially when you choose a gift basket filled with foods you know the person loves, finds comforting, or might not splurge on for themselves.
Food Gift Baskets are Versatile
Whether you're congratulating an employee on their promotion, thanking a helpful friend, or sending your sympathies, food is the perfect gift. We often make gifting too hard on ourselves, trying to think of a gift that complements a particular theme, holiday, or the personality of the recipient when all we really need to think about is how to make the person feel special. Here's an expert tip: People feel pretty special when they receive a delicious food gift basket they didn't have to buy for themselves. And with so many options, themes and combinations of food gifts available, it's easy to find one that fits the occasion.
Food Gift Baskets are Fun to Share
Food brings people together, and a large snack basket is a gift people love to share with friends and family. While we all enjoy indulging in delicious foods, we also enjoy sharing them with loved ones. Gift baskets often become party snacks or something to share with family or close friends who come to visit. Food has the power to bring people together, so it feels like a gift that comes from the heart.
Sending a Food Gift Basket is Convenient
Everyone appreciates having a savory snack or sweet treat waiting in the pantry for when their between-the-meals cravings set in. Food gifts provide the convenience of a quick snack that people can keep on hand, saving them a trip to the store. Additionally, food is a convenient gift choice when you are looking for something nice to send to a group, a family, or to a person you may not know that well. It's more personal than a gift card but appeals to practically everyone.
Food Gift Baskets are Thoughtful
Checking off a chore from someone's to-do list is a pretty thoughtful way to show them how much you care. Sending a thoughtful food gift basket is like taking a trip to the grocery store for someone else, and who wouldn't appreciate one less trip to the grocery store? Food is nourishing as well, so sending someone a crate of healthful snacks shows them that you're thoughtful and that you care about their wellbeing.
Food has the power to bring people together, to comfort and delight those who receive it. Whatever special occasion is coming up for you in the future, a food gift basket may be just the right gift to send. With so many options available, you're sure to find a gift that perfectly complements the occasion you are honoring, and sends a tasteful message to the recipient.