Home Décor Gifts
A home is a place to express yourself and be creative--a gallery filled with all the things that tell the story of your life. It is a personal retreat filled with objects that reflect your personality, beliefs, and wishes. Whether you want to find unique elements that add character to your home or you're looking for the perfect home décor gifts for your friends and family, you'll find it here.
At Olive & Cocoa, you'll find unique tabletop items, enchanting candles, elegant wine accessories and barware, cozy pillows and throws, welcoming doormats, stylish outdoor décor, fun toys for little ones, and more.
Featured Home Décor & Gifts for the Home
Personalized North Pole Pillow
Customized with the names or words of your choice on the corner postmark, this letter is sure to arrive safely at Santa's workshop. Hand made in the USA, personalized pillow measures approximately 14" x 19" and arrives adorned with a fluffy signature Olive & Cocoa® satin...
View Details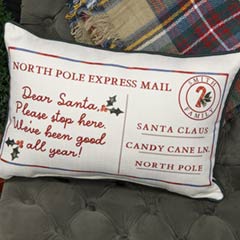 Holly Berry Lit Trees
A quintet of trees is adorned with holly berries and dainty lights to illuminate holiday soirées. Atop a mantle or used to display a collection of favorite ornaments, five spindly flexible wire trees on a rectangular base feature an abundance of tiny white LED lights that...
View Details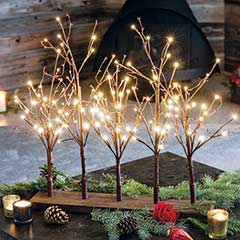 From the Blog
Moving to a new house is an exciting but stressful milestone, so show your support and take some stress off loved ones on their big day with a housewarming gift that is truly thoughtful. At Olive & Cocoa, we think beyond the traditional housewarming gifts to pieces that are useful, meaningful, and that add personal value to any living space. Collecting gifts that meet a high level of sophistication and sentimentality is our specialty, so we put together a few tips and ideas to help you choose the best housewarming gift that will go the distance.
Unique Home Décor
Surprise them with a unique piece of home décor that makes their new space more comfortable and inviting. Looking for décor that fits your loved one's personal style can be a challenge, but there are plenty of decorative home pieces that are greatly appreciated for their universal appeal. A comfy yet stylish throw or pillow, or door wreath are gifts that most everyone will enjoy. Better yet, a personalized housewarming gift can really make their new house a home.
Freshen up Their Space
If you just don't feel confident about buying home décor as a housewarming gift, get them a scented candle to freshen up their new home. Most people enjoy the soft glow and pleasant aroma of a high-quality scented candle, so it is a winning gift choice. From the fresh and light scent of peony to the rich and decadent aroma of French bourbon vanilla, Olive & Cocoa has many luxurious scented candles to choose from.
Living Housewarming Gifts
House plants are a charming housewarming gift idea and perfect for housewarming parties because they appeal to our natural tendency to enliven our indoor spaces with bits of nature. One of the most attractive and low-maintenance house plant varieties is the succulent, which makes these desert darlings our top choice for living gifts. See our variety of beautifully designed succulent gardens in unique potagers.
Something for the Home Bar
When you want to get them a gift that's a little more spirited, a fun new item for their home bar is a great choice! From elegant champagne glasses for their most special celebrations, to monogrammed decanters to bring style and sophistication to their bar décor, you'll find a perfectly elegant and thoughtful housewarming gift for their home bar in our Wine Gifts and Barware collection.
Take it Outdoors
The yard and entrance of a home is a fantastic place to start dressing up the new house and making it personal. Adding something to the outdoor décor is also a friendly way to announce the new homeowners or tenants to the neighborhood. Consider gifting your loved ones with a beautiful piece of outdoor art, or a whimsical door mat to welcome guests to their home with charm and style.
Practical and Thoughtful
Practical housewarming gifts can be thoughtful too, especially for those moving to a new home for their first time! And when you find useful items that have a unique or personalized quality to them, it elevates the gift from practical to thoughtful. Dinner plates are useful, while dinner plates with beautiful dogs and flowers painted on them are a delightful and useful gift. A uniquely crafted lazy Susan or personalized serving tray also make wonderfully practical housewarming gifts anyone is sure to enjoy. Visit our Tabletop Gifts shop for more beautifully practical gift ideas.
Whether it's their first time, or their fifth time, moving is one of life's biggest milestones, so show your support to loved ones on their new venture with a thoughtful housewarming gift from Olive & Cocoa.