Unique Gifts for her
Every woman deserves something unique just for her. Show her you care with the finest goods like a women's care package or unique accessories that are sure to please the most discerning of ladies. Olive & Cocoa's gifts provide a truly indulgent experience that speaks to her feminine sensibility and personal style.
From specially crafted jewelry to hand-picked spa assortments, each thoughtful item is sure to delight her. We carry beautiful gifts for every season and every unique woman, from spring gifts for her too girly birthday gifts. As a trusted brand, Olive & Cocoa only sources the highest quality products including fine textiles and artisan made accessories.
Whether you're looking for a gift with formal elegance or a treasure with a touch of whimsy, you will find something for women of every age and taste in this finely curated collection. Click here to find a gift that fits your taste!
Featured Gifts for Her
Bouclé Slippers & Lotion
Make every day a spa day with our luxurious bouclé slippers and refreshing mint moisturizing foot lotion. Non-skid crisscross strap slippers are available in women's sizes small/medium and medium/large. All arrive gift wrapped together in a hand crafted wood crate with ribbon.
View Details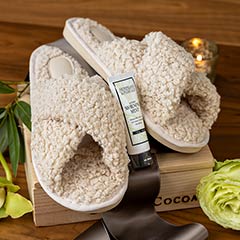 Winter Cheer Pajamas
Lovely ice skates, hats, and snowflakes on a pretty pink background keep her warm through the winter. Exclusive to us, cotton pajamas have a long sleeve button front shirt and elastic drawstring waistband pants with pockets. Available in women's sizes small, medium, large, and...
View Details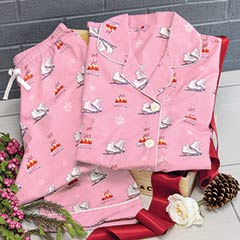 Obsidian Leather Tote
A flawless design in sleek black leather is the definition of timeless fashion. With a snap closure, an outer pocket, and an interior drop pocket, unlined Obsidian Leather Tote measures 17" x 5" x 14" with a 10" drop and arrives packaged in Olive & Cocoa® gift wrap with ribbon.
View Details