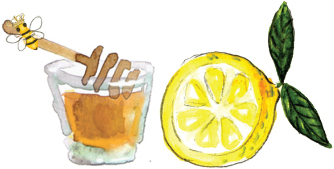 Special Mother's Day Drink Recipe:
Queen Bee Punch-
A Sip Fit for Royalty
MAY 2018
This punch recipe is rich with complex flavors that celebrate the first fruits of Spring. All of the sweet and tart tastes of berry, honey, and spices will delight your guest of honor along with anyone who appreciates a well-layered cocktail. Best of all, it's easily served, giving a host the time to savor and mingle.
Ingredients:
8 oz Unfiltered vodka of choice (palate of salted
caramel and honey recommended)
4 oz Crème de pèche
8 oz Lemon juice
4 oz Honey
16 oz Rosé of choice (sparkling with a slightly
dry, fruit-forward palate recommended)
- Mint leaves and edible flowers (for bowl garnish)
- Berries, mint, and fresh candied ginger
(for drink garnish)
Preparation:
Stir vodka, crème de pèche, lemon juice, and honey in a separate container until incorporated. Pour over 6 tall ice cubes in a punch bowl, we recommend copper. Pour in rosé, then place edible flowers and mint leaves on top.
To Serve:
Ladle into glasses and allow guests to garnish as desired, with blackberries, blueberries, raspberries, mint, fresh candied ginger, and copper picks. Serves up to 8.
Cheers!