Customer Reviews
"I had a special gift to send to a special person. Wanted it to be perfect for her and I think it was. So happy! Thank you!"


-Deanna C.


"Purchased this gift online and sent to my Mother as one of her gifts. She called me as soon as she received it to say how lovely the products looked and couldn't wait to enjoy them. Commented on how beautiful the packaging was and would repurpose the crate!"


-Suz C.


"Bought this crossbody bag for my mother, as she now uses a walker and cannot balance with a heavy purse on her shoulder. This bag is very stylish with pockets for many small items. My mom adores this bag!"


-Kathy D.


"I purchased this for my cousin. The gift did not disappoint. She was impressed with the packaging and the generous content. It was perfect!"


-Greg W.


"This has room for basic essentials. It's beautifully made, quality leather & gorgeous color!"


-Margaret. M


"When I bought this I had never smelled the fragrance so I didn't know what I was in for. This is incredible! What I love is its subtle infusion of a wonderful smell into anything near where it rests. The color is lovely & the presentation is a delight, something most unusual. It's a must have forever!"


-Chris F.


"This was part of a larger gift but my mom was raving about everything and she is a picky eater. I know Olive and Cocoa has only the best and this did not disappoint!"


-Gia Y.


"Both my Mother and my Mother 'n' law just loved this arrangement and the longevity of the arrangement was about a week. Thank you!"


-Janet D.


"Purchased as a gift. They arrived on time, were as beautiful as the photo and smelled lovely to boot!"


-Terri K.


"I purchased this gift box to send to my daughter in law for Mother's Day. She loves elephants and is the mother of 2 precious little girls, ages 1 and 3. She also loves candles. So I'm thrilled to send this to her, surely to be appreciated."


-Dawn K.


"I bought this for my mother in-law who is a plant lover and happens to have quite the green thumb. She loved it. Absolutely beautiful and arrived right on time."


-Lorena V.


"Everyone needs a treat and this bracelet was mine. A simple thank you to yourself for being a special wife, mother and grandmother."


-Sharon H.


"We got this for my husband's mother during Covid as a reminder that she was loved. It was unique and fit her taste perfectly. Olive and Cocoa send their products in such beautiful packaging. First class all the way."


-Hank Z.


"This was our Mother's Day gift for our daughter in law. She was delighted with it and is now on her entrance door. Greeting all with it's beauty"


-Anne C.


"I just received this as a Mother's Day gift from my daughter. The picture doesn't do it justice. The colors & design of the scarf are phenomenal & the feel of the material is flawless. The gift presentation would get high marks from even the fussiest recipient. Kudos!"


-Sharman E.


"I got this for my Mom for Mothers day. She absolutely loves it. The succulents will live on for a long time. She loves living things. Flowers are nice too but for her this was perfect."


-Denise D.


"Bought this for my Mom for Mother's Day and she was blown away by how gorgeous the planter is. She loves succulents too!"


-Christine M.


"My daughters and I bought these PJs for my wife for Mother's Day. The packaging was incredible. The wood box that the PJs came in was first class. Of course my wife loves the PJs.I would highly recommend Olive and Cocoa."


-Michael J.


"I bought the Kira flower arrangement for my Finacee for Mother's Day and she loved it. It was delivered on time and the flowers were beautiful and in great shape. They were almost identical looking to their online pictures. Would recommend for anyone who loves flowers!!"


-Jeffrey P.


"I had flowers and a gift delivered to my mother-in-law and sisters for Mother's Day. The items were beautiful and well received. My appreciation for the goods Olive & Cocoa sells is elevated by the new experience I just had with their Customer Service department. Thank you!"


-Kevin H.


"I bought this for my daughter-in-law for Mother's Day. She love it and said it filled her heart. That's what I was hoping for."


-Joan F.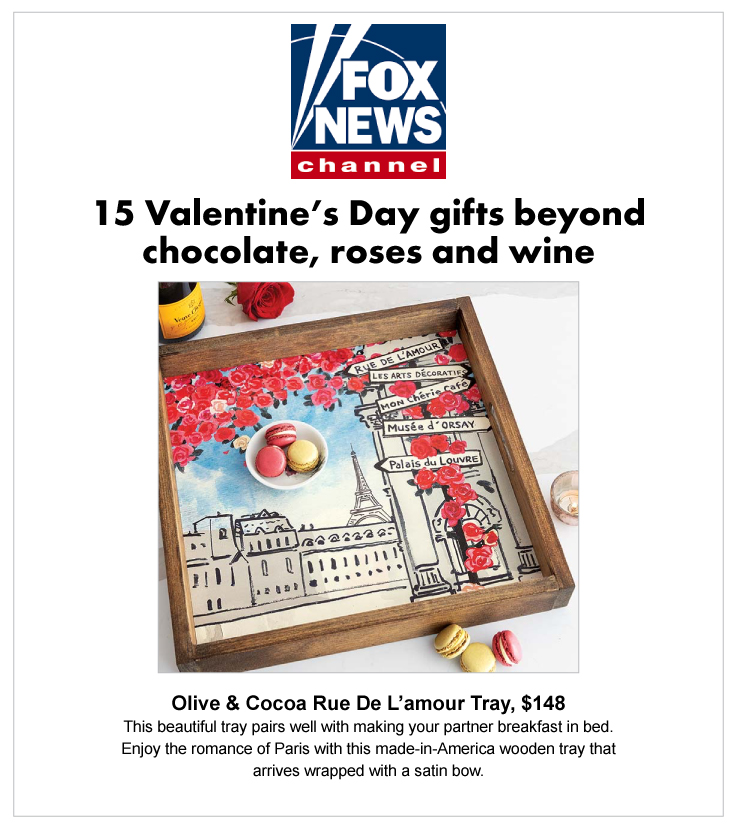 Fox News
FEBRUARY 2022
Fox News highlighted our Rue De L'Amour Tray in the article "15 Valentine's Day gifts beyond chocolate, roses and wine."
< Back