Unique Mother's Day Gifts
Here's to the amazing moms and mother figures who make our lives special every day! Who is more deserving of a meaningful gift basket than the beautiful woman who selflessly dedicates her life to nurturing those around her? Treat the special woman in your life to a unique Mother's Day gift from Olive & Cocoa. From hammered gold and turquoise earrings to a stunning floral arrangement, our selection of Mother's Day gifts has an elegant item that is sure to warm her heart.
Finding the perfect, unique Mother's Day gift can be a challenge. We know all too well that it isn't easy to find a present that is worthy of sending to your mom on her special day. That's why our Mother's Day gift collection includes only the most splendid and graceful gifts that exemplify your appreciation and highlight how much she really means to you!
Sending that perfect gift has never been easier, as our Mother's Day delivery ships right to her with utmost ease! We specialize in fine product and special gift delivery, so you can sit back, relax, and allow us to take care of all of your Mother's Day gift delivery needs. Shopping with Olive & Cocoa is simple, as our selection of Mother's Day gifts is backed by our 100% Satisfaction Guarantee.
Featured Mother's Day Gifts
Pastel Dream Market Bouquet
Our Pastel Dream Market Bouquet is hand gathered and presented in market wrap to bring the best of the season right to their door. We hand select farm fresh stems to create a lush, soft hued bouquet. Available in petite and large (pictured) arrangements, bouquets require next day shipping.
View Details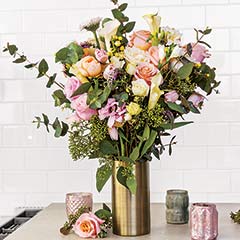 Bella Madre Gold Necklace
An embodiment of love both pure and true captured in a gift of gold. The words "Bella Madre" meaning "Beautiful Mother" are stamped in a 1 ½" diameter 14-karat gold filled hoop using the art of lost wax casting. Delicate 14-karat gold filled chain measures...
View Details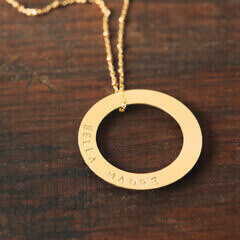 Loved Picture Frame
Engraved with the word "loved," our polished metal picture frame is sized for 5" x 7" photos. Standing upright or hanging from a metal loop on the back, frame measures approximately 8" x 9 ½" and arrives packaged in Olive & Cocoa® gift wrap with ribbon. Allow...
View Details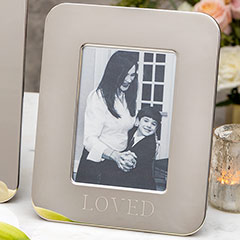 From the Blog
Let's celebrate the women who have touched our lives in ways big and small. Mother's day is such an important event that it's no surprise you want to make the day truly special for your mom (or honorary mom). After all, she has watched over and nurtured you as you became the person you are today, and that's an accomplishment that deserves proper recognition.
If you're like most loving adult children of a wonderful mother, you know that expressing how you feel in a way that leaves your mom feeling truly special is not as easy as it appears to be. Wondering what to get for Mother's day? Sometimes experiences say more than a gift, so that's why our experts put together this unique and inspiring list of ideas to help you make this Mother's day one that she will cherish for years to come.
Have a Picnic Together
Have you ever wondered why Mother's day comes in springtime? It's because moms love picnics! Spending time outside in the fresh air with her loved ones is a dream come true for most moms and a fun thing to do on Mothers day. So, this Mother's day, plan an elegant picnic together at her favorite park, or on the beach. All you need is some delicious, easily packable food and a comfortable picnic blanket.
Give Her a Spa Day at Home
After all the scrapes she's bandaged and sidelines she's cheered on for you, your mom deserves a little pampering. There's no better way to treat her to some well-deserved relaxation than with an at-home spa treatment. Gift mom with a collection of fizzy bath bombs, soaking salts, her favorite scented candle and a luxuriously soft robe to wrap up in after a rejuvenating bath. Rest assured, a spa day at home will make her feel like the queen that she is.
Make Her Breakfast
Cooking nutritious meals for the family is a hallmark of motherhood. What better way to honor your mom than by turning the tables and whipping up something scrumptious just for her? Mix up her favorite waffle batter and a side of berries for a simple, but thoughtful, breakfast she can wake up to on Mother's day. For added sentiment, serve breakfast on a personalized serving tray that she can keep as a reminder of her breakfast with you.
Take a Day Trip Together
The mom who is always on the move will surely appreciate a day trip with her loved ones. That's why taking a trip is one of our favorite things to do for mom. Grab mom a sunhat to keep her shaded, a tote for her daily essentials, and drive her to some of her favorite local spots. Book a day for two at a winery, walk through a botanical garden together, or visit her favorite national park. What better place is there to spend Mother's day than at her favorite locations? Remember to snap a few pictures because the memories you make together will last a lifetime!
Give Her a Token of Your Affection
Sometimes, spending Mother's day together is not a practical idea. In this case, send mom a special token of your love and affection to let her know that you're thinking of her on Mother's day. If you know of something she's had her eye on, order it and have it delivered to her door as a thoughtful gesture. For the mom who loves to read, gift her with a beautiful book honoring motherhood. As an elegant and sentimental gift, send her a piece of fine jewelry engraved with a simple message that will remind her of you. We're sure you'll find a cute idea for Mother's day among our unique collection.
Mother's day is a lovely time to pause and reflect on the beauty and wisdom you've gleaned from the amazing women in your life. We hope you'll find our ideas helpful in planning a celebration for your queen bee, whomever she is -- mom, grandmother, aunt, or honorary mother -- to cherish and remember for years to come.
Frequently Asked Questions
When is Mother's Day?
Mother's Day is always the second Sunday in May. This year Mother's Day falls on May 9th. It will be here before we know it!
How soon should I place my order for Mother's Day?
We offer several shipping options from Standard Ground Delivery (which can take 3-7 days) to Overnight shipping. However, our most popular gifts sell out quickly. We recommend ordering now. You can choose to have your gift delivered as soon as you order it, or you can select a future ship date so that your Mother's Day gift will be delivered just in time.
What should I give my Mom?
You know your Mom / Grandma / Sister / Daughter / Mother Figure best, so give from the heart. We have the perfect selection of heart-felt Mother's Day gifts, including relaxing spa gifts, the perfect pajamas, special jewelry, Gourmet chocolate and an incredible selection of beautiful Flower Arrangements. A gift from Olive & Cocoa is guaranteed to impress.