Featured
Seasonal
Categories
Customer Reviews
"I always send a foodie gift basket every year to my son in NY. This year I chose Olive & Cocoa. He immediately called to say how beautiful it was and that they loved the variety and yummy taste of everything in it!!! I will definitely be ordering more from Olive & Cocoa!"


-Janis S.


"Our family in Alaska, who received this gift basket, were thrilled with the quality of everything and how each of the foods complimented one another. You can imagine how a gift basket from Olive & Cocoa was like a true ray of sunshine amidst all that snow!"


-Mara L.


"I bought these gift bags for our clients and we got such great feedback. Everyone loved the assortment of food, the option to have a tote this year was really nice and the food is always so fresh and delicious. They do an amazing with the presentation as well."


-Aly B.


"Bought this along with two other crates for niece and nephew. They loved all the treats-especially the peppermint bark. A favorite!"


-Kathleen M.


"I sent the goodies tote to my hair salon as a thank you! This week the owner - a dear friend for many years - told me that the selections were terrific and he loved the tote. When I asked how the others liked it, he said, "oh, was I supposed to share?" It was a big hit."


-Janet N.


"Great food gift! Wonderful selection Enjoyed by all at the party This is the 4th gift that I have ordered.Always appreciated Thanks!"


-Terry G.


"Ordered the "Tastes for Everyone" crate for my hard-to-buy-for big brother's birthday. It arrived the day before and he couldn't wait to open the package. It was a big hit!"


-Holly R.


"My friend was thrilled with the bountiful box filled with special treats.My gift made the party! Thanks"


-Gerry J.


"I gave this as an Anniversary gift to my Son and his wife. They were thrilled and excited about how delish every thing was! It made me feel good that it was so enjoyed."


-Adriane H.


"Sent this to friends who have hosted me at their lovely home a couple of times. My friend was moved to tears with the presentation and the variety of delicious products. I was so happy that they were delighted with this thank-you gift."


-Lexi A.


"I got this box of munchies for dear friends who were in the process of moving, and they were thrilled to find it waiting on their front porch of their new home. It was a very welcome treat after a long day of packing!"


-Brenda B.


"I have purchased several items from O&C and have been extremely happy with the quality, packaging and care that goes into each gift!"


-Kathleen G.


"She and her family absolutely loved the gift- although she thought the cookies were TOO pretty to eat! Her family disagreed!"


-Christina S.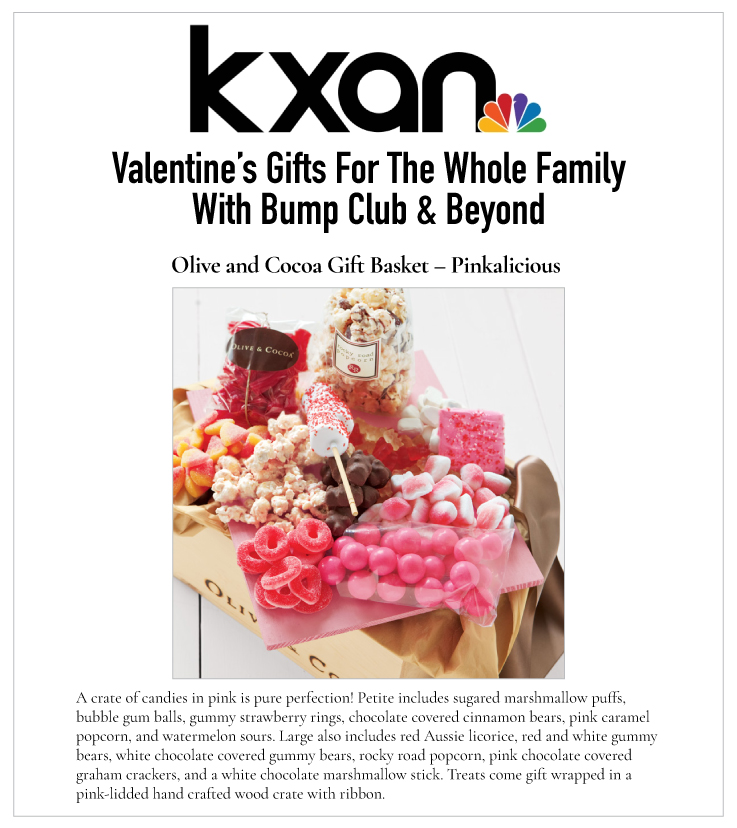 KXAN TV Austin, Texas
FEBRUARY 2021
Olive & Cocoa's Pinkalicious Crate was featured in KXAN TV Austin, Texas's segment "Valentine's Gifts for the Whole Family with Bump Club & Beyond."
< Back