Customer Reviews
"I gave this to my mother, she loved it! Always happy with the floral arrangements. Thank you!"


-Delrae L.


"I bought this guardian angel for me! Have gotten several compliments so far. It is so pretty and meaningful. Thank you Olive and Cocoa."


-Patti C.


"I bought this for our 92 year old, young aunt, who had a stroke. I spent Christmas in Kerrville Texas, with her. She ABSOLUTELY ADORED it! She kept it at the foot of her bed! It SO cheered her up! The detail in craftsmanship was a beauty to behold and appreciate!"


-Aiken W.


"This was part of a larger gift but my mom was raving about everything and she is a picky eater. I know Olive and Cocoa has only the best and this did not disappoint!"


-Gia Y.


"This was a birthday gift from father to daughter and she loved it! It's very meaningful as well as beautiful."


-Susan E.


"Bought this for my dear friend when her father passed and she absolutely LOVED it!! From the little bag of water that was included to the blush colored vase she said she keeps moving it all over her house so she sees it everywhere. I sent it to a second friend when her mom passed- it seems to have a very tranquil presentation. Thank you Olive and Cocoa❤️"


-Kathy Q.


"Lavender box was fabulous! Classic wooden box with bow is always an attractive start to your gifts and opening. Lavendar gifts were so nice."


-Andi M.


"It was a sweet surprise to gift this to a dear friend as my Valentine to her. Beautifully constructed with a flair and usefulness not many other gifts could claim. Something to remind her of love and being cherished my heart to hers. Wonderful!"


-Kris F.


"Recently bought this for our daughter-in-law as a birthday gift. We had it sent directly to her home so I wasn't able to see it beforehand. I received an email from her the day it arrived and she was over the top in love with this set! The packaging was a perfect presentation with our personal card included. She said the hat is so warm and beautiful and the scarf is so comfy. She included a picture wearing the set and it was gorgeous! Can't say enough good things about this set. Don't hesitate to buy it!"


-Patricia P.


"This Beanie was sent to my Great-grand Daughter 4 who has a full head of hair and she loved it. She was posing and dancing all over the house. She really liked the packing. What fun, thanks!!!"


-Lenora A.


"My wife picked it out and I "surprised" her with it. She was thrilled and said it looks better than the photo in the catalog!"


-Charles B.


"I bought these umbrellas for my two granddaughters. They called me last night and told me how much they loved the umbrellas. They are in their late twenties and finishing up grad school in California. They can't wait until it rains!!!!"


-Steven K.


"This was a birthday present for my niece. She called me to say how much she loved every piece of the spa package. She was thrilled and I couldn't be happier with this gift."


-Alice B.


"My sister who just went through open heart surgery was so touched by this gift. She thought it was the most beautiful flowers she has ever received."


-Deborah C.


"I had little idea how wonderful the fragrance of this was but it's amazing. When I lay my sleep mask next to it the scent is picked up into the mask so putting it on is next to sensual because the fragrance permeates the mask in the most comforting way. I'm so taken with it I've ordered it again because I can't imagine not being able to smell it!"


-Chris F.


"A birthday treat for my daughter-in-law. Olive and Cocoa always come through by offering unique and beautiful gifts. Over the years have bought food, flowers and things - all have been happily received and appreciated."


-Gina T.


"I bought this beautiful gift crate for a female colleague for her promotion/new job. She absolutely loved it! This is the third or fourth O&C crate I've sent to friends, family and colleagues and each one has been a hit. Great work O&C!"


-Kate J.


"We got this for my husband's mother as a reminder that she was loved. It was unique and fit her taste perfectly. Olive and Cocoa send their products in such beautiful packaging. First class all the way."


-Karen C.


"I bought this for a friend who had helped me through a rough patch. She loved it! Beautiful, original gift options - thank you Olive & Cocoa!"


-Laura G.


"I sent this to my daughter in celebration of her first Mother's Day. She loved it! Ship date requested was right on target. This was the first time I ordered from Olivia & Cocoa, but it won't be my last. Very happy with this purchase!"


-Linda A.


"This was a gift for a retiring business associate. It was perfect for her! Packed nicely and containing great variety. It was a lovely gift and brought a smile to her face."


-Nancie K.


"Amazing Presentation!! My dear friend fell in love with the box first! Then got a surprise with the goodies! She also mentioned the items travelled very well. Thank you!"


-Crisi C.


"A great gift to give or send to someone to sum up so many great thoughts of love and joy. Over the top presentations. Makes every gift, no matter what value, feel extremely special."


-Taylor B.


"I purchased this as a birthday gift for a dear friend and she loves it! It's beautiful, fashionable and well made. All of their products, from flowers to home design products to jewelry, are top quality and quite unique."


-Kimberly H.


"A gift sent to my daughter for her birthday. She loves the lavender scent and has used the hand cream giving it good reviews. As always, the packaging is most impressive. The crates are being used throughout her home."


-Mary P.


"I bought this for my daughter as a New Year gift. She loved it. It looks exactly like the picture. I was not disappointed with the size or the looks. I highly recommend this necklace for the family members you love as well as your significant other/spouse!"


-Hulya K.


"I have purchased gifts before to rave reviews. This gift was received with gitty pleasure and again RAVE REVIEWS!!! First the creative gift wrapping then the robe which received great thanks. I would not hesitate to recommend any item from the creative catalog!! Well done."


-Emma S.


"I absolutely LOVE this robe!!! This is my third robe from Olive and Cocoa made of this fabric!!! I won't wear anything else!!! It's amazing !!!!"


-Anna V.


"My wife was thrilled to get these, amazing quality and so comfortable!"


-Tim S.


"I absolutely love this piece. It's unique, not something you'll find at a department store. Also, it's high quality--delicious to wear. And more, I own a lot of black tees and sweaters, and this scarf adds style and pizazz to those pieces."


-Karen W.


"I bought this gift last month for my daughter. She absolutely loved it. She is my fashionista, so that is saying a lot about the quality of the bracelet. I got one for myself in a different color."


-Cherie H.


"The peony box of facial goodies is gorgeous! The bath cubes, candle & face roller are all such lovely items to relax with!"


-Billie H.


"I purchased this for a dear friend, it was the perfect gift for her new home. She was thrilled and loved it!"


-Dede R.


"The necklace is beautiful and was well received by my wife. Wonderful jewelry and keepsake. ...and as usual the customer service was exemplary."


-David C.


"I bought this for my friend for her Birthday. It arrived on time and was absolutely lovely. I have never been so pleased. Thank you so much for bringing cheer to her in this time of great stress."


-Dee L.


"Beautiful bracelet. My wife admired it in the catalog, so I bought it for her. She loves it!!! Beautiful packaging and first class buying experience!!"


-Dennis R.


"I bought this for a family member... she was soooooooo pleased ... she couldn't say enough.... it made her day!!!!! You guys just do a wonderful job with your catalog and presentation.. beautifully done! Thank you again."


-Patty D.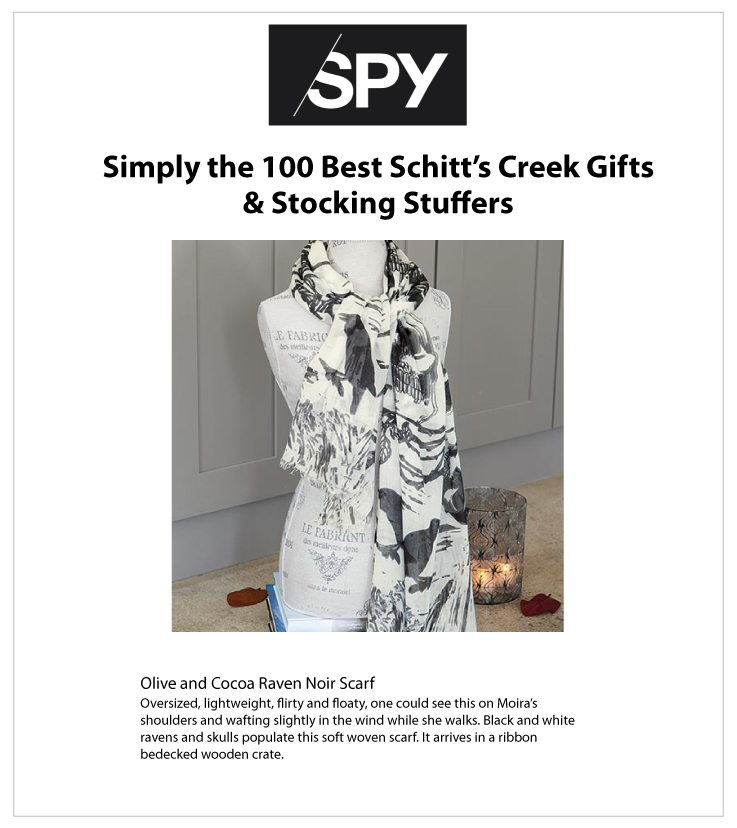 SPY.com
NOBEMBER 2020
Our Raven Noir Scarf and Cashmere Stitched Gloves were highlighted on SPY.com's article "Simply the 100 Best Schitt's Creek Gifts & Stocking Stuffers."
< Back