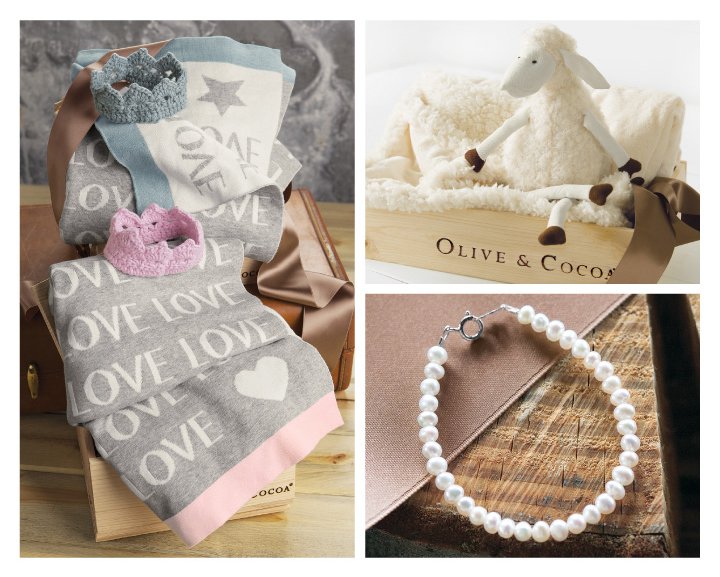 The Best Keepsake Gifts For a New Baby
The arrival of a baby is one of life's sweetest joys. Additionally, the keepsake gift you send to the newest addition can leave a lasting impression on the little one and their family. This gift should echo the same sweetness of this momentous event. A thoughtful gift--given with loving sentiment and a personal touch--often becomes a family keepsake that's treasured for years to come. When the ordinary gift just won't do, and you want to send something a little more sentimental, turn to Olive & Cocoa. Today, our expert gifting consultants share seven of their sweetest gift ideas for the best baby gifts, along with valuable tips on how to make your gift even more meaningful.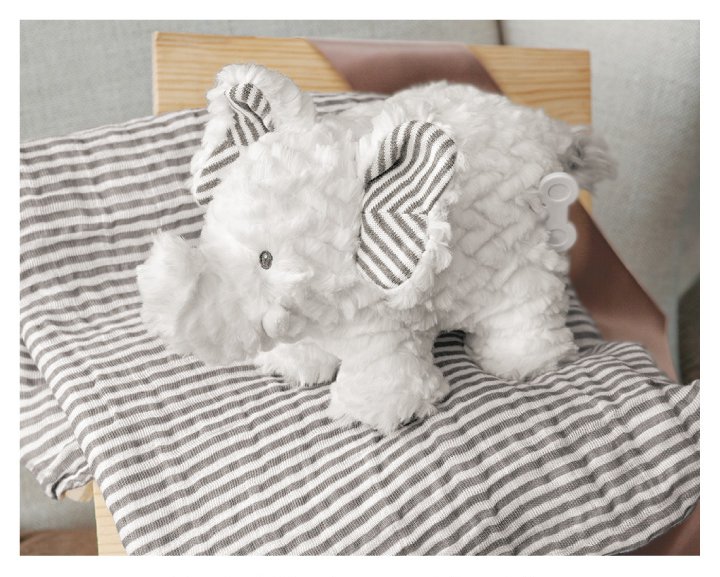 Musical Elephant and Swaddle
All it takes is a gentle wind-up, and Musical Elephant plays a classic lullaby to calm the baby. Tried and true, the soft and melodic tone of this lullaby relaxes the infant's mind, sending them straight to sleep. This makes a supremely soft elephant plush and cozy matching swaddle the perfect nap-time companion. Giving a calming baby gift shows parents that you value their comfort and well being. The nostalgia of this classic wind-up toy turns a functional gift into a keepsake to cherish as the baby gets older.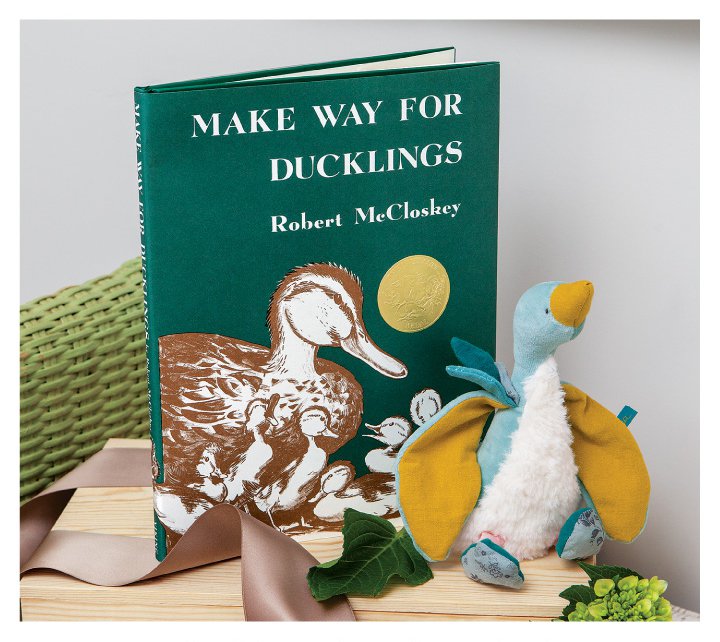 Adorable Ducky and Storybook
Traditions help us bond with each other, across generations. The classic story book, "Make Way for Ducklings" was written in 1941 by Robert McCloskey. This children's book is a favorite of many, maybe you even remember growing up with it. Passing on this beautiful literary tradition, coupled with a cuddly friend for baby to snuggle with, is sure to evoke fond childhood memories and create special moments for parents to share with their child.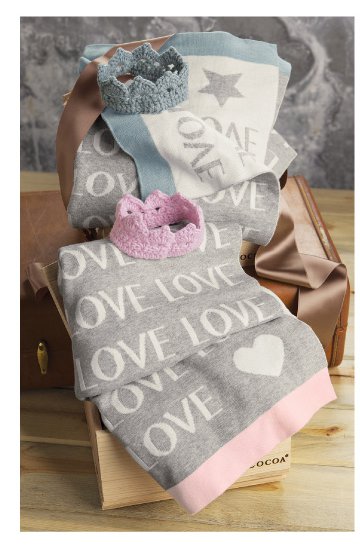 Wee Prince or Princess
Blanket Set
A charming knit crown (just like grandma would make) paired with a cotton reversible blanket makes for the perfect combination of keepsake and practical. Many parents love stowing their little ones' first shoes and hats away in a hope chest as a reminder of how small and fragile they once were. This sweet, hand-knit crown makes a royally unique addition to their collection of precious tokens from their baby's first year of life.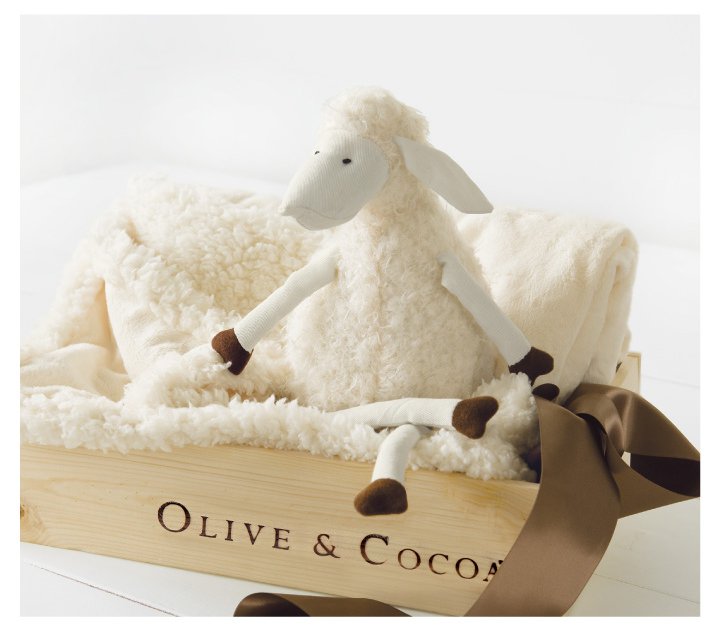 Lulu Lamb and Blankie
As sweet as she is comforting, Lulu Lamb makes for the perfect snuggle buddy. While the luxurious ivory reversible chamois blanket helps to keep the baby wrapped in comfort, this gift makes for a great way to send a child straight to dreamland. Treasured as a first plush toy, Lulu will forever stay a baby's number one best friend and keepsake. The versatility and beauty of the blanket makes it perfect for everyday use, or as an elegant wrap fit for special occasions.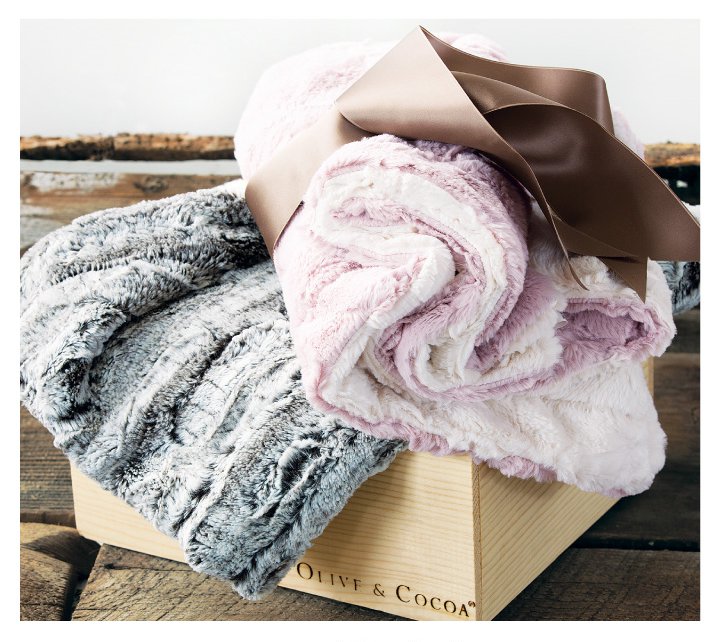 Luxe Cuddle Blanket
Wrap baby up in luxury! These thick, incredibly soft to the touch blankets made from plush faux fur are sure to become baby and parents' favorite crib accessory. Available in posh pewter or antique pink, this is a gift that parents are sure to cherish for years to come. Help soothe their baby to sleep, with this beautiful and supremely comfortable cuddle blanket.

Keepsake Baby
Pearl Bracelet
From christenings, to meeting the grandparents for the first time, a baby's first year is marked with an abundance of special occasions. This beautiful bracelet made from tiny freshwater pearls, and worn snug on the baby's chubby wrist, makes for a precious adornment for any important event. A delicate piece of jewelry, this treasure can be kept for years to come, and even passed down as a family heirloom.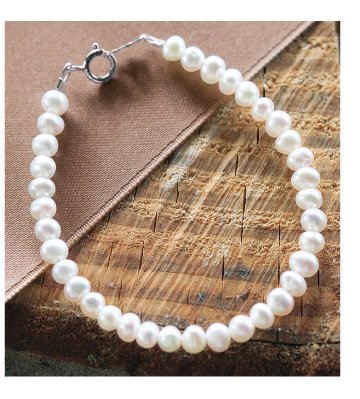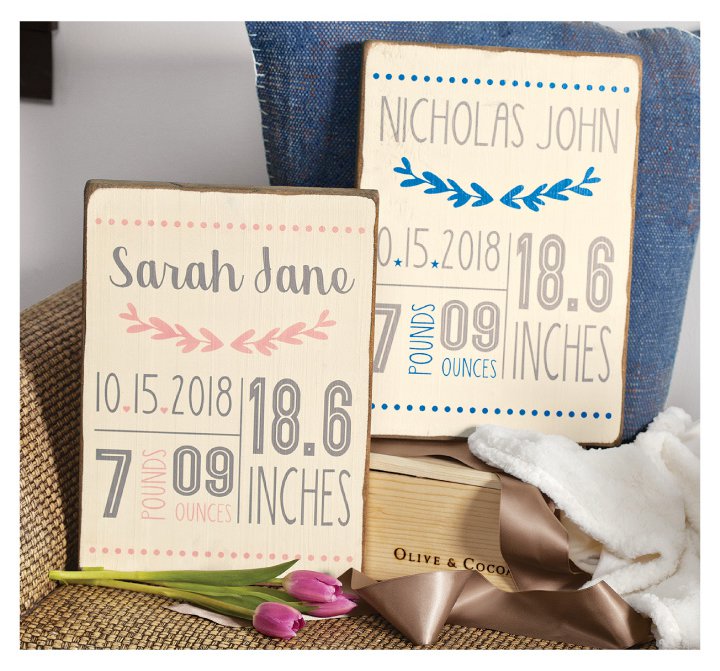 Customized Birth Announcement
Add a personal touch to the baby's nursery decor. This sweet keepsake birth announcement is custom made, hand-painted in your choice of pink or blue, and is sure to be one of the best baby gifts received by the family. Parents will proudly display this stylish decoration in the nursery and are sure to stash it away in their hope chest when it comes time to redecorate for their growing child. A beautiful and personalized gift shows that you went the extra mile to make your gift especially meaningful.

Make It Meaningful
Few moments in life compare to the arrival of a new baby. Sending the best keepsake gift possible gives parents and their child something to treasure for years to come. This is a touching way to celebrate their special life-event with them. As always, every Olive & Cocoa gift arrives beautifully wrapped in a hand crafted wood crate with a satin ribbon, making the exceptional gift even more cherishable, with an unboxing experience to remember. We also include a velvety card with a personalized message from you to the new family.
Choose from one of these elegant baby gifts, or many others, in our expertly-curated collection. We'll handle the rest!