Featured
Shop by Recipient
Customer Reviews
"My niece loved the baby gift. It is beautiful, very soft and cuddly and beautifully packaged. I would recommend this gift without reservation. Very high quality and a present you would be proud to send."


-Deborah B.


"This was a gift that was much appreciated. They loved the softness of the blanket and thought the lamb was going to be a favorite."


-Sandra M.


"I Bought Elephant Storybook and Blanket for our new Great Grandaughter.Both were so enjoyed!!!"


-Sylvia D.


"This was for my son and his wife who are expecting there first child, a little boy. Yeah! they just loved it, the quality and they giggled at the story book. The loved the packaging too. Such a sweet gift."


-Alice S.


"The cutest bunny I ever saw. The blanket and bunny is exceptional quality and of course the famous Olive and Cocoa packaging speaks for itself. It's all about quality and presentation and O&C has both. Don't lose that!"


-Brenda D.


"I bought this for a colleague and his wife for their new, baby girl. They wrapped her in the blanket, posed the bunny beside her and sent pics out to introduce her to the world!"


-Angela D.


"Our children and grandchildren are thrilled with their new Henris!! Henri is the softest and biggest bunny of excellent quality. He is a treasure for years to come."


-Barbara G.


"Bought this for a baby gift and it was passed around to the participants at the shower. Everyone wanted to hold it!"


-Judith D.


"I purchased this as a gift for my grandson and his wife who had just found out they were expecting after many years of trying. His wife cried when she opened the gift and she loved it. It was perfect."


-Jackie R.


"The recipients loved this cute idea of yours. The things in the catalogue are very unique. Good for these times when it seems so many folks have everything!!"


-Sallie M.


"We love our lulu lamb gift box. This was the perfect gift for our daughter from her Grandpa and she has become so in love with her little lamb! Olive and Cocoa's customer service is beyond fantastic. They are so kind, quick to respond, and personable. We will be looking here first for all gifts!"


-Megan D.


"This princess set was for a newborn. The crown was immediately put on her head as she snuggled in the grey and white blankey. Olive & Cocoa have unique and quality items that are very well displayed online and in your catalogues. The gift wrapping is unique and makes gift giving a pleasure."


-Sandra L.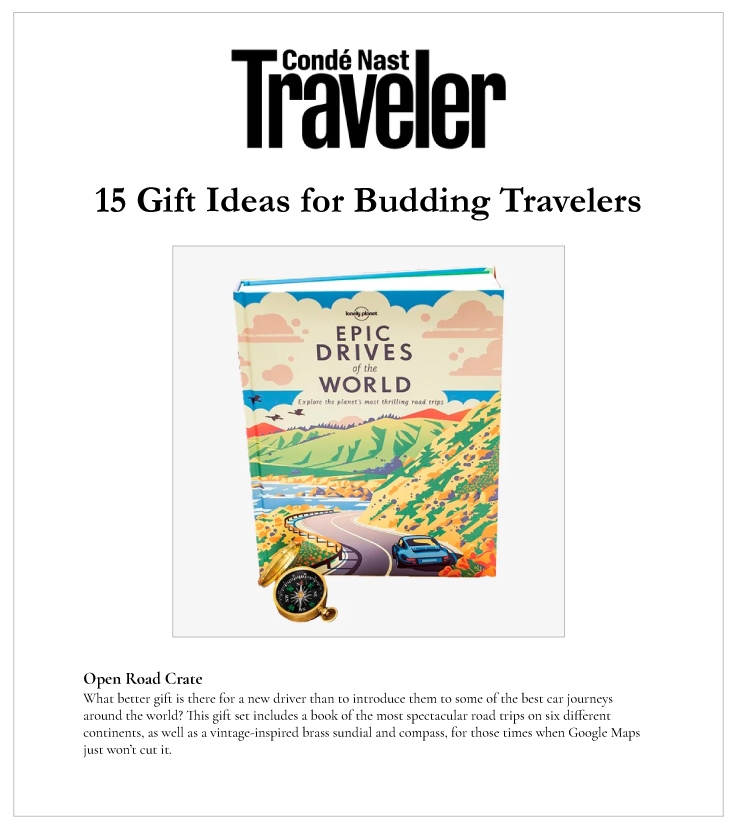 CN Traveler online
NOVEMBER 2020
Our Open Road Crate was featured in CN Traveler online's article "15 Gift Ideas for Budding Travelers."
< Back