Fall is here, and that means Halloween is right around the corner! What used to be a holiday of casual trick-or-treating and homemade costumes is now one of the most beloved and highly celebrated holidays of the year! Indoor Halloween decorations, elaborate parties, detailed costumes, and scary yard signs make Halloween number one in fun and frivolity.
Best of all, Halloween brings with it a great opportunity to surprise someone special with unexpected Halloween gifts. While Christmas is known as the season of giving, those who truly love the fall will be ecstatic to receive a festive gift from you on this spooky Halloween holiday!
Send a unique indoor Halloween decoration to the hostess of your favorite Halloween party, or surprise the little ones in your life with their favorite sugary treats. We won't tell anyone if you choose to treat yourself to one of our Halloween gifts as well.
When you're giving a gift just for the fun of it, you can make it as creative and whimsical as you'd like. Olive & Cocoa provides Halloween gifts delivered to those you care about. Here are our ten favorite Halloween gift ideas to get you in the spirit of the season.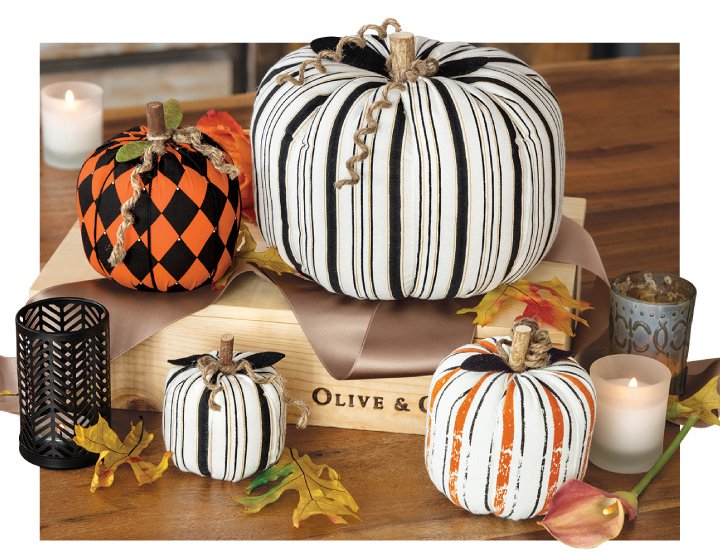 1 | FESTIVE FALL PATTERNED PUMPKINS
Set the stage for a bountiful harvest with our Festive Fall Patterned Pumpkins. Crafted of cheery fabric with weighted bases, these 4 decorative pumpkins bring autumn joy to any décor. For those who love Halloween or those who want to celebrate the harvest until the first snowflakes of winter show up, this set is guaranteed to delight.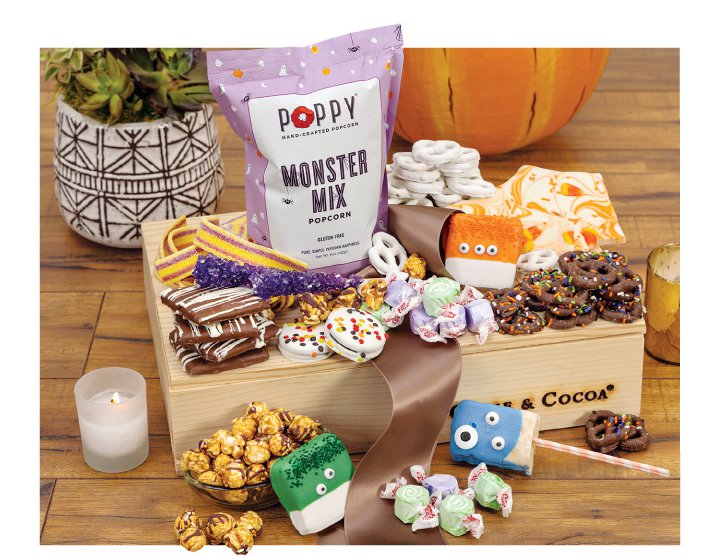 2 | MONSTROUSLY TASTY TREATS
Every boo and ghoul will enjoy crunching their way through our Monstrously Tasty Treats. With a bevy of treats that are as fun to look at as they are to eat, this crate comes with monster mix snacks, a crispy rice monster pop, purple & green taffy, milk chocolate pretzels, a monster marshmallow, and white chocolate pretzels for all to enjoy.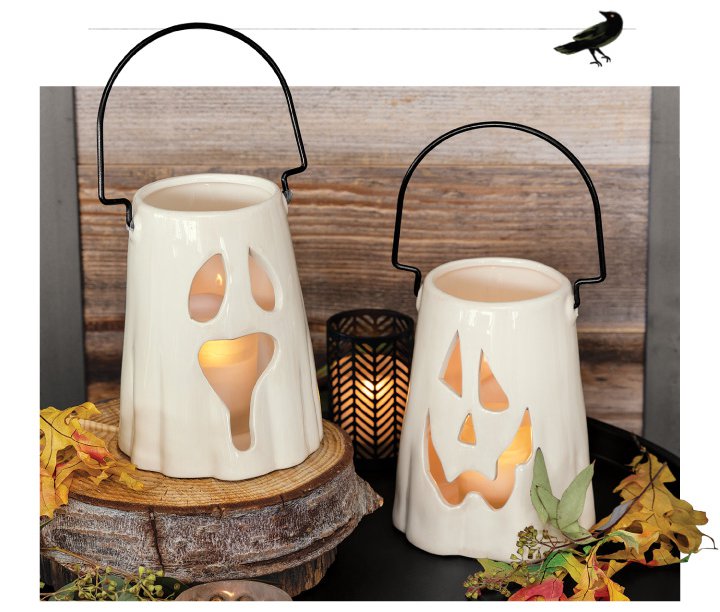 3 | GHOST LANTERN SET
Sized just right for staging on the porch or a tabletop, our Ghost Lantern Set is a charming way to set the mood. Crafted of ceramic with metal handles, these two lanterns have a cutout in back to easily add your own candles or LED lights. With just a touch of eerie to balance out their cute faces, our lanterns will be welcome in every setting.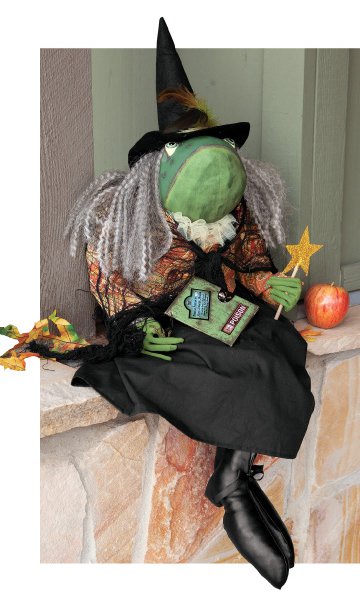 4 | FANNY FROG WITCH
Conjure up some magic this Halloween season! More charming than she is dreadful, Fanny Frog Witch is bound to cast a delightful spell on anyone whose home she graces. With intricate costume details and a sweet, hand-painted face, Fanny makes the perfect Halloween gift for teachers, that helpful neighbor, hostess, or enchanting witch-lover in your life.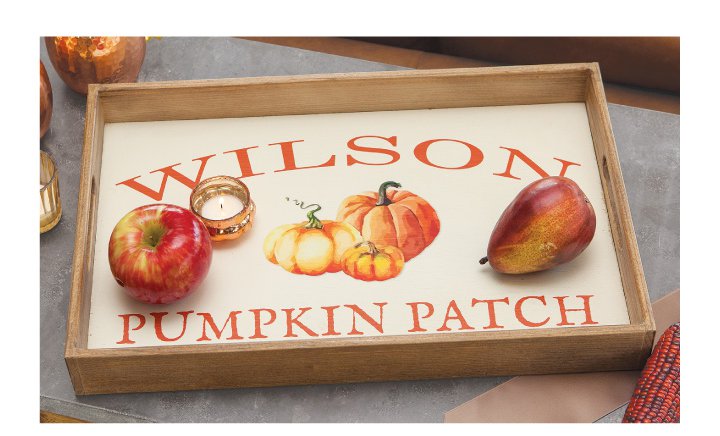 5 | Pumpkin Patch Personalized Tray
Send a Halloween gift that embodies all the charm of a Fall pumpkin patch, without any of the mess. The Pumpkin Patch Personalized Tray comes with the name of your choice printed in bright orange lettering. Perfect for serving up treats or hot bowls of soup on a dark and stormy night, our serving tray makes a truly thoughtful gift for Halloween lovers or a deserving someone in your life.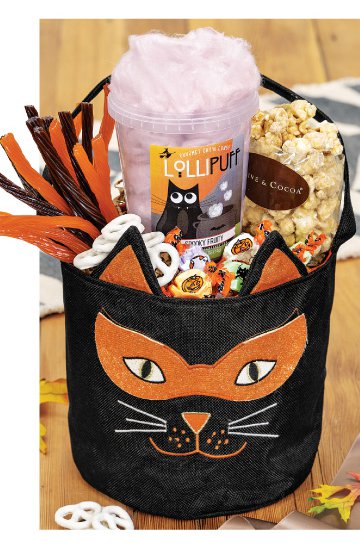 6 | Black Cat Treat Tote
If you know a small child who loves black cats, why not surprise them with an adorable Black Cat Treat Tote brimming with all the flavors of Halloween? The perfect spooky Halloween gift for kids, once the young one has devoured all the scrumptious treats inside, they can use the tote on Halloween night as their trick-or-treat bucket.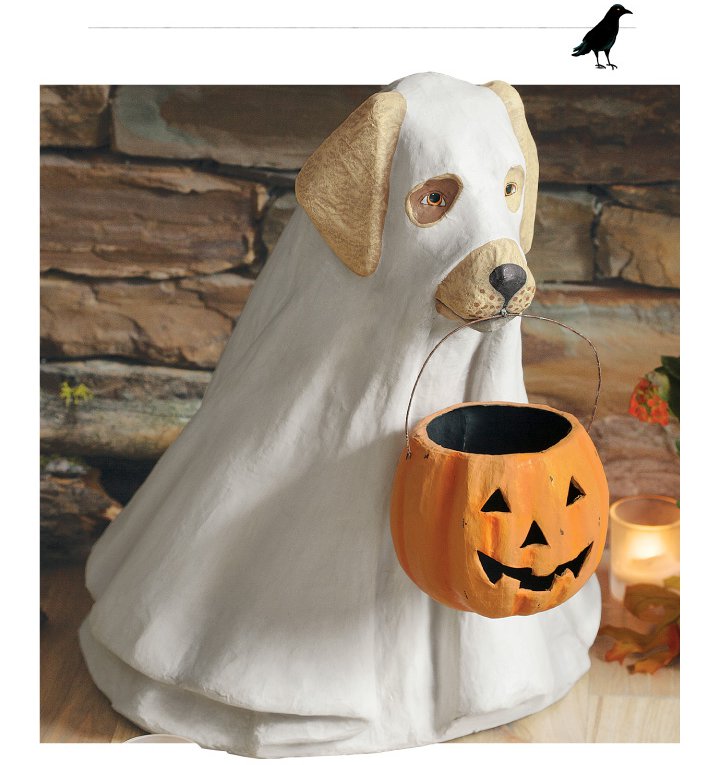 7 | Trick-Or-Treat Retriever
When they love dogs as much as they love Halloween, our Trick-or-Treat Retriever is the "ulti-mutt" gift for them. All dressed in his ghostly best, and with his favorite treat tote in tow, this pup is ready to welcome visitors with Halloween spirit. This lighthearted piece of fall décor is perfect on its own, or you can add your own LED light to the inside of the jack-o-lantern to illuminate the fun.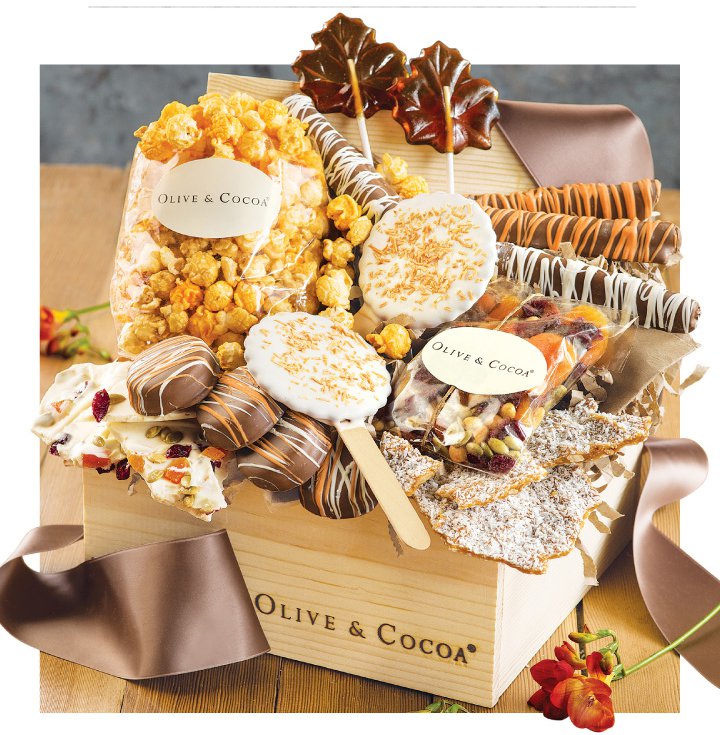 8 | Autumn Sweets Crate
Send your loved ones a crate brimming with all the best flavors of autumn, with our Autumn Sweets Crate. From maple leaf suckers and toasted coconut cookies to rich gourmet chocolate-covered goodness, your favorite people are sure to find a snack to savor in this delicious gift crate. And the presentation of this gift is unsurpassed in elegance and beauty. A crate of delectable treats make great gifts for Halloween.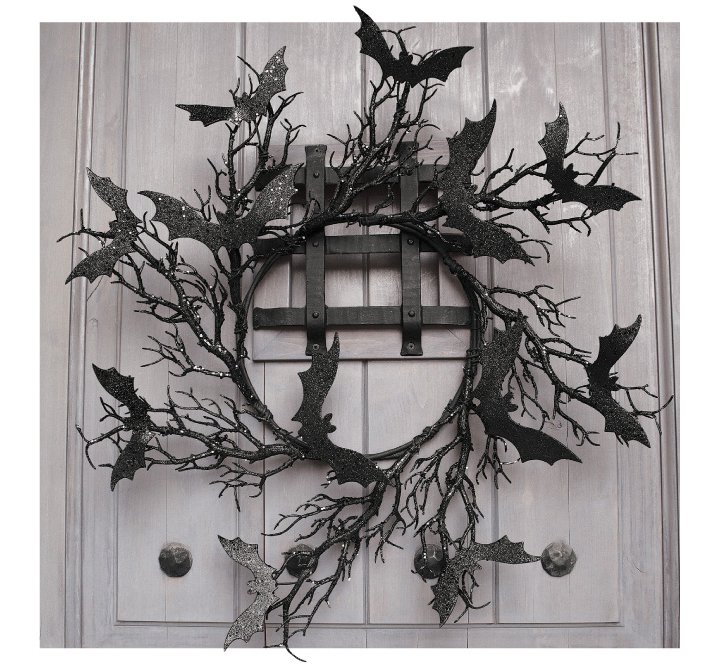 9 | Twilight Bat Wreath
A festive wreath is a staple at the home of any Halloween lover! The Twilight Bat Wreath brings a bit of eerie charm to their front door or inside the home. Delicately crafted of twisted branches and a swarm of shimmery bats, this wreath is a must-have for anyone who loves creatures of the night and a great gift for Halloween for a friend who loves the spookier side of the holiday.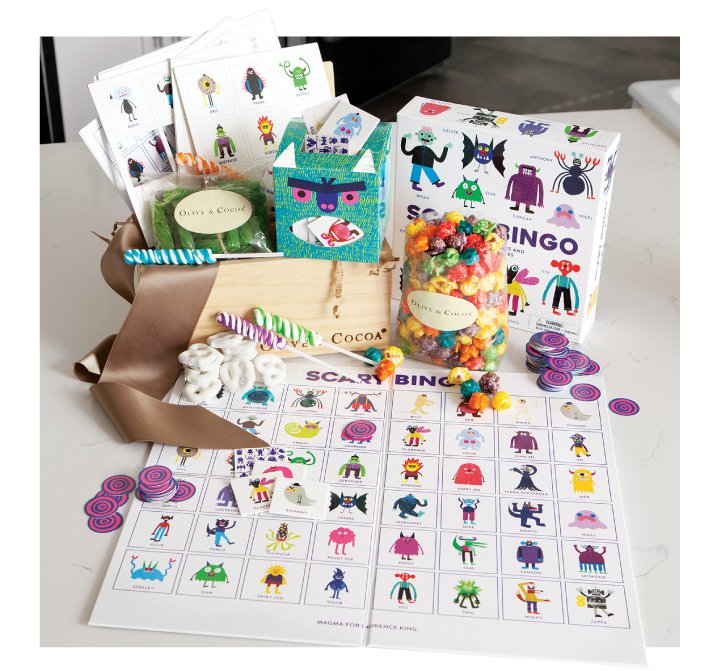 10 | Monstrously Fun Bingo & Treats Crate
If you're looking for Halloween gifts to bring fun and festivities that the whole family can enjoy, the Monstrously Fun Bingo & Treats Crate is a winning choice! Supremely colorful monster-themed game cards are paired with an assortment of sweet treats to snack on as your favorite littles rack up their bingo points.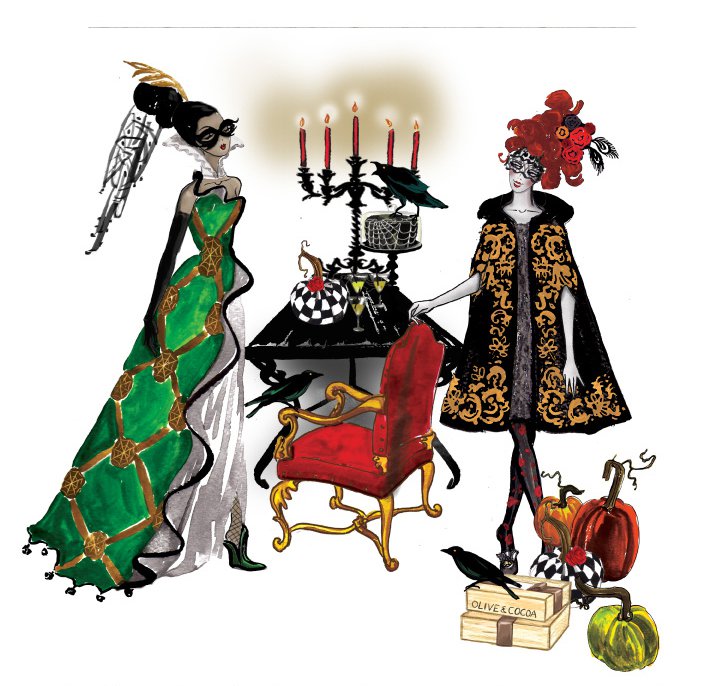 Make Halloween the holiday of unexpected surprises rather than mischievous tricks! Send your favorite people one of our many festive Halloween gifts from our list of gift ideas from Olive & Cocoa--just for the sheer joy that giving brings!