Elegant Easter Decorations for 2022
Easter is about transitioning from the cold winter months and welcoming the freshness of spring. Replacing the deep sensual colors of winter décor with bright pastels and cheerful characters (like baby bunnies) is a happy occasion we look forward to! But how do you embrace the light jubilee of Easter décor without sacrificing elegance? After all, sometimes the occasion calls for elegant Easter decorations that are more sophisticated than plastic eggs and paper grass. Our holiday design experts share 5 of their favorite outdoor and indoor Easter decorations that are sure to add a festive yet classy touch to your home.

Bring the essence of Olive & Cocoa's elegant Easter decorations into your home with one of our most coveted Easter floral arrangements, inspired by European garden design. This unique Easter floral arrangement features seven rows of delicate spring blossoms nestled in a dark stained wood box. Bright, seasonal blooms in shades of lilac, lemon, and soft blue gives a feeling of walking through a serene garden in Europe's lush countryside. If you like this Easter floral arrangement, be sure to check out our experts' top 10 floral arrangements to see more gorgeous flower arrangements to fill your home.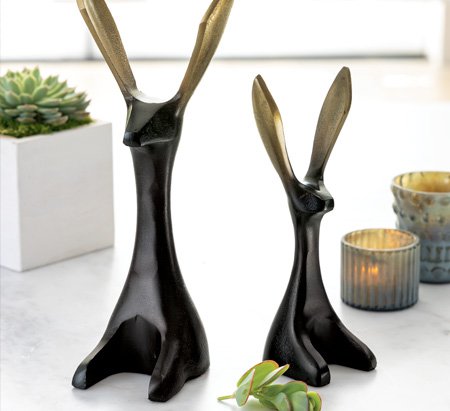 Consider trading the whimsical sweet-faced bunnies of traditional Easter decorations for an elegant yet festive Lapin silhouette. Our metallic hares celebrate the coming of spring with a note of sophistication for your indoor Easter decoration needs. Whether perfectly poised in the entryway or added to a table display, these bold bunny characters make unique home accent pieces.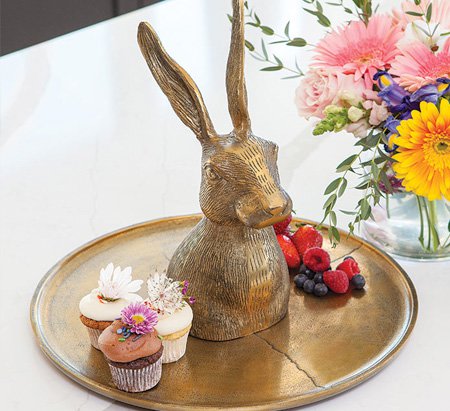 The epitome of elegant Easter decorations with a touch of functionality is this festive bunny sculpture. Our Gilded Hare Platter graciously awaits guests atop a bronze platter for holding Easter treats, miniature eggs, or an impressive spread of snacks for your Easter guests.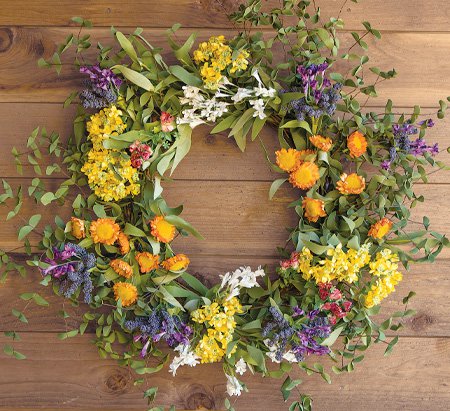 Olive & Cocoa's Lush Meadow Wreath epitomizes the elegance of your Easter decorations before your guests step through the door. This delightful gathering of leafy greens and spring wildflowers bursts forth to welcome guests with a promise of new beginnings. Lush Meadow Wreath bears the cheerful essence of Easter with sophisticated charm. Be sure to check out our other festive wreaths to bring that spark of elegance to your home each holiday season.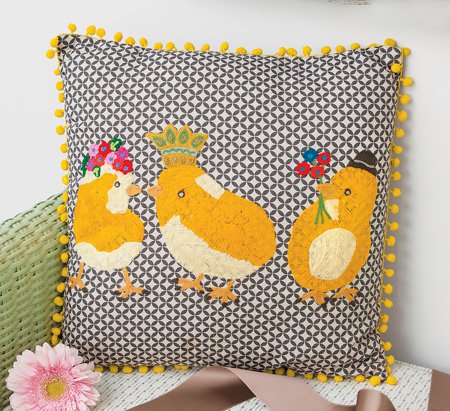 Add a splash of spring to your indoor Easter decorations with this adorably artistic image of three chic chickadees against a unique patterned backdrop and edged with playful yellow poms. This playful chick pillow is perfect for your living room sofa, bedroom, or any place you want to imbue with the spirit of the Easter season.. This elegant Easter decoration pillow is as charming as it is comfy.
Olive & Cocoa: Your Source for Elegant Easter Decorations
Make your house spring to life this season by shopping Olive & Cocoa's collection of luxury Easter Decor and Easter Treats. All of our products can be shipped to your door and are backed by our 100% satisfaction guarantee.