Flowers Are Essential For Your Holiday Table Decor
Gathering loved ones around the table to share a special meal is truly a delight -- the menu is perfect, the guest list is set and your best seasonal décor has made the halls merry and bright. The right floral arrangement will harmonize every element, making your holiday dinner one they'll remember for years.


Aesthetics & Mood
While some prefer boisterous winter holiday celebrations punctuated with joyful décor, others may choose elegantly subdued décor that mirrors the serenity of a winter evening. However celebrated, the right floral is the perfect finishing touch that accentuates festivities with:
Evergreen Elegance:
Ever refined, our Bianca Grace's classic white blossoms, sprinkled with silver and eggplant florals harmonize with the metallic tones of the season to create an atmosphere of refined serenity. The arrangement's lively chartreuse accents neatly pull together the hues of evergreen trees and wreaths to create a lush setting.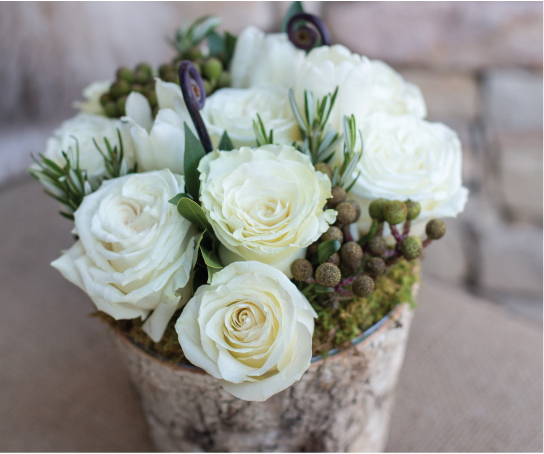 Mountainside Merriment:
With a flickering fireplace and glimmering tree in the background, the white blooms, botanicals and unique aspen bark pot of our Aspen Blanc arrangement dazzle in warm, rustic settings. As they say, you eat with your eyes first, meaning Aspen Blanc's splashes of chocolate brown, mint green and saffron will complement traditional holiday fare like turkey, stuffing and sweet potato pie.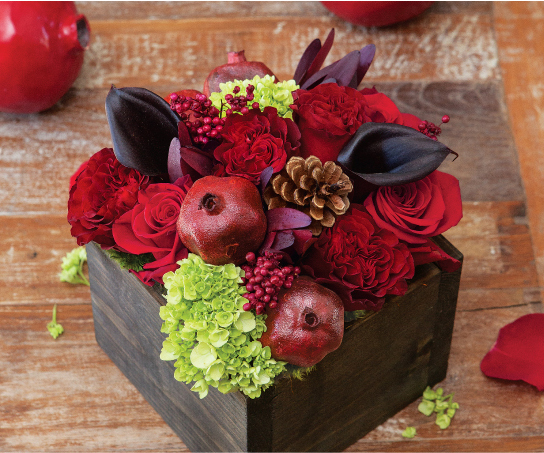 Quintessential Christmas Colors:
Perhaps you've embraced the merriment of the season by inviting Santa, his reindeer and elves into your home? Florals with matching seasonal palettes, such as Noelle, will bring this holiday jubilance right to the table. Noelle's deep crimson buds, pinecones and dried pomegranates harmonize with the metallics, russets, emeralds and reds found in these iconic seasonal decorations to delight table guests.
No Sneak Peeks
While symmetry has its place, this joyous season calls for natural arrangements akin to what grows in the garden. Regardless of palette, blooms of varying shapes and heights lend an air of earthly elegance, while allowing diners to see each other clearly.
Table Trimmings
In planning a holiday tablescape, consider how the shape of petals, stems and herbals in an arrangement will complement stemware or serviceware. For instance, we find that the lamb's ear in Bianca Grace emulates the organic curves found in handblown glassware, such as the Delancy Champagne Flutes. Similarly, we adore how the crisp lines of Noelle's lilies harmonize with the roughhewn nature of these Reindeer Salt & Pepper Shakers.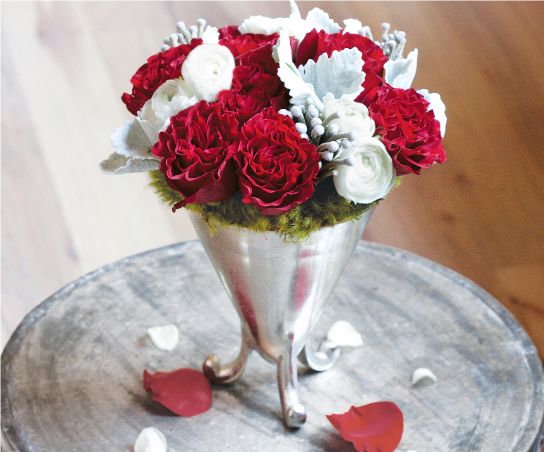 The Gift of Beauty
A perfectly picked floral arrangement will draw admirers. If a guest is particularly taken by your choice, send it home with him or her. They'll appreciate the gesture, and any of our florals will continue delighting long after your dinner. For instance, the hand crafted wood boxes that many florals are arranged in can be readily upcycled into a Windowsill Herb Garden. Select florals, such as the Annalise, are featured in gorgeous vases that will remind them of your holiday gathering the entire year.