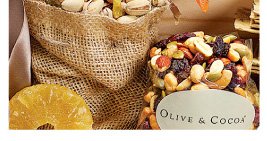 The unexpected twists and turns of 2020 have taught us to make the most of every moment, to give more hugs to those we love, and to express our feelings with a little more heart. As the year comes to a close, and our hearts open to the spirit of giving, now is the perfect time to send your loved ones a meaningful Christmas gift that lets them know how unforgettable they are.
That's why we at Olive & Cocoa have put together a unique collection of our top Christmas gift ideas for 2020 that your loved ones are sure to keep in their hearts for years to come. If you want to send a unique and heartfelt holiday gift that will help those you love most end the year on a perfectly positive note, this guide is for you.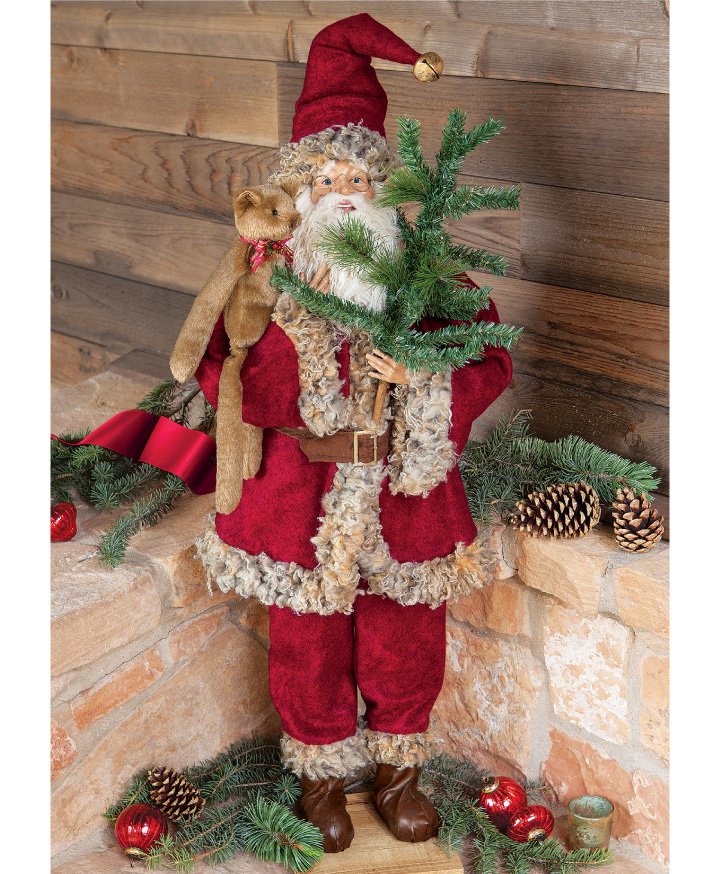 Heritage Standing Santa
He's 36 inches of jolly with a round belly like a bowl full of jelly, and he's here to bring big smiles to everyone he greets. Masterfully crafted with intricate details and a soft, velvety suit, this Santa is a holiday decoration of impeccable taste. Make their 2020 Christmas merry and bright with the familiar and friendly face of old Saint Nick.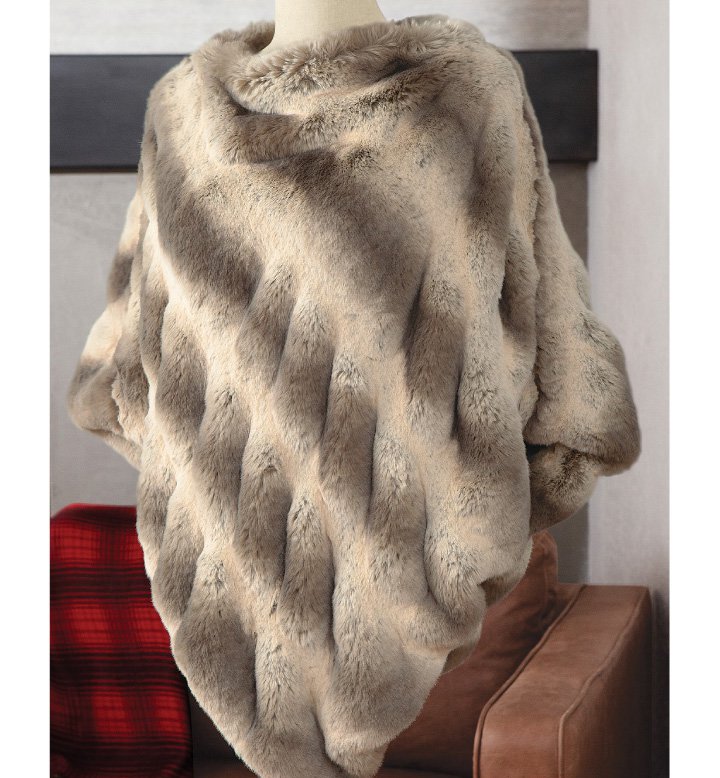 Lucerne Faux Fur Poncho
Baby, it's cold outside! Wrap her up in a luxuriously warm and stunningly beautiful faux fur poncho. A gorgeous blend of silver and ivory fibers, this poncho is perfect for staying warm while maintaining that couture look. For 2020 Christmas gifts, nothing beats a new look!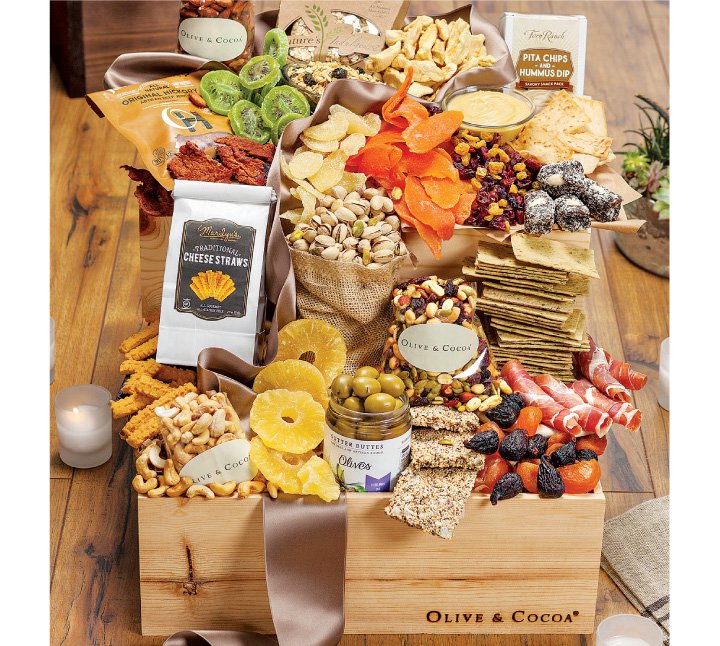 Bountiful Harvest Crate
Send them tidings of comfort and joy with a bounty of healthful foods in a hand crafted wood crate. This gift basket boasts a generous assortment of mouthwatering snacks that won't leave them with Christmas goodie guilt. This crate is the perfect thoughtful Christmas gift idea for the health-conscious friend on your list.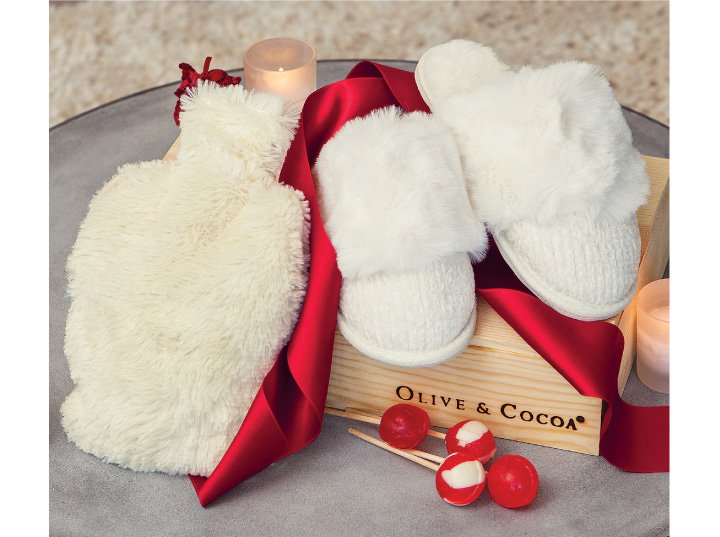 Warm Comforts Crate
2020 has been crazy, and Christmas gifts are important for mental health. In fact, everyone could use a little more comfort right now. From fuzzy slippers to a lavender filled, microwaveable heating pad to lollipops (just for added fun and whimsy), this gift crate has everything that the special girl in your life needs to feel cozy and cared for while she hangs out at home during the cold winter months ahead.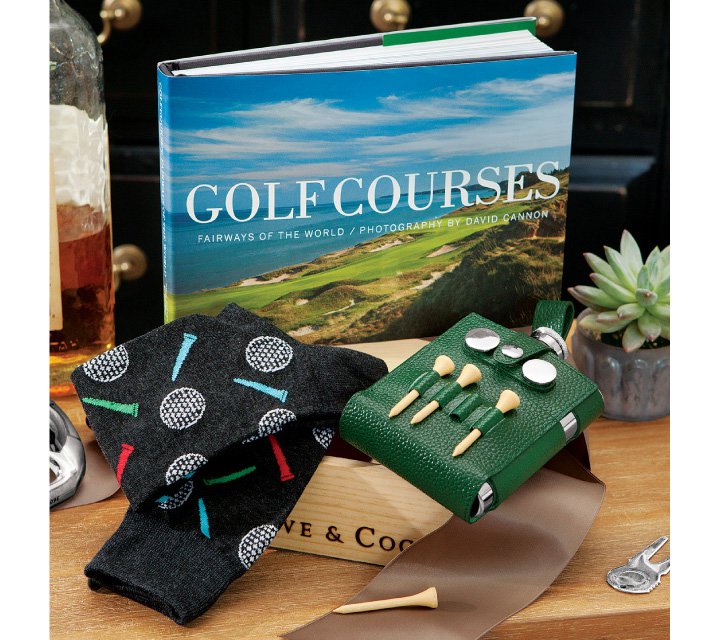 Fairway Golf Crate
This gift is for the man who loves to spend his free time on the green. Inspire his imagination with the iconic book, "Golf Courses, Fairways of the World" which features photos of the most picturesque fairways from around the world. Send him to the links prepared with "lucky" socks, a clip-on leather caddy with two ball markers, four tees, a pitch mark tool, and an 8 ounce flask to hold his favorite tee time beverage.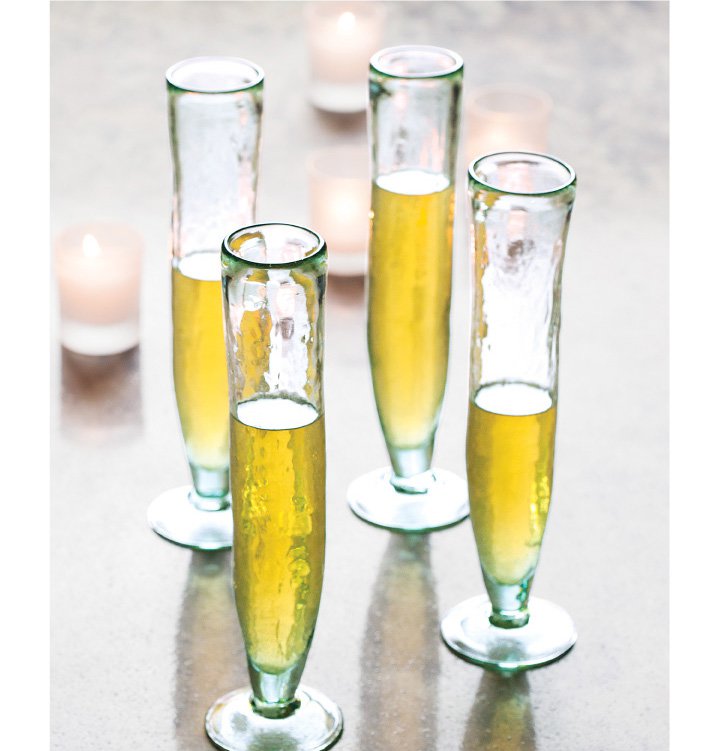 Delancy Champagne Flutes
Send loved ones a gift that allows you to celebrate the holidays with them--wherever they are. Our delicate, handcrafted champagne flutes will make any occasion an elegant experience they'll remember. Artfully designed from thick, recycled glass, these flutes are as beautiful as they are unique, and a gift that brings you closer together, even if you have to be apart.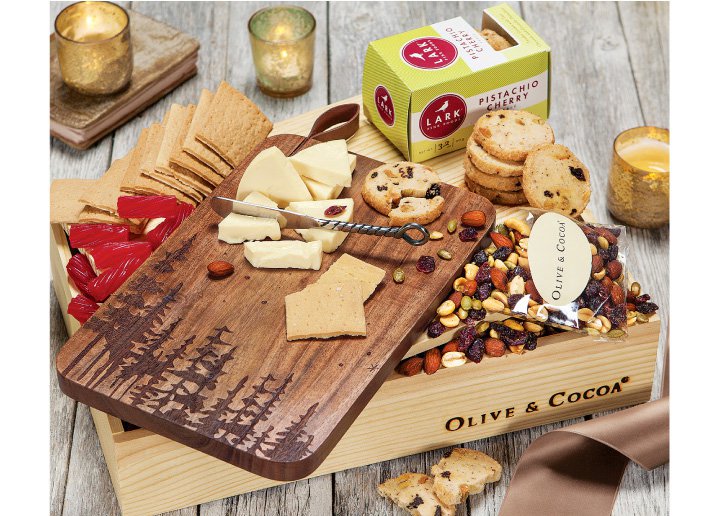 Woodland Serving Board and Snacks
A scrumptious collection of snacks paired with a beautifully crafted keepsake board and twisted metal server make this gift as tasty as it is memorable.The foodies in your life will enjoy snacking on an assortment of holiday inspired flavors such as pistachio cherry shortbread, wedges of creamy brie, gourmet crackers, Aussie red licorice and trail mix.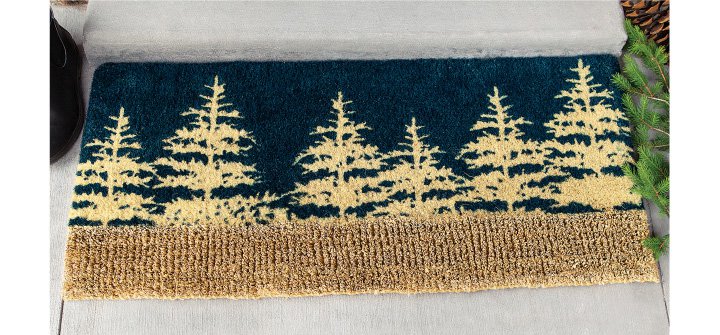 Nordic Nights Estate Mat
A welcome to remember. This stunning estate mat with snowy white trees set against a deep blue background is made from coconut coir and comes with a built in boot scraper. Your loved ones will enjoy welcoming guests with the beauty and grace of a peaceful Nordic evening.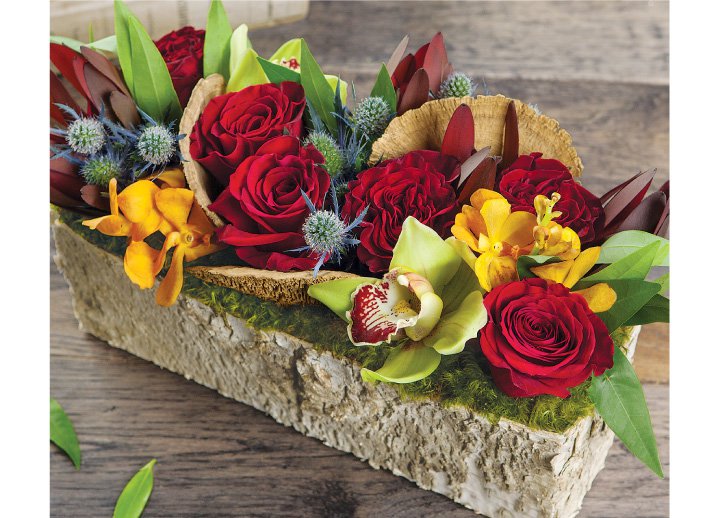 Sierra Birch Trough
Everyone loves receiving flowers for Christmas, and this arrangement of festive red flowers with thistle, fresh yellow blossoms and large mushroom halves make this floral arrangement the perfect breath-taking centerpiece for your loved ones' holiday table or as a festive decoration that enhances their living space.

For better or worse, this year has been one to remember. Wrap it up on a positive note! We can help you send your loved ones a stunning Christmas gift that lets them know how glad you are to have them in your life--through the good times as well as the 2020 times. Shop all of Olive and Cocoa's christmas selections and find the perfect way to say "Merry Christmas!"