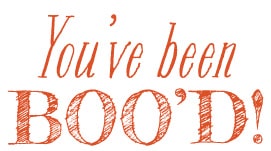 A HALLOWEEN GUIDE TO GET IN THE HALLOWEEN SPIRIT

A Halloween Tradition
Each October, a tradition begins in many neighborhoods across the country bringing friendly autumn fun and Halloween spirit to the whole neighborhood. Friends and family participate in a secret gift-giving game called "You've Been BOO'd!". Similar to a "Secret Santa" gift exchange, the tradition begins with sharable Halloween treats and a spooky Halloween poem delivered anonymously in the dark of night. A simple neighborly gesture, the Halloween gift of a "BOO" spreads the Halloween spirit and creates an activity the whole family can enjoy together. Have fun throughout the whole month as you watch the tradition spread from home to home.

HOW TO "BOO" YOUR NEIGHBORS

To start the tradition in your neighborhood, select two families you'd like to "Boo". Then, prepare two sets of sharable Halloween treats, one for each family. Our BOO FELT BUCKETS & TREATS do the trick, filled to the brim and ready to go! Print out two copies of our "You've Been BOO'd" letter here, or create your own frightful Halloween poem. Make sure not to sign your names--you don't want to give away the surprise! Attach the letter to the treats. When night falls, gather your friends and family together and head out to deliver the baskets. If you'd like, everyone can dress up in dark clothes to feel even more sneaky. At each house, be as quiet as can be, and leave the Halloween treats on the porch. Ring the doorbell and RUN!

WATCH THE HALLOWEEN SPIRIT SPREAD

After you "BOO" your neighbor and they discover and enjoy the treats and Halloween gifts, the two families you "BOO'd" will then take their turn to pass on the fun. As the letter instructs, they'll attach the "We've been BOO'd" sign to their door to show they've already received a delivery. Then, they'll each deliver a set of goodies and Halloween treats to two more families and the Halloween spirit will spread. Watch through the following weeks as "BOO's" signs start to mysteriously appear door by door and fill the entire neighborhood with friendship and Halloween spirit.