Fall Farmer's Market Guide
It's safe to say that the arrival of fall brings the best cooking and baking possibilities back into our kitchen. From pumpkin patches and apple picking to Thanksgiving feasts, we can't help but have all kinds of culinary possibilities on our minds. Take a look at our helpful guide on how to select the best fall produce so you can enjoy the fullest flavors of the season.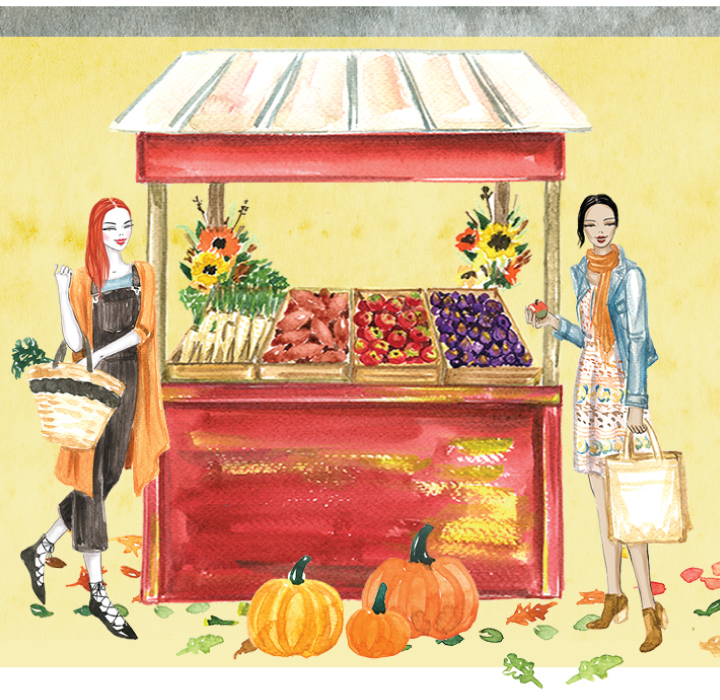 Apples
To us, apples and autumn go hand-in-hand. Choose apples that are firm and spot-free. Picking blemished or over overly ripened apples may cause surrounding produce to spoil. Need help remembering the best recipes for apples? We suggest a couple seasonal staples like homemade apple cider or a crumbly apple crisp. Don't forget to have a little fun trying something new, like a tasty batch of caramel apple popcorn!

Beets
Not only are beets delicious, they also add that perfect pop of color to any dish. When scouring the market for your ideal beet, be sure to pick firm beets that have a smooth skin. We prefer beets with leaves and greens attached to guarantee their freshness. Plus, the greens are delicious in a salad or sautéed. Enjoy!

Cauliflower
A versatile fall favorite, cauliflower boasts a ton of antioxidants. When shopping for cauliflower, reach for dense, firm heads. It's delicious simply roasted or baked with olive oil. You might also try a sophisticated cauliflower-brie gratin, or cozy up with cauliflower soup. Looking for a little spice? Try your hand at a flavorful cauliflower curry.

Figs
Figs are a delightful treat of the season, and one of the reasons we await the goodness of fall. Pick figs that smell fragrant to ensure their sweetness. Remember to choose ones without blemishes, as figs perish easily. For this reason, they are best used within a day or two of purchase. Broiled figs with pancetta is our favorite for combining sweet and savory flavors. Fig balsamic reduction can be drizzled on any fig-lover's dish. Or, save the best for last with a fig and almond crostata for dessert.

Parsnips
Parsnips are a good way to get in touch with your earthy side. Try using this root vegetable to make rosemary parsnip fries or spiced parsnip soup for a delicious light dish. Change up your everyday grain dish with a tasty parsnip pilaf. Make sure to pick parsnips that have little bend and are firm to the touch, and remember, the smaller parsnips tend to hold the best flavor.

Pomegranates
Pomegranates are like great books--you shouldn't judge them by their covers (or skins). The color and hue of a pomegranate do not actually determine its ripeness. But feel free to pick up the fruit and consider its weight. The heavier the pomegranate, the juicier the fruit! Change up tradition with a cranberry pomegranate sauce for Thanksgiving, or enjoy a sweet autumn lunch with fresh greens and a sweet pomegranate dressing. When you are craving something hearty, opt for a pomegranate roasted chicken.

Sweet Potatoes
Sweet potatoes are one of our favorite produce items for fall because of their versatility. They can be used for anything from a savory roasted side dish to a delectable dessert. We like sweet potato biscuits for a family gathering or sweet potato tempeh stew for a particularly chilly day. Sweet potato and goat cheese bruschetta is a fun play on the classic Italian appetizer. Keep your eye out for small to medium sweet potatoes which tend to have more flavor and better texture. Look for the skin to be firm and unblemished to enjoy the peak of your sweet potatoes' freshness.