Thank Thoughtfully
Express thanks to a colleague, new client, or an outstanding employee with one of these thoughtful gifts.
APRIL 2018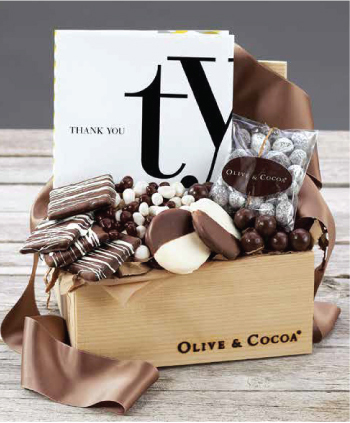 Thank You Book & Chocolates
Our inspirational "Thank You" book, filled with sentiments of gratitude and encouraging quotes, comes paired with a bevy of sweet chocolate, including milk and white chocolate dipped cookies, malt balls, and chocolate-covered graham crackers. An especially thoughtful gift for the resident choco-phile.

Thanks to You Crate
For an individual who gives of their time and talents generously, our "Thanks to You" book is filled with quotes that compliment such an admirable trait. In addition, some delicious white chocolate pretzels, two lollipops, dusted toffee almonds, and a sumptuously thick "thank you" sugar cookie comes gift wrapped with book in a hand crafted wood crate with ribbon.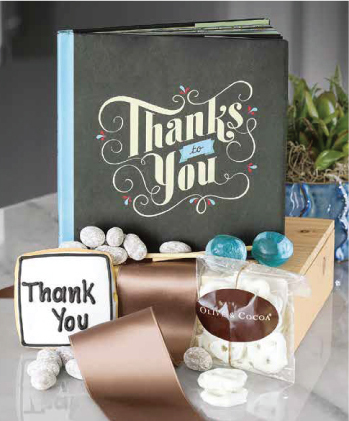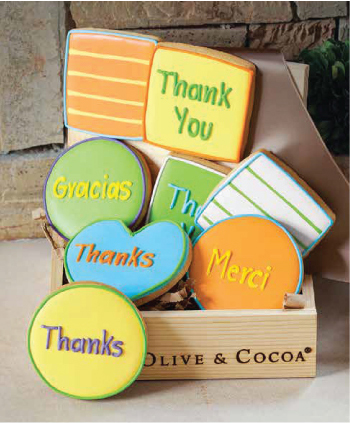 World of Thanks Cookies
A thoughtful gift for clients abroad, our World of Thanks Cookies deliver a gracious and colorful statement. Eight oversized cookies are adorned with expressions of thanks in a variety of languages, such as "Merci" and "Gracias." Cookies are the international expression of a job well done!

A Tasteful Thank You
Give thanks with a gift of a gourmet table spread all in one beautiful package. Seasonal fresh fruit, dried mangoes, pistachios, trail mix, farmhouse cheese, rustic crackers, and two gourmet cookies with "Merci" and "Grazie" icing will keep them full. The addition of a dark wood serving board and cheese knife lends a sophisticated touch.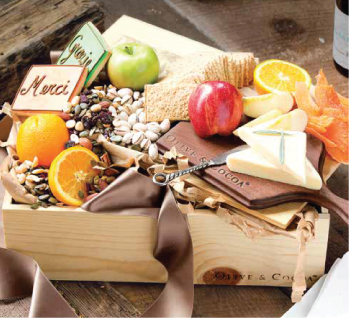 No matter who you're thanking, these gifts will immerse them in the experience of being both thanked and pampered for doing business with you!