How To Host a Spookishly Chic Soirée
Midnight falls upon us with a haunting magic. Lit by the glow of a full moon,
the alluring mystery and macabre of dark autumn nights set the perfect
scene a Halloween fête. Host your own spookishly chic gathering
with these frightfully fun party tricks, tips and treats.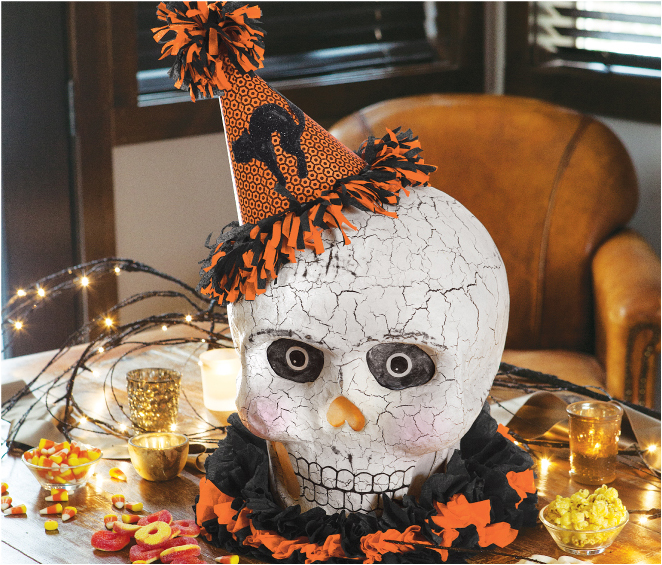 ALL AGLOW
A flicker of candlelight creates a mysteriously chic surrounding.
Make lighting low and eerie with lanterns, tealights or festive luminaries
set on the dining table. With the addition of an LED candle, our
Mischevious Papier Mâché Skull makes the perfect spooky lighted
centerpiece! Complete the look with glowing vessels on
the front steps and patio to welcome guests.
Watch / our Mischevious Papier Mâché Skull video

Witch's Brew
Mix up your own special witch's brew!
A swizzle of bourbon and ginger beer
is extra bubbly, and makes a delicious
autumn cocktail for the adults. For
the little ones, make a batch of old
fashioned root beer and server it in
a decorative black cauldron with dry
Ice for an extra spooky sip.

Over The Hill Skeleton
Decanter & Glasses

Shop Now >>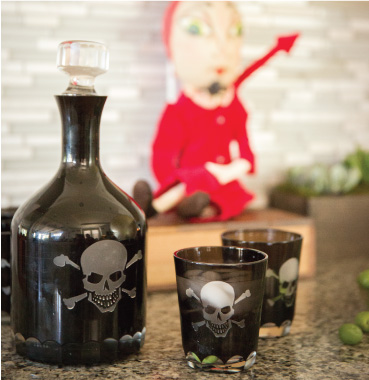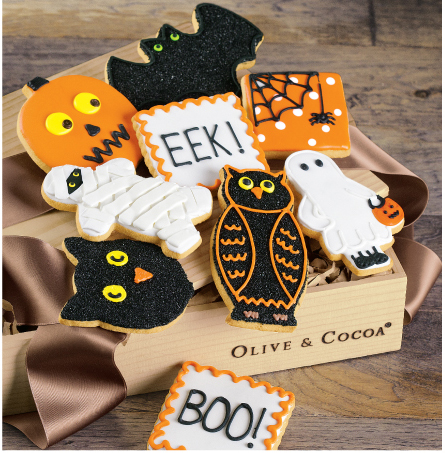 TRICKS & TREATS
It just wouldn't be Halloween without frightfully sweet treats! Serve a spread
of old fashioned candy, chocolate and caramel apples sliced to share. You can
also incorporate treats in to fun activities for the kids. We love a "donut-on-a-string"
eating contest (no hands!) and as always, the classic fun of bobbing for apples.
Serve dark and rich desserts for the adults, like chocolate ganache cake topped with
black Over the Hill Tapers. Turn out the lights and let the kids blow out the candles!

Spooky Frosted Cookies | Shop Now >>
Harvest Flavor
Fall appetizers such as pumpkin
balsamic ravioli or roasted sage
butternut squash bites bring the taste
of autumn to the table, and are easy
to serve buffet style. Set out a large
platter of each along with frightful
appetizer plates and let guests
casually serve themselves.

Vintage Halloween Plates

Shop Now >>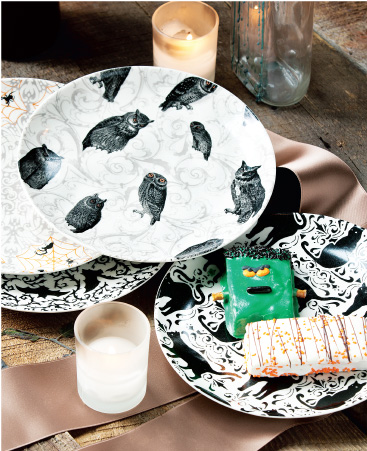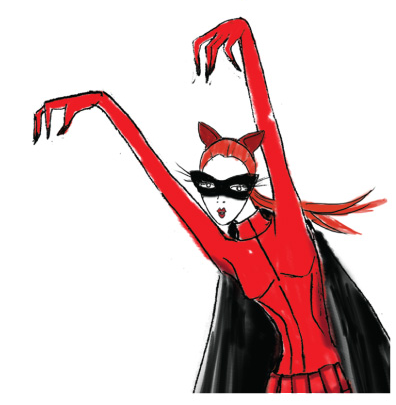 To Costume Or
Not To Costume?
We say let guests come as they wish!
Make sure to inform guests on the
invitation that dressing up is optional.
This way, no one is left to wonder or
set to arrive under or over dressed.