The leaves have fallen, the air is chilly, and our lattes are flavored with pumpkin. It's the time of year when we get to dress ourselves up in our most fantastical costumes, and transform our homes into haunted houses! Decorating for Halloween is fun when you find decorations that fit the look you're going for. Fortunately, at Olive & Cocoa, we have a large selection of diversified halloween gifts and decorations, so you're sure to find plenty of festive pieces that compliment your personal style. Whether you're a free-spirited lover of the boho, or have a taste for the macabre, our experts have the best tips and ideas to help you navigate the fun house of indoor Halloween decorating.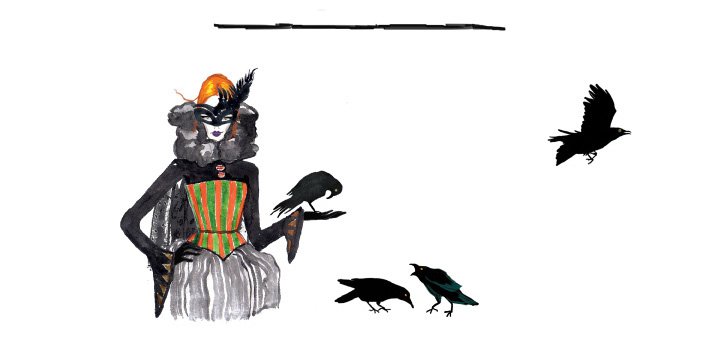 CUTE HALLOWEEN DECORATIONS
Halloween doesn't always have to be haunted. With bright harvest hues and colorful characters to embrace, there are so many fun, and playful ways to decorate for the spooky season. Here are a few of our best ideas for fanciful, and scary-free Halloween decorations.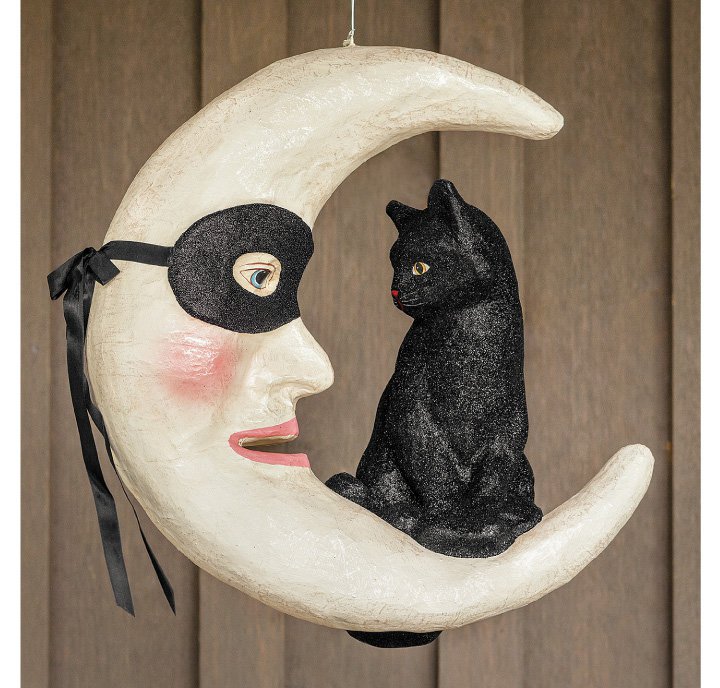 Artistically crafted of sturdy papier-mâché, Chat Noir Hanging Moon adornes your entryway.
Chat Noir Hanging Moon
An adorable kitten stops to admire the enchanting presence of a masquerading crescent moon. This hanging decoration is food for the imagination, the perfect cute halloween decoration for inside your home.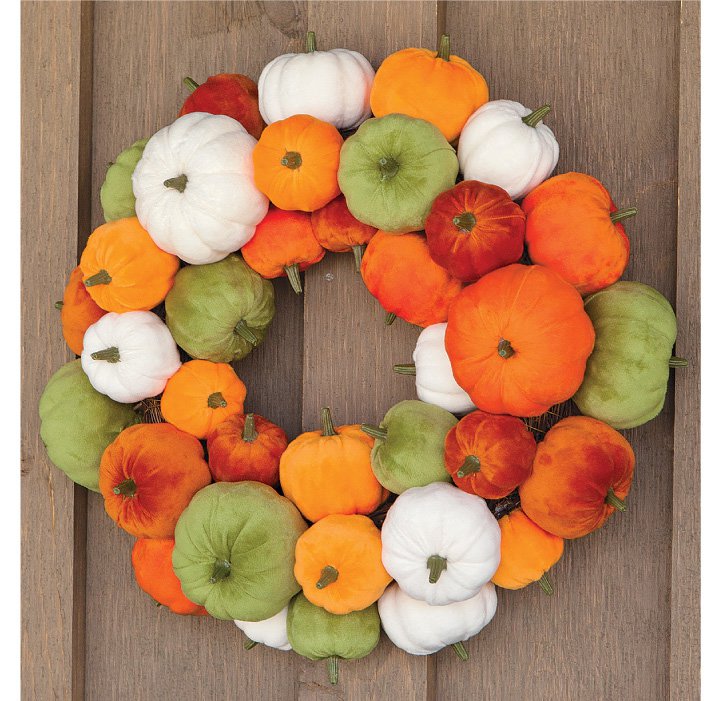 Soft and welcoming, the Velvety Pumpkin Wreath invites festivity into your home.
Velvety Pumpkin Wreath
A colorful array of soft, velvety pumpkins arranged in a lightweight, and easy to hang design. This spritely wreath puts the "happy" in Happy Halloween.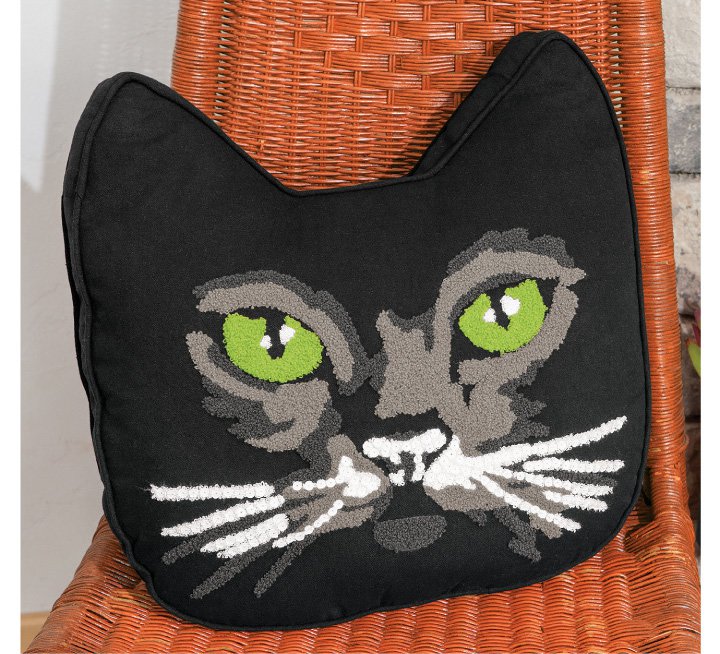 Mr. Green Eyes Cat Pillow
This cat's got charisma. Beautifully embroidered detailing and sequined whiskers, make this giant cat pillow a charming addition to your Halloween décor.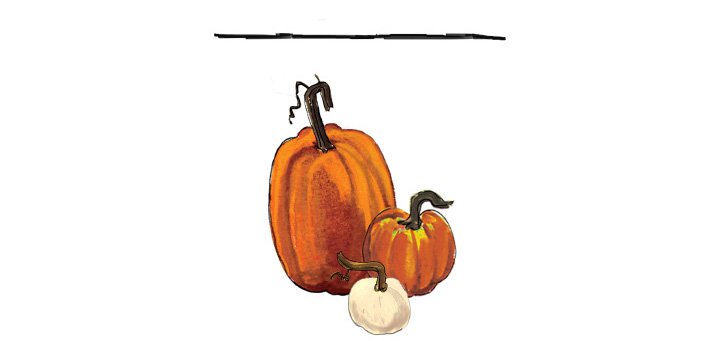 TOUCH OF MACABRE
Keeping Halloween scary is easy to do with a little help from Olive & Cocoa. Dark, but elegant decorative pieces will quickly transform your home into a gothic-style haunted house. Here are our favorite ideas for Halloween decorations with a touch of the macabre.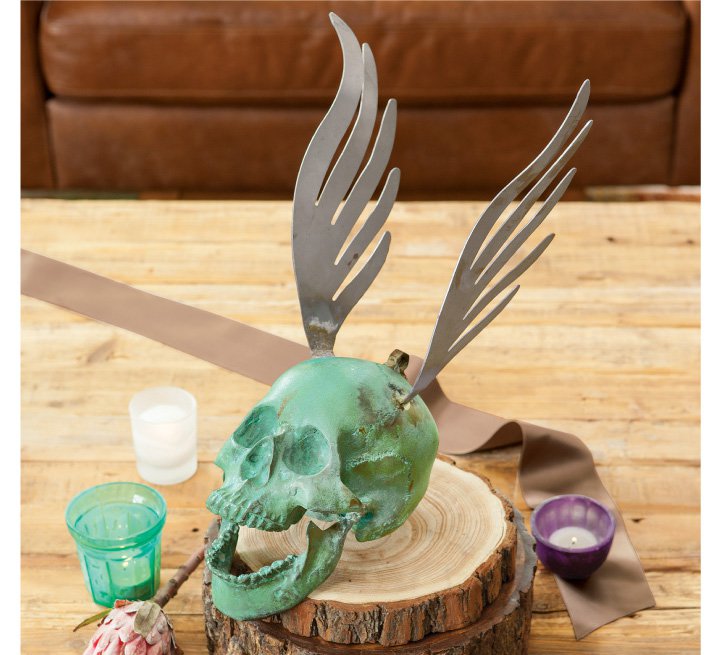 Striking and unapologetically daring, our Winged Skull is a work of art worthy of any home.
Winged Skull
Fierce, artisan crafted metal skull with wings is a piece of art that makes a bold statement. If you're looking for an intriguing conversation piece, this decoration is for you.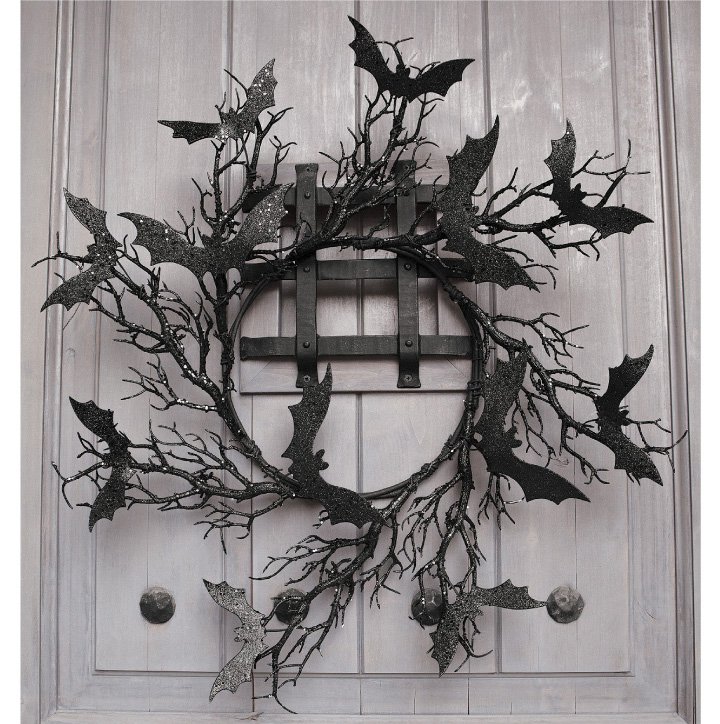 The Twilight Bat Wreath is dark and shimmery, like the moon on Hallows' Eve.
Twilight Bat Wreath
Dark, shimmery bats ominously await orders from the Count! Wonderful dimension and depth is created with glittery bats wire mounted onto twisted branches.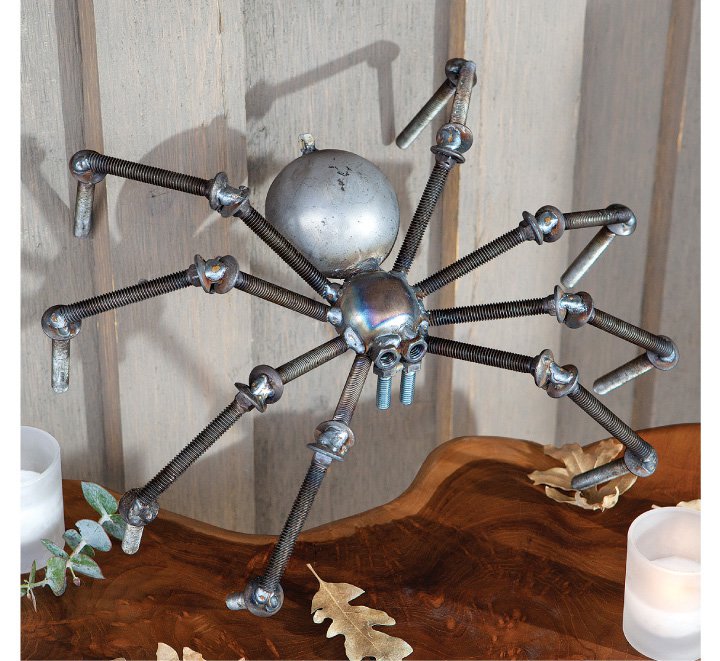 Modern and metal, Timothee the Tarantula waits and watches.
Timothee The Tarantula
Industrial chic meets creepy critters in this eye catching sculpture. Made from reclaimed metal and nuts and bolts, Timothee the Tarantula is an arachnid to reckon with.

MINIMALIST HALLOWEEN DECORATIONS
Clean lines, and simple style is the lure of minimalism. You don't have to throw out your simplistic style to make your home look festive for Halloween. Here are our favorite ideas for minimalistic Halloween decorations for the home.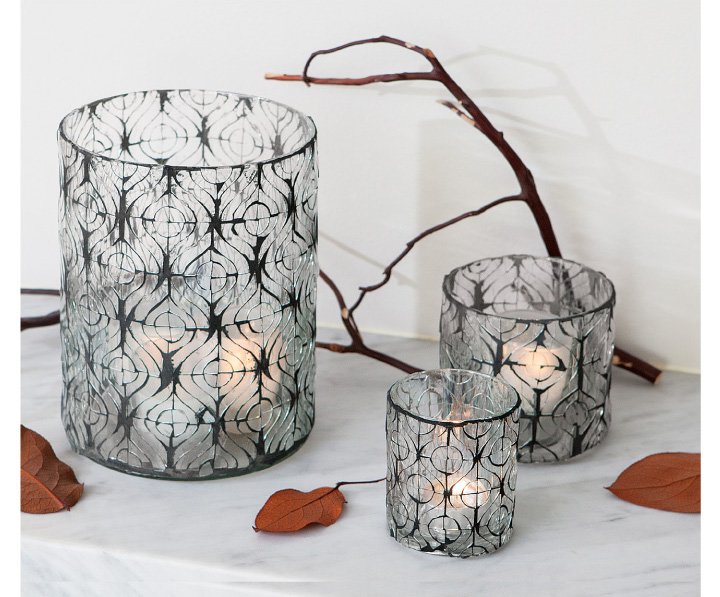 Give your home a subtle spooky glow with the Textured Noir Hurricane Set.
Textured Noir Hurricane Set
Illuminate the mystery with beautiful textured lighting. Staged together or separately, these unique hurricanes will cast an unearthly glow on your festive home décor.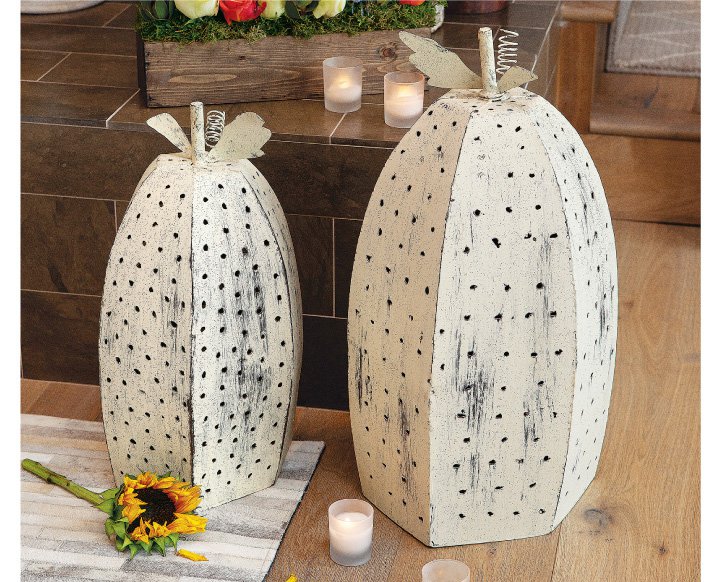 Mod Metal Pumpkins greet your guests with festive simplicity.
Mod Metal Pumpkin Set
Made from distressed metal, these two oversized hexagonal pumpkins make a dramatic statement. Simple, yet overstated like pumpkins from a woodland dream.

BEWITCHING HALLOWEEN DECORATIONS
No one is more enchanting than a witch! Bold looking and timeless in character, witches cast the perfect spell on home Halloween decor. Here are our favorite wicked witches you'll want to add to your home this season.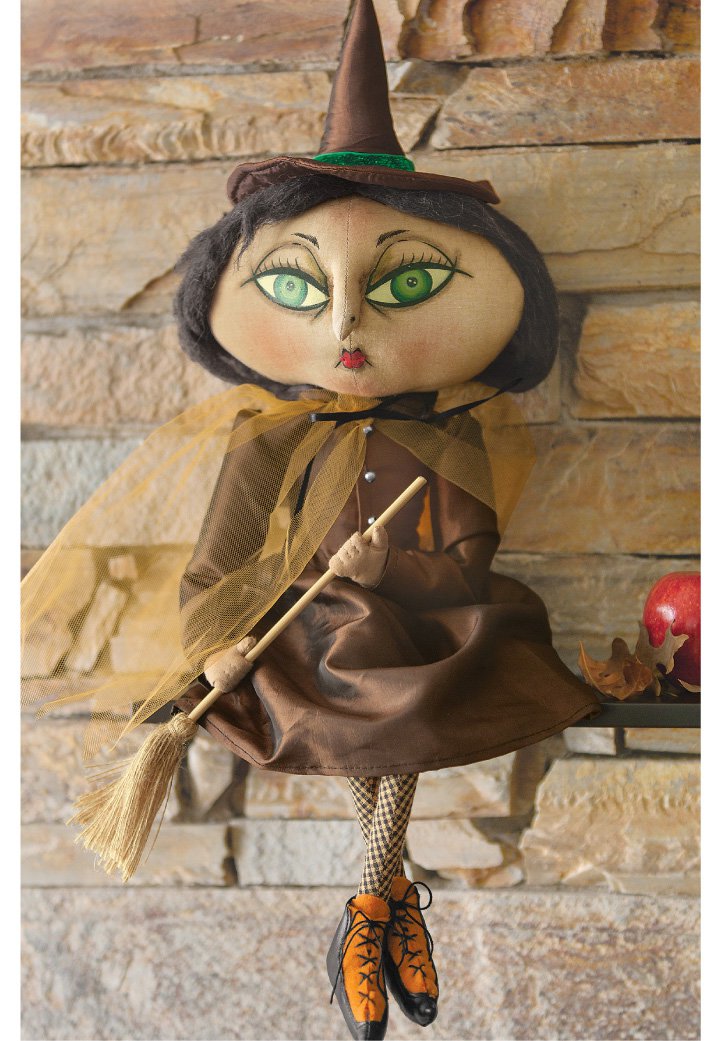 Wilhelmina the Witch sits atop her Halloween haunt.
Wilhelmina Witch
Dressed in her finest satin, Wilhelmina is ready to take to the skies for a hearty Halloween haunt. Charming and delightfully mischievous, this witch makes an adorable decorative piece.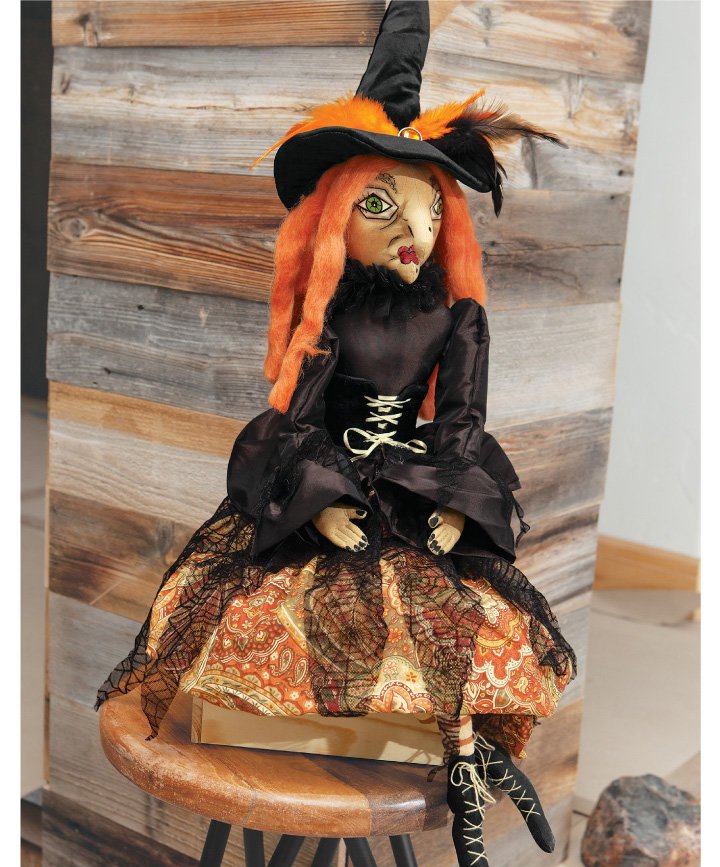 Zelda Witch, perfectly accented in orange and black adds the final touch to your Halloween scene.
Zelda Witch
The high witch of the coven sits in perfectly detailed costuming and a painted expression that gives onlookers the chills! Who will be the next to fall victim to Zelda's enchantments?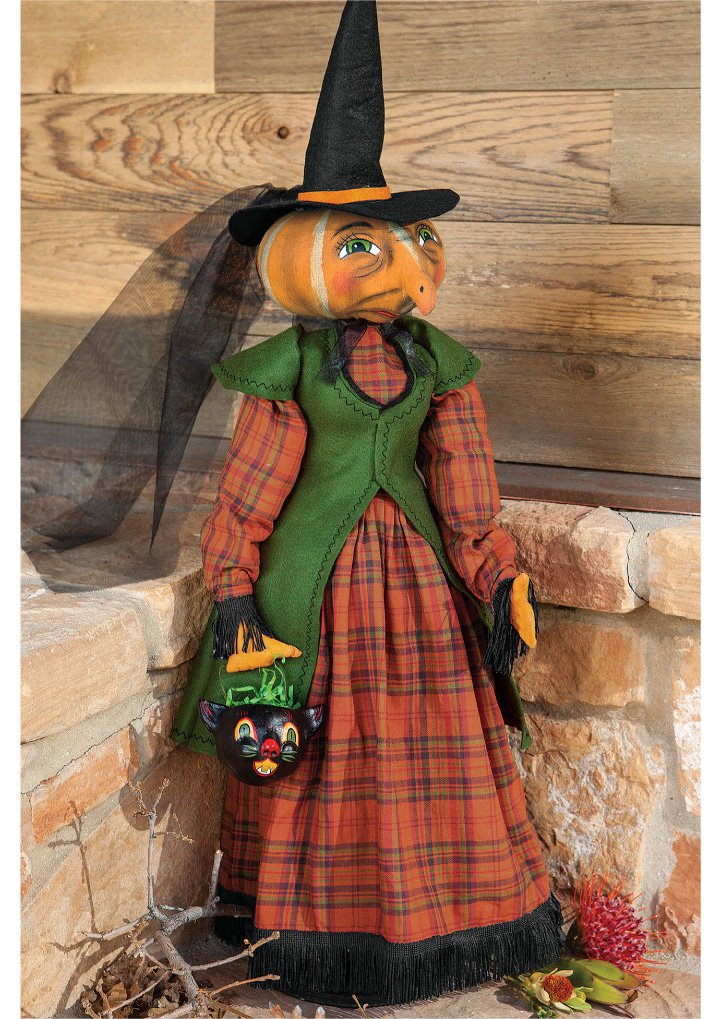 Olena Witch the Pumpkin Queen watches trick-or-treaters on parade.
Olena Pumpkin Witch
Strolling in from the pumpkin patch comes Olena as she just cast her latest spell. Dressed in old-fashioned witchy attire, Olena is the belle of the pumpkin ball.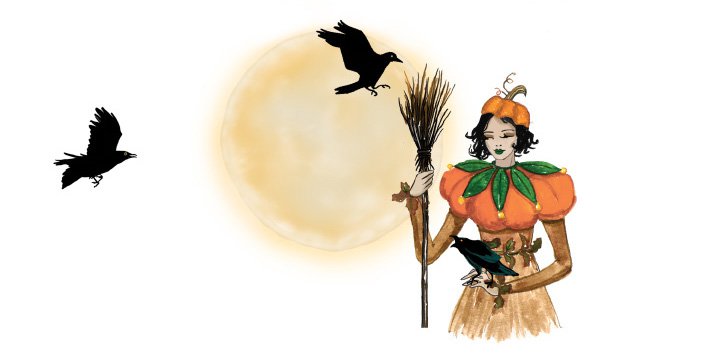 The chill of fall is in the air, and your house is ready for haunting! With these expert decorating tips and ideas from Olive & Cocoa, you'll find indoor Halloween decorations that fit your style. Shop our whole selection of Halloween gifts and decorations today.