Subtle Halloween Makeup Tutorial:
The Hauntingly Haute Look
With a month full of events, you can express Halloween spirit without donning full costume. We have the perfect complement to your autumnal affairs, from a spooky day at the office, to helping at a kids' Halloween party: A how-to guide for hauntingly chic accessorizing, paired with a smokey eye. It's an all-day look for a perfect season of mischief...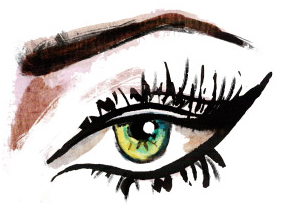 STEP 1:
PREPARE WITH PRIMING
Prevent your makeup from smearing and smudging by putting a dab of primer over your eyelids, below your eyes, and anywhere you're applying an accent to your makeup. This will ensure that the makeup stays in place through the entire days' worth of activities.

STEP 2:
Create an Event Canvas
Creamy concealer will further brighten the eyes, and foundation will create a perfect canvas for your dramatic eye, plus any other embellishments you desire. Using your ring finger, gently pat concealer atop your under-eye area. Set concealer with a brush of translucent powder. For any facial makeup, first brush or pat your favorite foundation evenly on your skin. This allows any artful additions, such as a heart on the cheek with an eyeliner pencil, to really stand out.

STEP 3:
DARK EYE SHADOW
Before applying shadow, it's important to blow on the brush to keep any stray color from falling onto your cheek. Blend a dark shadow from your lashes to the crease of your eye. Then use a small, angled brush to apply shadow to the edge of your lower lash line. The darker the shade, the more dramatic the effect.

STEP 4:
SMUDGE
Using a cotton swab or a clean dry brush, smudge the shadow at the crease of your eyelid and along the lower lash line.

STEP 5:
LINE
Define your eye with a dark black eye liner. Gently drag the liner along the top and bottom lash lines. For a more pronounced look, line the inner bottom lash as well. Note: If using synthetic eyelashes instead of mascara, you can extend the liner past your actual eye, and place the eyelashes to create the illusion of a longer eye line.

STEP 6:
HIGHLIGHTS AND AN OPTIONAL POP OF COLOR
To enhance your eyes, blend a pearlescent highlighter along your browbone and the inner corner of your eyes. If you wish, you can then brush a small hint of your favorite metallic Halloween color to the apex of your eyelid, below the eyebrow, or at the corner of your eye, to add a pop of whimsy.

STEP 7:
CURL
Curling your lashes before applying mascara will create a wide-eyed effect. With an eyelash curler, clamp down at the base of your lashes, hold down for five seconds, release, and repeat.

STEP 8:
MASCARA
Add the finishing touch to your smokey eye with a few coats of true black mascara to your top and bottom lashes.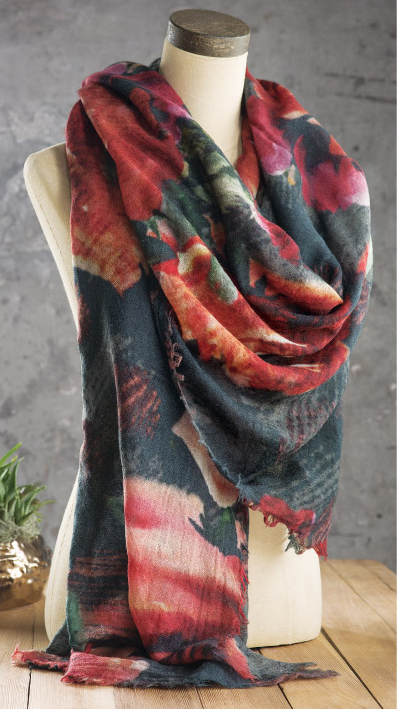 STEP 9:
ACCESSORIZE
Now that your beautiful facial masterpiece is complete, you can move on to the finishing flourish of a ghoulishly glam accessory. We suggest our versatile Evermore Scarf, with the perfect blend of chic and eerie elements. Our Rosemarie Wool Scarf exudes an earthier elegance, as a nighttime patch of roses adds mystery to your look. Or if you prefer a dapper flourish on your head, may we suggest our Raven Top Hat & Crow Headband set? The dramatic wing spans of these foreboding birds of fall will surely delight!

With your Hauntingly Haute Look, you're now ready for trick or treating, an evening with your little goblins, a bewitching hour of frolic with friends, or anywhere else the spirit of the season takes you!