Receiving and entertaining guests doesn't always mean a grand formal affair. A tasteful, simple gathering with friends and loved ones can happen anytime, anywhere with the right food and atmosphere. Here are our food and presentation suggestions for creating a hosting opportunity whenever and wherever you are.
---

Flavors to Satisfy All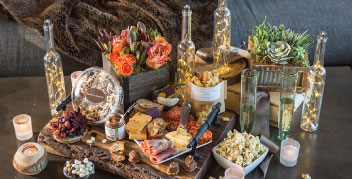 Providing a wide variety of sweet and savory foods is the key to indulging everyone's cravings. The benefit of serving easy-to-eat hors d'oeuvres at your get-together is that finger foods--such as olives, nuts, cheeses, crisps, and chocolates--are delicious and hassle-free. With snacks like these, there's no need for plates and flatware. Napkins and shared serving implements (spoons, knives, spreaders, etc.) are enough. You don't even need to slice your own cheese. Guests can select their portion with a handy cheese knife at the ready. The best part of this arrangement is that these items travel well, meaning you can play host at home or on an adventure. Simply lay out a self-serve, buffet style spread and you're all set.
---

Deliciously Portable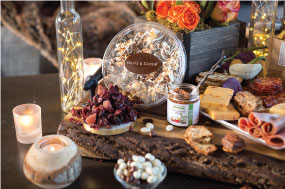 Hosting is a joy when it's more about socializing and entertaining than serving, scurrying, or worrying. With preprepared, easy-to-eat hors d'oeuvres to share, you can relax and maximize quality time spent with guests. A selection of beautifully prepackaged party foods is always a sound investment--when goodies arrive in a gorgeous hand crafted wood crate, you're equipped with a fabulous portable display ready to serve at any occasion, from picnic and tailgate to date night and cocktail hour. Guests get to choose what and how much they eat. And at the end of the gathering, they can easily take home mess-free leftovers. Cheers to keeping it simple!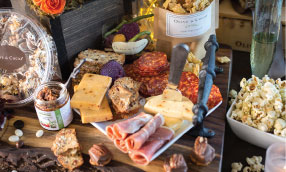 ---
May we recommend:
Snacks To Share, Savory, Salty & Sweet, Gourmet Pantry Crate, Savory To Share, Sweets To Share, Naturally Delightful Crate, Grande Charcuterie