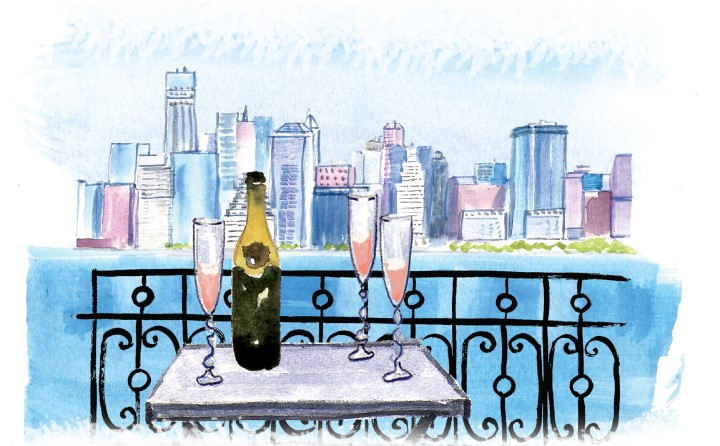 Holiday Cocktails:
The Pretty Prosecco Spritzer
January 2019
The vibrant reds and greens of the garnish nod to the holiday past, while the bright and bubbly liquid celebrates the sparkling possibilities of a fresh new year.
A note about prosecco: While it's often compared to Champagne, prosecco has a creamier texture and lower acidity, making it a wonderful choice for pairing with citrus. It's most commonly served as an apéritif, but also shines alongside a variety of entrées due to its versatile, food-friendly nature. A perennial brunch favorite, prosecco is a welcome guest at any meal or occasion.
Celebrate harmonious tastes when you couple this cocktail with bold cuisine rich in fearless flavors--or let it dazzle on its own. Here's to a Happy New Year!
INGREDIENTS
| | |
| --- | --- |
| 1 | bottle dry, chilled prosecco of choice |
| 2 | ounces chilled peach schnapps |
| 4 | teaspoons fresh squeezed lemon juice |
| 4 | ounces pomegranate juice |
| 1 | can or bottle mango flavored soda water |
| 2-3 | sprigs fresh rosemary |
| 1/2 | cup sugar |
| 1 | cup water |
GARNISH (optional)
| | |
| --- | --- |
| 1 | tablespoon fresh pomegranate seeds |
| 1 | sprig fresh rosemary |
INSTRUCTIONS
First, make a rosemary simple syrup by adding the water and rosemary to a small pan and bring to a boil. Add the sugar to the boiling water and stir until it dissolves. Remove from heat and strain rosemary sprigs from the syrup, then set syrup aside to cool.
Next, pour prosecco evenly--about ¾--into 4 tulip or flute glasses. Add to each glass ½ ounce of peach schnapps, ½ ounce cooled rosemary simple syrup, 1 teaspoon lemon juice, 1 ounce pomegranate juice, and a splash--about 1⁄12 ounce--of mango soda water, then stir.
If garnishing, clean and deseed a fresh pomegranate. Add seeds to each glass and, before adding rosemary, allow them to gently float to the top.