5 FRIGHTFULLY FUN HALLOWEEN
PARTY IDEAS FOR KIDS

What would Halloween be without a party full of tricks and treats for
the little ones? Create a cast of frightfully fun activities with these
kid-friendly Halloween party ideas and let everyone join in the frightful fun!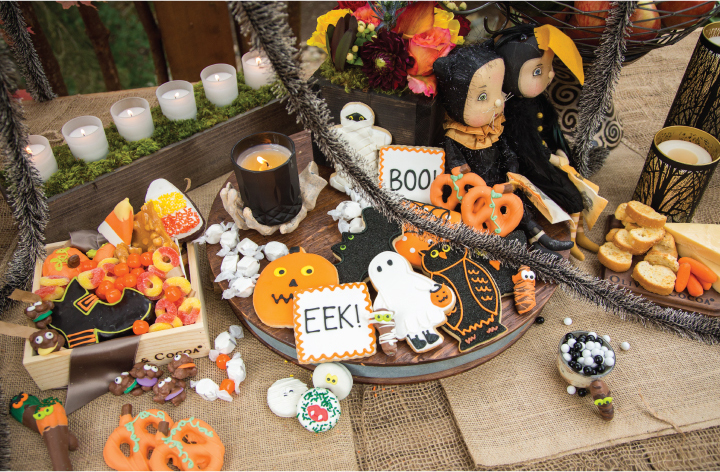 1.
HAUNTED MANSION:
Wonderfully Wicked Decorations

A great Halloween party idea is to turn your own home into a marvelous haunted mansion! Adding creepy but cute Halloween decorations around the house and yard sets a spooky scene but doesn't make it too frightful for the little ones. Our Leggy Hanging Spider makes a perfect addition to the porch, hanging from a tree, or even displayed on a mantle, with his extra-long dangly legs. Add mood lighting with décor like our Haunted Forest Lit Hurricanes, paper luminaries, or a string of orange lights to the porch for a mysterious glow, and don't forget the pumpkins!
2.
FRIGHTFULLY FUN FESTIVITIES:
Games Galore

If you're looking for Halloween activities for kids, playing a few fun Halloween games will get little guests in the spirit! A costume contest
has always been one of the most popular Halloween games, and everyone can be a winner. When you have the final count
of how many kids will be attending the party, prepare enough awards for each. Select
a few general categories such as "Prettiest Princesses", "Most Ghoulish Getups" and
"Best Superheroes". Multiple guests can win the same title to make preparing even easier.
Another fun Halloween party idea for kids is to create a spooky scavenger hunt. With a little bit of planning, this
game of "hide-and-seek" can be fun for all ages. Create as many clues as you'd like, and
have a selection of treats or prizes waiting for everyone at the end.
3.
Halloween Sweets & Treats To Share:
Chocolate Cobweb Cupcakes

If you're struggling to come up with Halloween party ideas for food, spread a buffet table with an array of Halloween-themed treats that are perfect for little hands to grab, such as our sweet and salty Chocolate Caramel Pretzel Pumpkins, or our decadent and whimsical Spooky Frosted Cookies. For extra variety and visual appeal, our Trick-or-Treat Sweets is brimming with hauntingly scrumptious goodies including peach rings, peanut brittle, dark and white chocolate raisins, and caramel pretzel goblins, orange sour balls, and more--sure to delight all the miniature ghouls in attendance.
4.
MAGIC POTION:
Homemade Old Fashioned Root Beer

An eerie cauldron of bubbly "Witches' Brew" is sure to be a hit! Stir up a cauldron
of homemade old-fashioned root beer, add a bit of dry ice, and watch them light up with wonder
and amazement. It's easy! Gather 6 cups of white sugar, 3 ½ gallons of cold water, 1 Bottle of
Root Beer Extract (2 oz.), and 4 pounds of dry ice. In a large cooler, mix together the sugar
and water 'til sugar is completely dissolved, then stir in the root beer extract. Let the mixture
"brew" for at least an hour before serving. When it is time to serve, pour a batch into a food
safe cauldron decoration (they can be found in most party stores.) Add in a chunk of dry ice
and watch as a creepy mist comes billowing out of the cauldron. Serve in cups with a ladle.
Replenish the cauldron with root beer and dry ice as needed.
5.
TRICK-OR-TREAT:
Festive Party Favors

Send each child home with a little something to enjoy after the party. Create a little craft
project that can double as a fun decoration for their own home. For a fun and easy favor,
a DIY pumpkin decorating kit is a perfect idea. Fill a paper bag with a mini pumpkin and fun
little tidbits to decorate it with. Feathers, pompoms, jewels, and colorful pipe cleaners are great!
Don't forget to include a little something to stick them on with. A little bit of washi tape looks
really cute and holds decorations on the pumpkin just right.