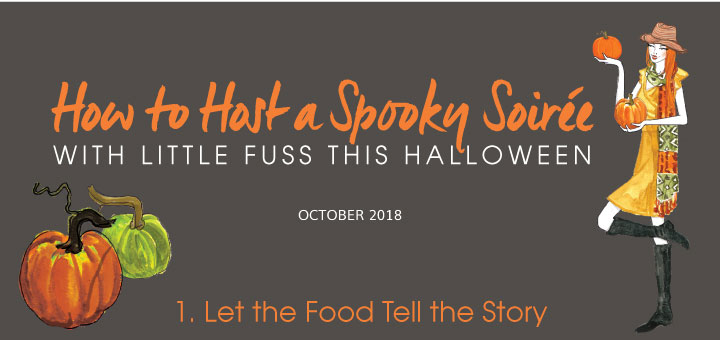 Make your table the focal point of festive expression. A themed table setting is especially helpful for an impromptu event, like cocktails and apps before an outing. Setting your table thoughtfully, with creative flair, adds to an enjoyable ambiance. A buffet style layout is easy for both host and guest. You can elevate finger foods by presenting them in fun and unexpected ways, either with impressive Halloween serveware or edible embellishments. A balance of sweet and savory preprepared foods means more variety for the guests and more time for the host to socialize--it's a party after all! We recommend whimsically decorated Halloween-themed light bites such as frosted ghost cookies and chocolate covered pretzels in shades of orange and black. Themed serveware--think monsters, witches, and spiders--and seasonal accents, like a freshly carved pumpkin, will complete the spooktacular spread.

---
2. Add Low Lighting for Atmosphere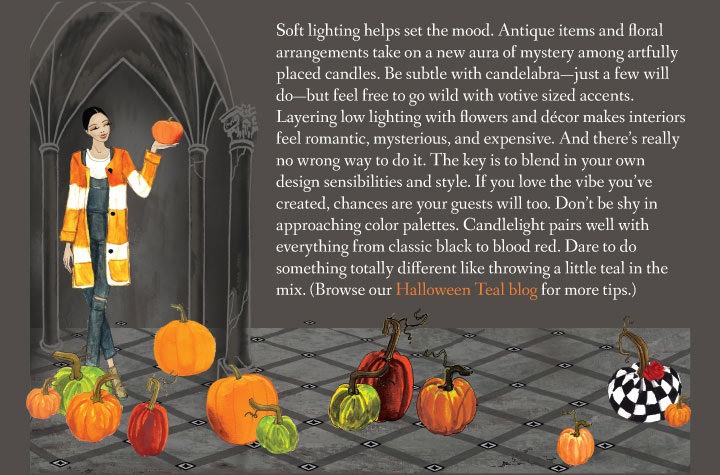 ---
3. Set Up Space to Snap a Selfie
To help disperse guests comfortably (and avoid crowding around the snack table), establish a few spaces of visual interest in strategic locations. This highlights the Halloween theme in your hosting area. There's no need to decorate the entire home. A few well placed touches of seasonal fun will draw guests near and invite impromptu photo ops. Candids with candy bowls, snaps with skeletons, wicked witch pics--anything goes! Small benches and side tables work wonders as presentation spaces for extra décor details, and ottomans and oversized cushions provide perfect spur-of-the-moment seating. Put on a haunted soundtrack and your Halloween soirée is ready for its closeup.

---
May We Recommend:
Sir Chillingham Skull & Sweets, Topaz Blooms, Trick & Treats Pumpkin, Ghostly Goodies,
Sparkled Skull Votive Set, Artful Spectacles, Spooky Vintage Bottle
Candelabra, Silvered Skull Lights, Glowing Lit Skull, Spooky Lit Sign, Wicked Lit Sign