Premium Christmas Treats for the 2021 Holiday Season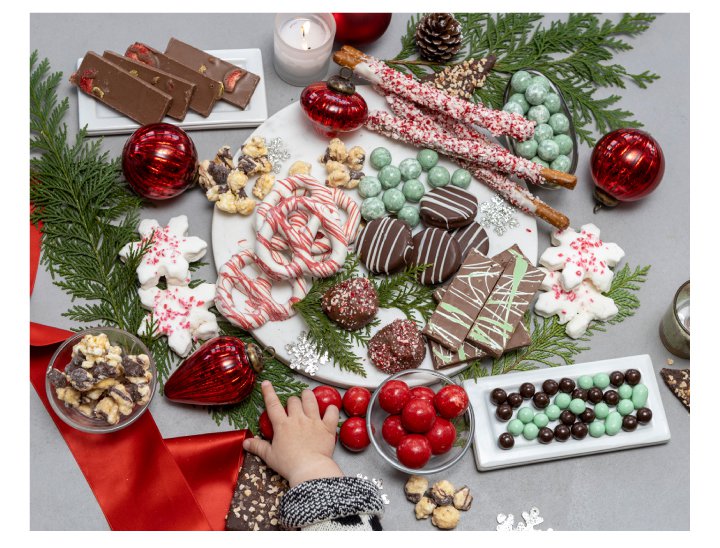 One of the best things about the holidays is having an excuse to indulge in all of your favorite snacks and goodies. Everyone loves to eat during the winter holidays, which makes giving the gift of Christmas treats the perfect choice for anyone! At Olive & Cocoa we make sure we have the perfect treat for everyone. Our Christmas Treat Boxes are the gift that keeps on giving by being filled to the brim with decadent chocolate, savory charcuterie and much more. We have a Christmas Treat to satisfy every taste.
To make holiday shopping even easier for you, we've put together a list of our favorite Christmas treats for everyone on your list this year.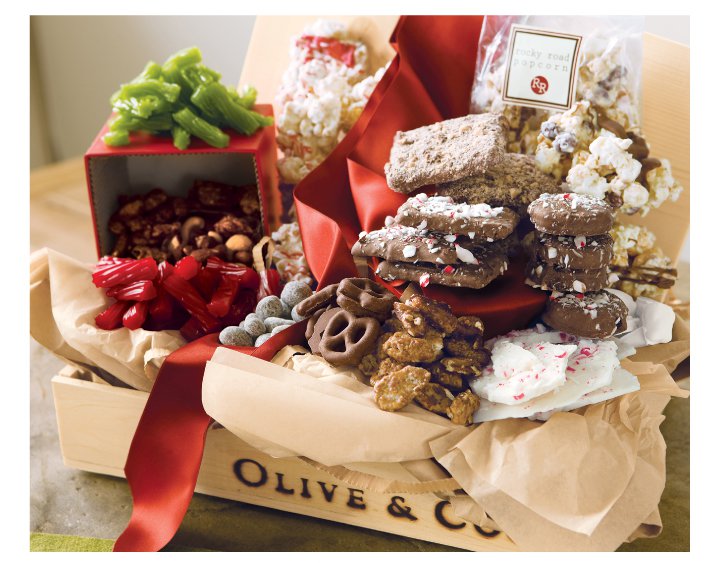 Lots of Little Holiday Goodies
Corporating Gifting
Choosing the perfect corporate gift for a client, co-worker or employers can be tricky. You want to keep it thoughtful and in good taste. Since you're not often on personal terms with most of your professional associates, we suggest sticking with classics and known favorites, such as corporate food gift baskets. Here are a few Christmas treats that made the top of our list for business gifting.
From reindeer and Santa Claus, to bright red and green, there are endless Christmas themes to work with. Rather than attempting to incorporate every one of them into your holiday and seasonal decor, thoughtfully select one or two of your favorite holiday themes to tie your home together. If you feel particularly fond of Santa Claus, display a thoughtful collection of Christmas Santa decorations in the most prominent spaces of your home, ensuring your living room, kitchen, and mantel decorations are a hot topic of discussion during any Christmas get-togethers. If reindeer are more your mode, choose a few elegant reindeer-themed pieces and pair them with holly or pine. Here are some Santa and Reindeer Christmas decoration ideas for you to really spruce up your holiday and seasonal decor.
Lots of Little Holiday Goodies
This delightful Christmas treat box is filled with a decadent collection of everyone's all-time favorite Christmas goodies! This beautifully presented gift basket includes chocolate drizzled sweets, nuts, rocky road popcorn, peppermint popcorn, toffee squares and red Aussie licorice.
Tastes for Everyone
Cover all the flavor bases with our number one selling food gift. This collection of gourmet eats has something for everyone. If chips and salsa is not their groove, no worries, this crate comes with savory cheese and artisan salami too! This is the perfect corporate food gift basket for building lasting relationships with clients, coworkers and employers!
Rise and Shine Brunch Crate
Rise and Shine with this delectable Holiday treat box is a great way to make a great impression this year. This Holiday treat box is our new brunch-themed crate! This beautifully packaged food gift comes with delicious brunch favorites to get their day started on a high note.
Treats for the Team
Your team will thoroughly enjoy sharing this collection of perfectly portioned snacks. With a balanced mixture of sweet and savory treats, this corporate food gift basket is big on flavor. Classic tastes like chocolate covered pretzels mingle with gummy bears, trail mix and more. We have that perfect treat for everyone on your team!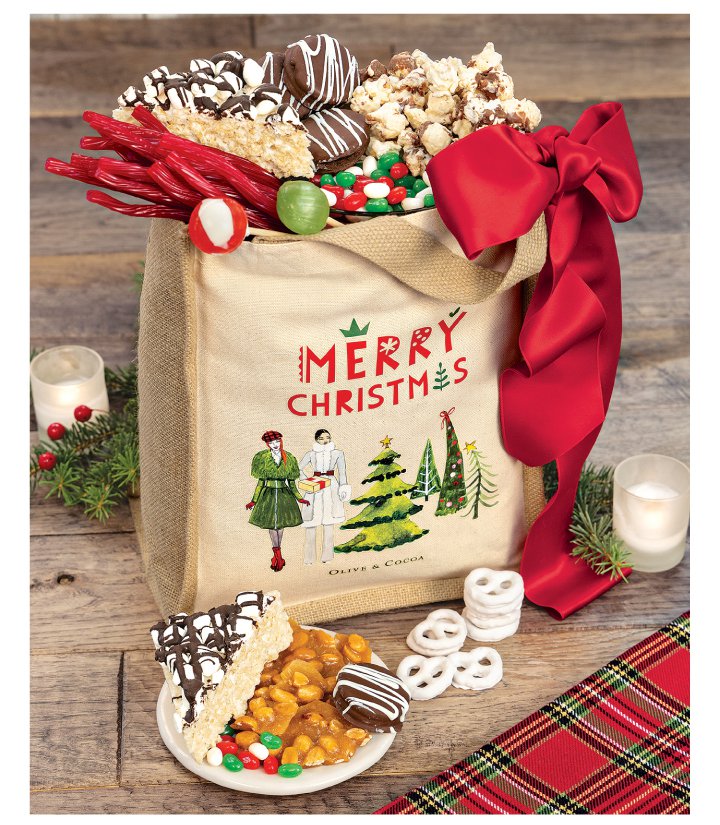 Yuletide Treats Tote
Christmas Treats For Kids
One of the loveliest things about the holidays is watching kids light up with joy. That's why it's nice to keep the kids in mind when sending holiday gifts to families. It's a thoughtful gesture that adult parents appreciate. Before you choose a gift option, be sure to ask the parents if their kids have special diets or food sensitivities. At Olive & Cocoa we have some fantastic Christmas Treats for kids that your little ones are sure to love. Here are some of our favorite picks for kid-friendly food gifts.
Chocolate Caramel Pretzel Trees
Bright and festive, these delectable treats are a favorite among kids and parents alike. Our Chocolate Caramel Pretzel Tree treat crate comes with a generous dozen (or two if you'd like) confections. Salty gourmet pretzels are dunked in white chocolate and caramel and topped with tiny icing ornaments!
Twelve Snowmen Cookies
A bright holiday hello comes with this charming collection of adorably decorated, Snowmen Cookies. A generous dozen beautifully hand frosted butter cookies smiling out at their recipient is sure to bring holiday cheer to any family this year.
Good Cheer Crate
Go for a traditional red and green themed food gift for ultimate Christmas cheer with our Good Cheer Crate! This charming collection comes with oversized marshmallows that spell out the word, 'cheer' mingled with other sweet treats that kids adore.
Yule-Tide Treats Tote
Shake up your traditional gift basket by sending holiday treats in a beautiful, reusable Yule-Tide Treats Tote. From red and green lollipops and holiday jelly beans to scrumptious rocky road popcorn, this christmas treat for kids, is bursting with Christmas joy.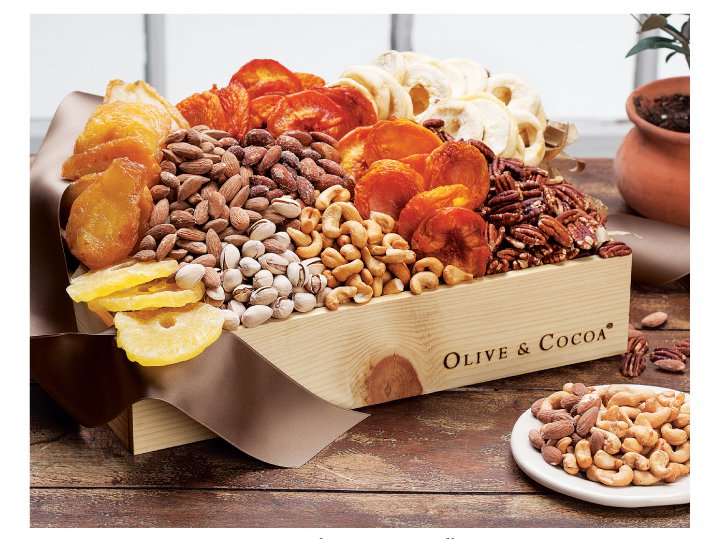 Healthy Christmas Treats
Harvest Dried Fruits & Nut Medley
We all have those health-conscious friends and family members whom we'd like to treat while still supporting their lifestyle choices. Luckily, we have the perfect gift options to satisfy their cravings without sacrificing taste with our healthy christmas treat collection. From the gluten-free friends to the loved ones on the keto plan, we have a tasty snack for everyone. Here are some healthful favorites that you can feel good about sending to your health-wise loved ones.
Reindeer Nutcracker Crate
Surprise the health nut in your life with a full pound of mixed nuts together with a festive reimagining of the traditional nutcracker as a reindeer! This tool is both fun and functional! Those who can't get enough nutty flavor will adore this thoughtful healthy christmas treat.
Sweet & Savory Gluten Free
So, you just found out that your friends have gone gluten-free. Don't panic! We have the perfect holiday gift to satisfy their taste buds without upsetting their tummies with our delicious Sweet & Savory Gluten Free Holiday Treat Box. All their favorite indulgences from popcorn to cookies come 100% gluten free in this tasty collection.
Harvest Dried Fruit & Nut Medley
Harvest the goodness with this elegant and healthful medley of the finest dried fruits and nuts medley that mother nature has to offer. Dried pears, nectarines and apples come together with salty pistachios, almonds and buttery cashews among other tasty fruits and nuts.
Keto On The Go
Sending a gift to a friend or relative who's currently on the keto diet plan, and you have no clue how to be keto friendly? Don't worry, we have the perfect gift with our Keto On The Go Tote, filled with delicious snacks that's guaranteed to fit their lifestyle too. From smoky gouda to chocolate and turkey jerky, this collection is sure to satisfy their keto cravings.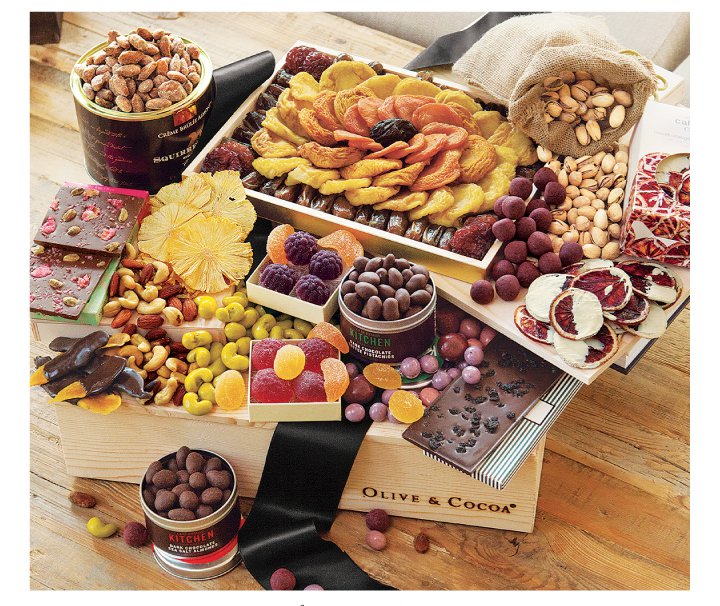 Pacifica Gourmet Crate
Pacifica Gourmet Crate
When you want to send a holiday treat box that makes an extra special impression, look no further than these exquisite curations from Olive & Cocoa. From the cheesemonger to the chocolate aficionado to those who simply have a sophisticated palate, these hand selected gourmet bites are sure to delight.
Gourmet Cheese Tasting
Treat them to a very merry cheese tasting this holiday season with our delectable Gourmet Cheese Tasting Crate. Crunchy and sweet accoutrements accompany four gourmet Beehive cheese wedges in fascinating flavors. This collection also comes with a beautiful cheese board and knife.
Pacifica Gourmet Crate
Send them a taste of the pacific sunshine in the middle of winter with our Pacifica Gourmet Crate. This exquisite curation brings together the best in dried exotic fruits, candy dunked nuts, and fine gourmet chocolate for a flavor experience like no other.
Bountiful Harvest Crate
Forget the figgy pudding, bring them a bounty of flavor instead with our Bountiful Harvest Crate. This curation is where delicate dried fruits and assorted nuts meet classic jerky, cheese, and crunchy munchies. Fine olives and prosciutto mingle with dried apricots and figs and so many more delicious flavors to experience.
Grande Charcuterie
Dreaming of a savory Christmas? This epicurean collection of perfectly balanced savory indulgences is a dream come true. Our Grande Charcuterie comes with a handcrafted cutting board and wooden spreaders are accompanied by a full spread of rich cheeses, meats, herb crisps, olives, gourmet spreads and more.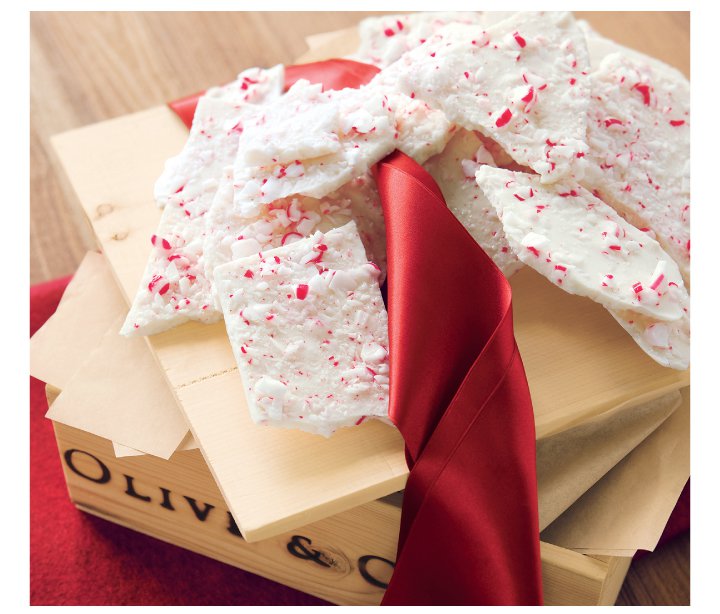 Snowy Peppermint Bark
Christmas shopping on a budget this year? Don't worry, we've got you covered. You can still send beautifully presented gourmet Christmas treats to everyone on your list when you order food gift crates from Olive & Cocoa. Here are some of our favorite economically-friendly Christmas treats that are sure to make a great impression on friends and loved ones this Christmas.
Rocky Road Popcorn
Make their holiday treats merry and bright with a full pound of chocolate and marshmallow-drizzled popcorn and almonds. Creamy and sinfully rich, our Rocky Road Popcorn is a classic Christmas treat and favorite among many. Beautifully packaged in a wood crate or tote.
English Toffee
Send the ultimate holiday indulgence! A full pound of buttery English Toffee covered in milk chocolate and sprinkled with a dusting of delicately chopped almonds arrives beautifully packaged in a reusable wood crate or tote.
Snowy Peppermint Bark
Nothing brings the Christmas spirit quite like Snowy Peppermint Bark! Give the gift of smooth white chocolate sprinkled with crushed peppermint candies. A full pound of this delightful confection means there will be plenty to pass around.
Grande Charcuterie
Dreaming of a savory Christmas? This epicurean collection of perfectly balanced savory indulgences is a dream come true. Our Grande Charcuterie comes with a handcrafted cutting board and wooden spreaders are accompanied by a full spread of rich cheeses, meats, herb crisps, olives, gourmet spreads and more.

Olive & Cocoa is here for all of your holiday needs
When thoughtfully curated, food items can be a thoughtful and comforting gift to give during the holidays. Christmas treats and Holiday Treats make great gifts for everyone on your list. From professional associates to close friends and family members, we have delicious and meaningful food gifts that are sure to make their holiday merry and bright.
Each of our Holiday Treats are beautifully packaged and delivered with the utmost care. Send a Christmas treat to your loved ones with Holiday season and rest assured with Olive & Cocoas 100% Satisfaction Guarantee.