The Perfect Snack for any Busy Bee:
Rosemary and Honey Cheese Ball
Leisurely visits over an indulgent snack are perfection! We adore this wonderfully balanced-and easy-to-make-Sweet Rosemary Cheese Ball, which pairs fresh rosemary, piquant chèvre and honey.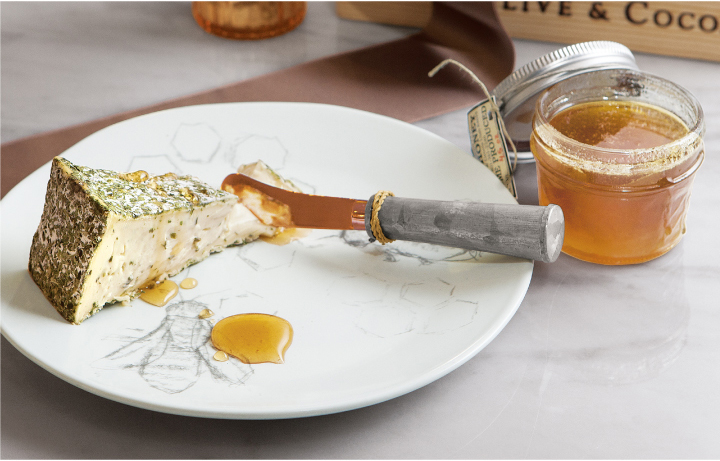 Serving suggestions:
• To make gatherings more festive, serve this cheese ball on our Happy Hive Appetizer Plate Set, which is paired with a copper-handled spreader and jar of raw honey.

• Hosting Happy Hour? This recipe pairs beautifully with a lighter-bodied pinot noir. We can't resist serving, swirling and sipping out of these whimsical wine glasses.

Ingredients: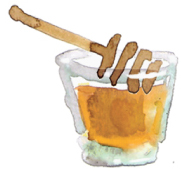 1 cup shredded parmesan cheese
10 ounces chèvre (goat cheese) at room temperature
6 ounces cream cheese at room temperature
1 ½ tablespoons of honey-our raw honey is perfect
1 tablespoon fresh rosemary-chop finely
½ of a ripe pear-diced
¾ cup of slivered almonds
Optional: 2 teaspoons coarse, freshly ground black pepper

Directions:
1. Combine softened cheeses, pear, honey and 1 tablespoon of nuts and mix. If adding pepper, do so while mixing.
2. Form mixture into a ball.
3. Roll ball in remaining almonds or sprinkle them on.
4. Place in refrigerator for two hours; if company is arriving soon, place in freezer for 30-45 minutes.
5. If desired, lightly drizzle with additional honey before serving for additional panache and sweetness.
6. Enjoy!
Enjoy!