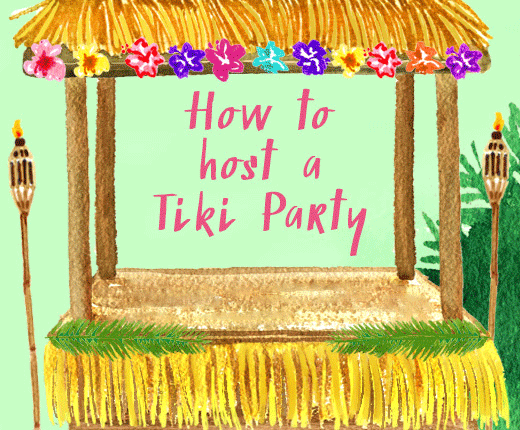 Welcome those warm summer nights by turning your home into the perfect island getaway! Take inspiration from tropical flora and fauna and modern tiki culture to create the perfect atmosphere for sipping on colorful, inventive cocktails.

Select the Sounds
Create an island atmosphere with sound! Keep it mellow with nature sounds of bird calls and ocean waves, introduce global culture with Polynesian exotics, or amp up the party with tribal drum or Bossa Nova soundtracks.
Concoct the Menu
No tiki party is complete without inventive finger foods, so challenge yourself by exploring Asian fusion flavors or working fruits and seafood into the equation. Keep it simple with grilled pineapple and watermelon kabobs, or get fancy with coconut curry fried rice and fish with fresh tropical salsa.
Choose the Cocktails
From the white rum, coconut cream, and pineapple juice of piña coladas to the golden rum, lime, orange, and orgeat syrup blend which comprises the Mai Tai, make sure to have your ingredients on hand to create tasty concoctions everyone will love. And don't forget your tiki glasses!
Dress It Up
Play host by donning your hula skirts, straw hats, and Hawaiian shirts--then surprise your guests by welcoming them with a floral lei!
Decorate
The secret to tiki parties is that presentation is absolutely everything, so take your time on the details. Tiki torches, bamboo fences, miniature umbrellas, and tropical flowers are just some of the many ways to transport your guests to an exotic locale.