Without your clients and employees your business couldn't grow. For this reason, it's important that they feel appreciated so they want to keep doing business with and for you. Aside from providing great service and products for your clients, and a positive work environment for your employees year round, sending an impressive business gift for the holidays will let them know just how important they are to the success of your business.
Are you unsure of where to start? Read our recommendations below for a few key points and gift ideas to keep in mind when shopping for holiday gifts for customers and employees this holiday season. Looking for more specific inspiration? Check out Olive and Cocoa's business gifting guide for specific examples of business gifting occasions and suggested items.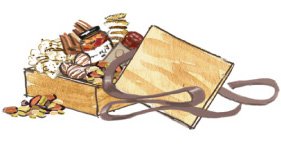 FOOD IS A GREAT OPTION
A bottle of wine is a great holiday business gift, but only if you know the recipient likes wine. The point is, when you're sending holiday gifts to a large list of people, you want to be sure the gifts you send are universally enjoyable. A holiday business gift basket filled with a variety of snacks and treats is likely to be well-received. Here are a few holiday favorites for business gifting.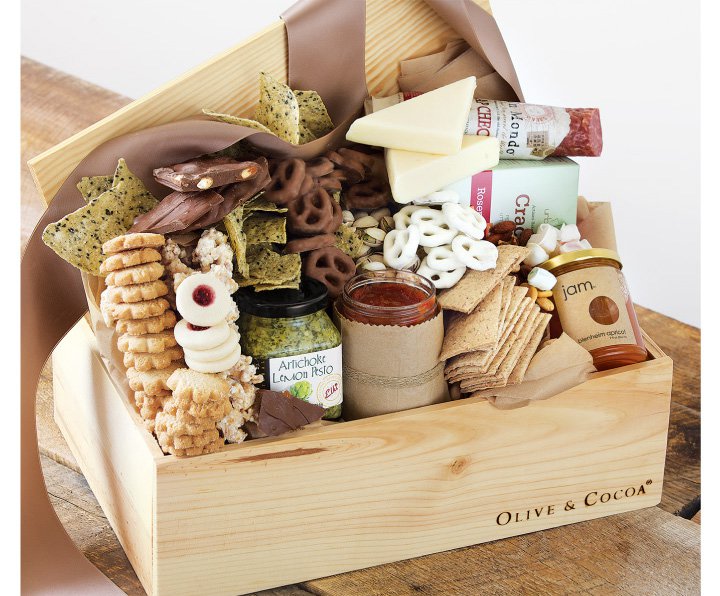 Tastes for Everyone
Tastes for Everyone comes in three sizes, featuring cheeses and crackers to nuts, spicy salsa, and a bit of chocolate, gift wrapped in a hand crafted wood crate with ribbon. Something for everyone! From crackers and cheeses, nuts, spicy salsa, and a bit of chocolate (of course), everyone is sure to find a favorite snack to munch. Tastes for Everyone is truly a gift of good taste.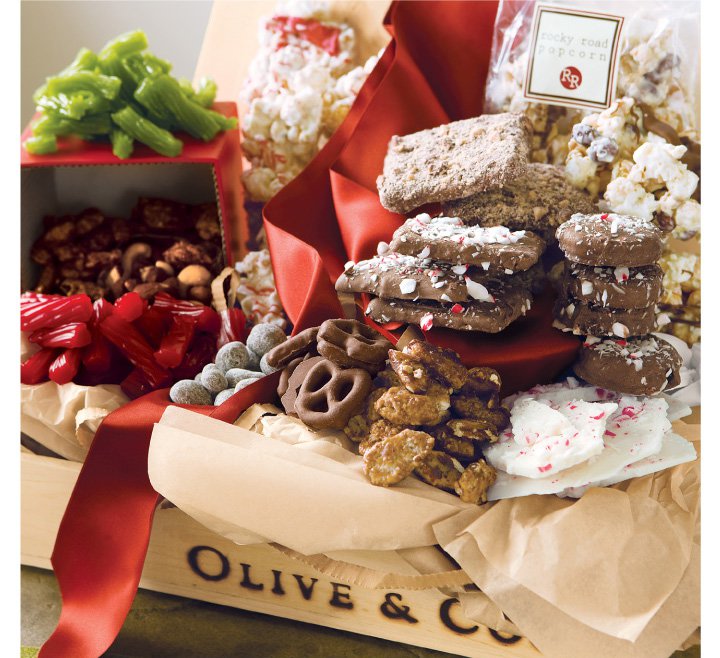 Lots of Little Holiday Goodies
Brimming with all the holiday favorites including white chocolate peppermint popcorn, chocolate covered toffee squares, and dusted toffee almonds--just to name a few! This festive food crate is sure to delight. Lots of Little Holiday Goodies comes gift-wrapped in a hand crafted wood crate with ribbon.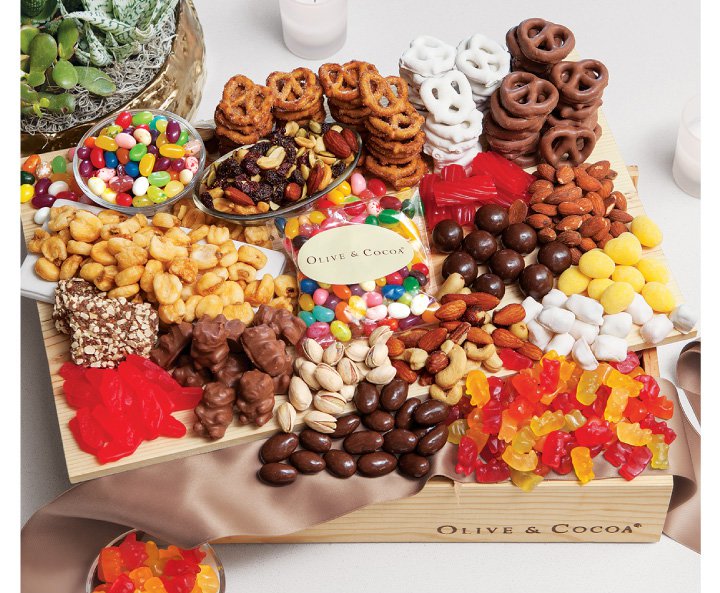 Treats For The Team
Thoughtfully hand curated to satisfy all, sweet, savory, and hearty treats have been scaled into sizes for nearly any team. Perfectly portioned for every employee, Treats For The Team delivers a hand-picked assortment of bite-sized treats, scaled for every team imaginable. Available in three sizes to fit each team appropriately, this collection of salty and sweet, chocolatey and sugary makes the perfect holiday business gift for everyone on your list.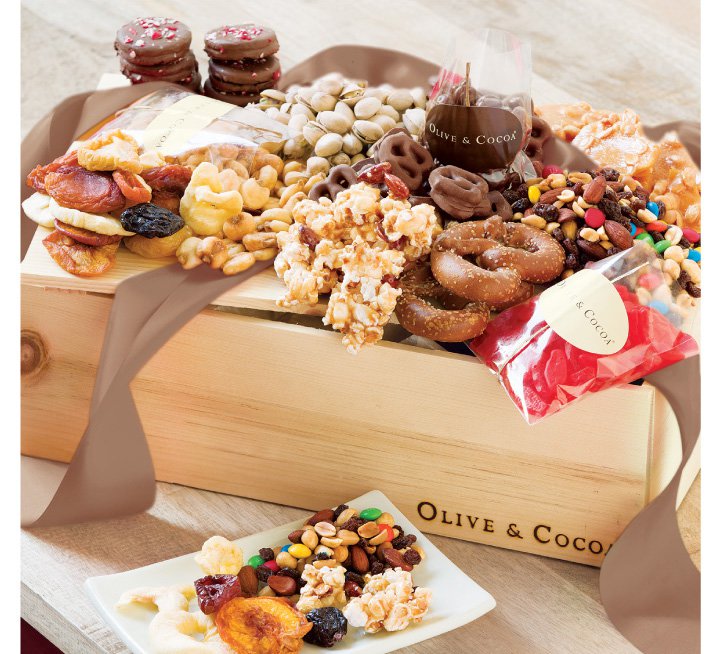 Savory, Salty & Sweet
When you can't decide whether to send them something sweet or something savory, the Savory, Salty & Sweet crate is the winning choice! From salty popcorn to delectable peanut brittle and Swedish fish, everyone is sure to find something inside to enjoy.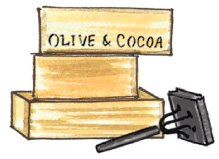 CUSTOM HOT-IRON BRANDING
With all the businesses out there competing for consumers' attention, it's more important than ever to send a holiday business gift that leaves a lasting impression. You want your clients and employees to think of you and your business long after the treats have been devoured. That's exactly why we offer custom hot-iron branding on all the gift crates you send out. Your company logo is beautifully branded on a wood crate that many people find to be very useful around the home or office after the holiday business gift has been unboxed and enjoyed. Connect with us today to set up your own custom logo hot iron brand! 800.538.5404 or [email protected]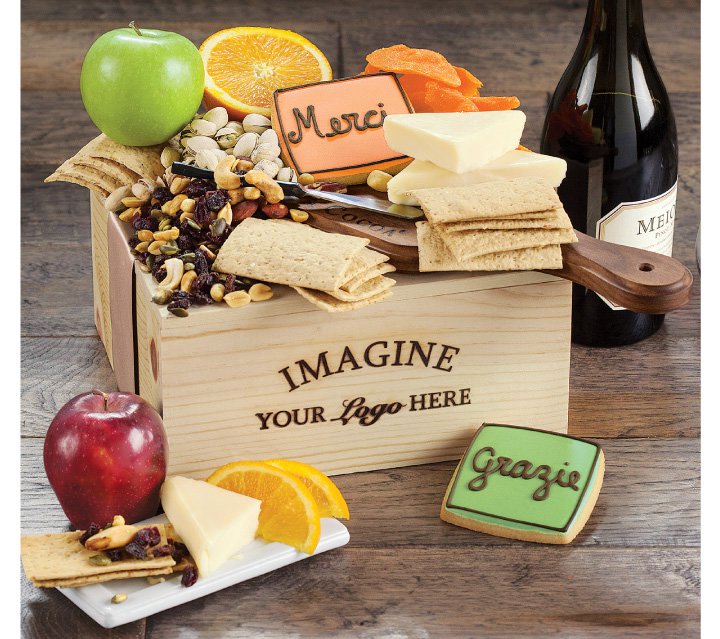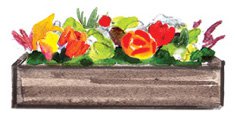 FLOWER GIFT ARRANGEMENTS
If you're unsure of your client or employees' diet preferences, it's sometimes safest to think beyond the snack when sending a business gift for the holidays. A bright arrangement of fresh cut flowers is always well received, making it a great alternative to food gifts. Here are a few of our favorite floral arrangements for business gifting that will make the office (or home office) bloom with color and life.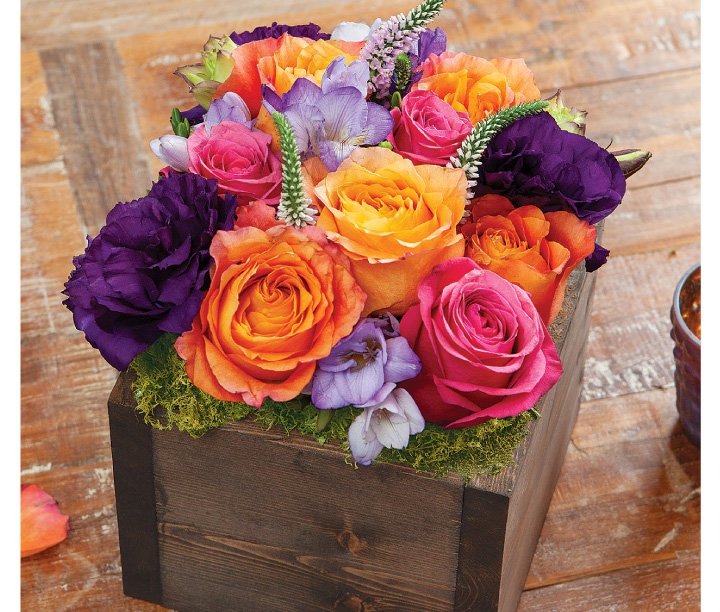 SWEET PETITE FLEUR
With blossoms that are arranged and presented in a unique array of pink and purple hues, Sweet Petite Fleur is the perfect set of flowers for your holiday business gift this season. Sweet Petite Fleur an elegant arrangement of flowers that anyone would be happy to display.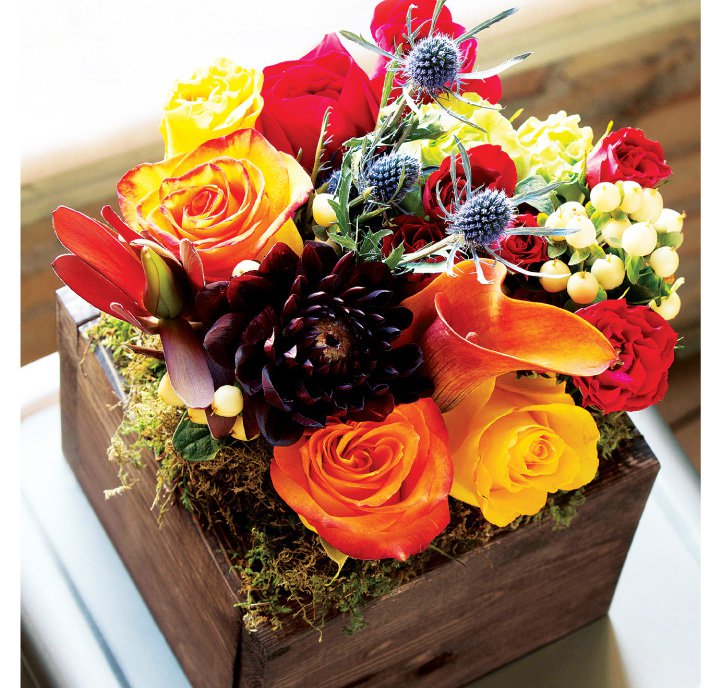 Farmhouse Fleur
Expertly arranged blooms in vivid goldens, auburn, chartreuse and rouge pop out from a texture of foliage and berries. Fresh from the farm, this collection of deep reds, oranges, and sprinkles of bright, sunny yellow is a charming favorite among many. Farmhouse Fleur is beautifully understated and makes an elegant holiday business gift choice, sure to deliver a bright smile.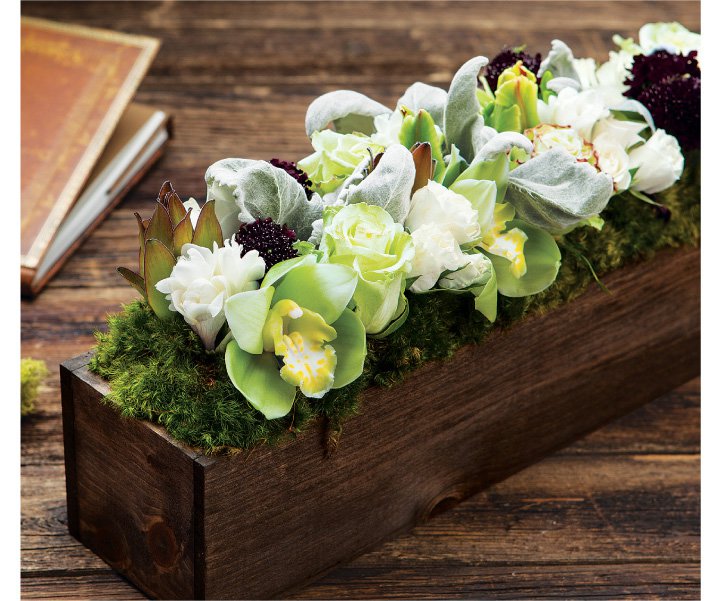 Bianca Grace
Bianca Grace floral arrangement is a simple gathering of delicate white flowers accented with deep eggplant, vivid chartreuse, and soft silver. This arrangement is a graceful gathering of tender white flowers with accents of deep eggplant, silver, and chartreuse in a wood trough. Bianca Grace is the embodiment of festive elegance and winter charm.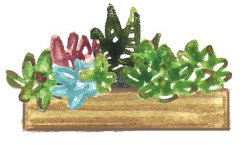 SUCCULENTS
For the last few years, succulents have been making big noise in the gifting industry, and for good reason. These hardy plants are easy to care for and can last for a long time. In addition to being a great alternative to food gifts, a nice succulent garden can be enjoyed as a decoration in the home or office for years to come. Here are a few of our favorite succulent gifts.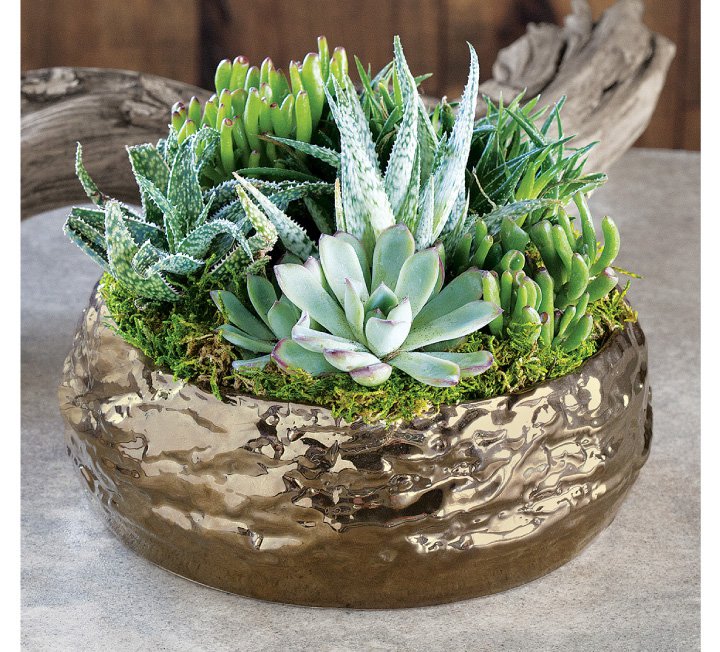 Gilded Succulent Potager
Within a gilded gold-toned metallic ceramic vessel, a variety of exotic succulent plants creates an elegant and easy to care for accent. A garden of lush succulents nestled in a gold toned potager makes a truly dazzling business gift for the holidays. Succulents are hardy, easy to care for plants that can be enjoyed for years. This Gilded Succulent Potager makes the perfect addition to any home office.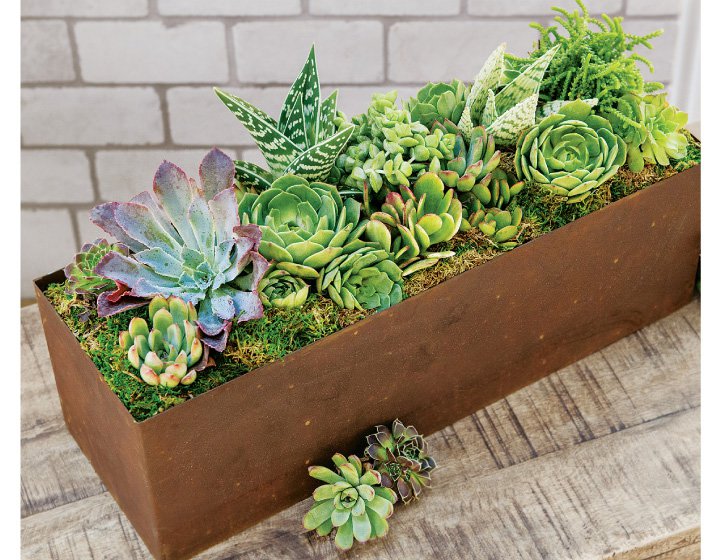 Succulent Garden
Measuring approximately 18" x 6" x 10", easy-to-care-for succulents are a wonderful way to incorporate greenery into any surrounding. Making an even bigger statement, the Succulent Garden is packed with loads of lush succulent plants contrasting with a rustic metal trough for a classic look your clients and employees will love to show off.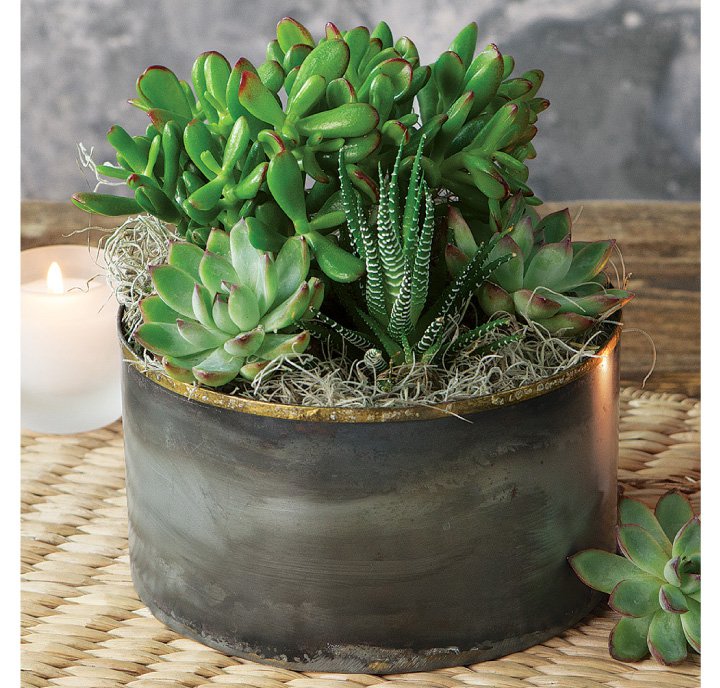 Zen Succulent Garden
Arranged in a distressed metallic potager, Zen Garden Succulent measures approximately 7 ¼" in diameter and 11" tall. A gathering of lush succulents sprouting from a unique potager made from distressed metal gives one the feeling of calm and serenity. The Succulent Zen Garden brings a bit of calm to home, work, or the outdoors.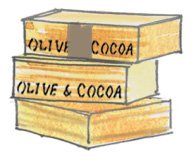 Whether you choose to send a crate of gourmet treats, or botanicals, a beautiful business holiday gift from Olive & Cocoa is sure to make your clients, colleagues, and employees feel deeply appreciated. If you're thanking a business associate for their contribution to a project, wishing a client the best of luck in a new venture, or just sending holiday greetings, you're sure to find the perfect holiday gifts for customers and employees from our wide range of classic holiday business gifts. Come explore the latest in our wide range of personalized holiday business gifts for this holiday season.
If you have any questions about our holiday business gifts or any of our other products, contact us today.