Why Paris is the City of Love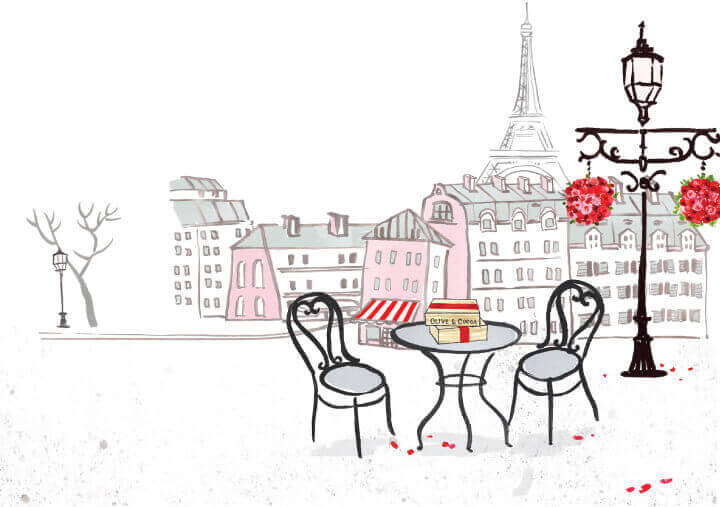 A Closer Look Reveals 3 Ties That Bind Paris and Romance
Many cities are rich in romantic features. However, the language, gourmet cuisine, and landmarks preserved through romantic traditions perfectly combine for love stories only Paris can tell.
1. Language
With "je t'aime" echoing through shops and streets, it's not hard to catch the Parisian spirit of expressing love! "Français" is the most translated language for phrases stating love and affection in part thanks to a community of writers, lyricists and artists that have gathered in Paris since the 4th century. French music, art and romantic cultural traditions have influenced almost every other language when it comes to "l'amour". Paris has been the haven for poets with reputations for beautiful, flowery lyrics and the play between consonants and vowels that's like music off the tongue. Naturally, phrases of affection such as "mon chérie" (my dear) or "avec amour" (with love) would return with writers to their homelands after a creative pilgrimage to Paris. It all began with Paris, where the language of love spoken in the city of love is a match found nowhere else.
2. Gourmet Cuisine
As the saying goes, the quickest way to a person's heart is through their stomach. Since Paris is world renowned for its scores of "délicieux" fare, a good amount of the romance generated from Paris is in the air. From gourmet restaurants to food carts on the cobblestone streets, chefs who believe food is as vital as love prepare delights expressing their passion-especially for those with a sweet tooth. As an homage to these chefs' confectionery treasures, our Trés Bon Confiserie brims with carefully crafted treats reminding of those found in the candy shops or "pâtisseries" all over Paris. "Bon appetite!"
3. Landmarks Preserved Through Romantic Traditions
Long-standing and new traditions of love have immortalized many Parisian landmarks, weaving romance into the framework and making this entire city a haven for deeply enamored couples. The following are our most memorable monuments, where couples "pique-nique", "proposer", and share "un toast" to their joined future:
"Le Pont Des Arts" or The Bridge of Arts
The famous bridge where couples vow their undying love. Visitors will see couples standing close and looking out onto the Seine river, dreaming together. Though the lock tradition has been retired, you can keep it alive with the turn of a key on a special moment-that can be re-lived each time you glimpse our Parisian Love Lock! Place the lock on a chest of keepsakes, or next to a portrait of you with your "partenaire," and its antiqued cast iron will faithfully guard your devotion forever.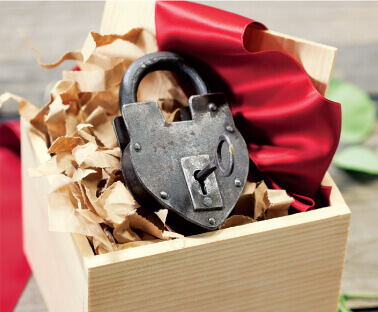 The Eiffel Tower
An ever-impressive tribute to the mood that romantic lighting can ignite, The Eiffel Tower is the beacon where couples go not only to propose a life together but to gaze upon the sea of lights that envelop Paris after dark. Our Bonjour & Bonne Nuit Pillow Set embodies the mystique of an evening stroll in Paris, contrasted with the magic of the lively city in daylight. This exquisite pillow set will take your heart back to the romantic city.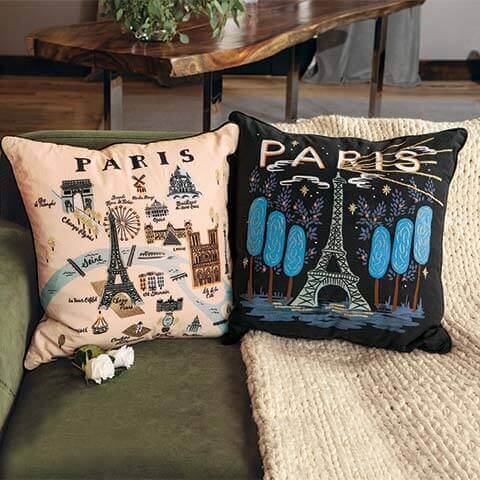 "Le Mur des je t'aime" or I Love You: The Wall
Our final example of Paris' romantic architectural tradition was designed by artists Frédéric Baron and Claire Kito, and has the world's most beautiful sentence, "I love you," immortalized in 250 different languages. Gazing at the beautiful scripts along this brilliantly blue mosaic proves that the architects and artists of Paris go to great lengths to ensure landmarks are built and preserved to cultivate meeting places for lovers.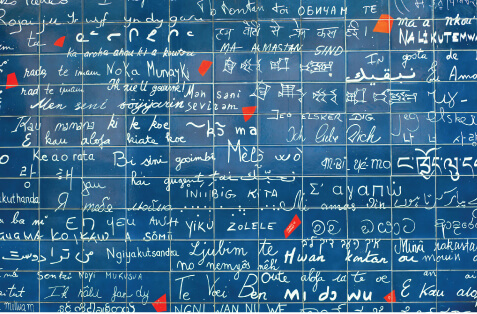 Whether admiring some romantic Parisian sensibilities at home, reminiscing about your time in Paris or planning a trip this Valentine's Day, there's no doubt that Paris and love will forever be related.
More of Our Parisian Inspired Products!
MAY WE RECOMMEND