Hot, Spiced & Spiked:
Boozy Apple Cider
As the weather becomes chilly, and perhaps, a flurry of snowflakes starts to fall, a steaming cup of spiced apple cider is our favorite way to stay warm. Here, the addition of white wine turns a nostalgic childhood sip into an adult-appropriate libation. This recipe is easy to double (or even triple!) making it a great option for fall gatherings and holiday parties. Be sure to use quality fresh apple cider for the best results! We suggest serving in our Hammered Copper Mugs.


Ingredients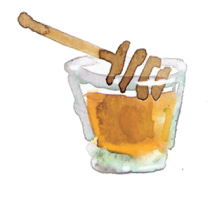 1 gallon apple cider
3/4 cup dry white wine (such as Pinot Grigio)
1/4 cup honey
One sprig rosemary
Two cinnamon sticks
4 cloves
1 star anise
1/2 teaspoon grated lemon zest
Directions
Combine the cider, wine, honey, rosemary, cinnamon, cloves, star anise, and lemon zest in a large saucepan and simmer over low heat for about 45 minutes, making sure not to bring to a boil. Strain the mulled cider and discard the solids. Serve the cider warm. If you want to make ahead, you can refrigerate the cider overnight and reheat when serving the next day.
Cheers!