Birthdays are a great time for us to let friends and loved ones know just how happy we are to have them in our lives. Sending them a unique gift that holds special meaning for them, wrapped with care and sent with a personalized message is a classic way to make someone feel special on their birthday. Whether you're sending a gift to your foodie friend, or the fashionista extraordinaire, we have the perfect gift idea to celebrate your loved one's one-of-a-kind personality.

THE FOODIE
We all have a friend who loves diving into good food. For the foodie, a crate full of sweet treats or savory goodness is sure to delight. Here are a few of our favorite birthday treat crates.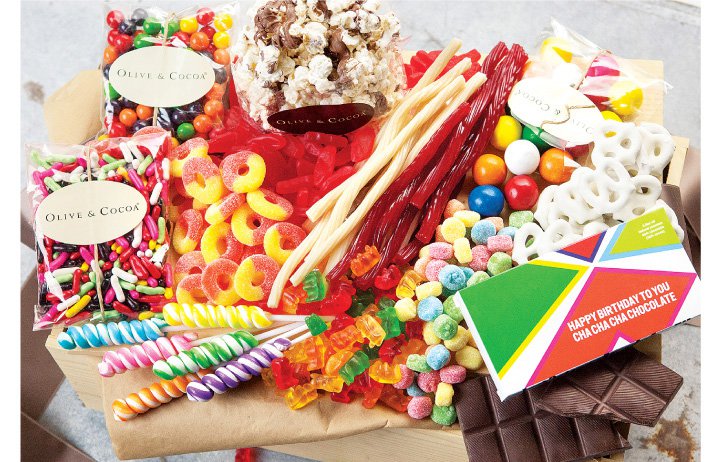 Sweet birthday wishes abound in a crate brimming with goodies! Perfect for the indulgent foodie, Tastes for everyone includes red and white licorice twists, mini jawbreakers, rocky road popcorn, licorice pastels, Swedish fish, peach rings, and three twirly lollipops.

Sweet Birthday Goodies
Brimming with colorful sweets, this gift basket will bring about happy memories from childhood birthday parties! From licorice twists and chocolates to gummy bears and nostalgic twisty pops, everyone is sure to find their favorite treat inside.
Heart Windowpane Cookies
Show your love with a crate of two dozen raspberry filled heart-shaped cookies! This homespun delight comes with a dust of sugar just like grandma used to make! Your confectionary-loving friends will surely feel the warmth of your heart when they unbox this thoughtful birthday gift.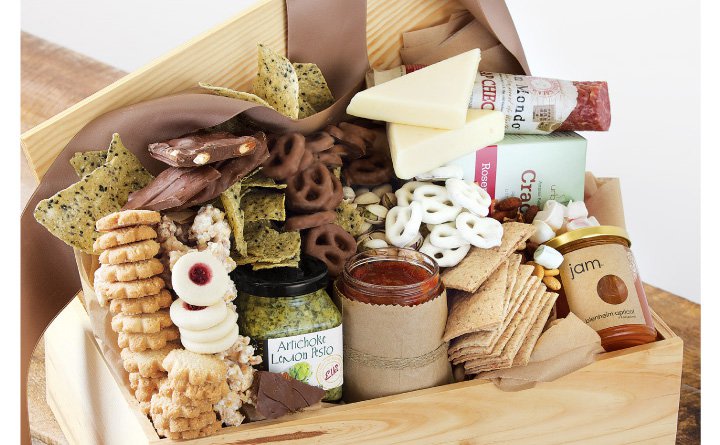 From cheeses and crackers to nuts, spicy salsa, and a bit of chocolate, everyone is sure to find a favorite treat to devour.
Tastes for Everyone
From gourmet cheese and crispy crackers to spicy salsa and a few sweet treats as well, this crate has got something for every taste! A collection of goodies that's perfect for birthday get-togethers or to devour alone!

THE PROUD PLANT PARENT
People who love house plants are sure to welcome a delivery of elegant botanicals on their birthday. Here are our favorite plant gifts for those who can't get enough of nature's greens.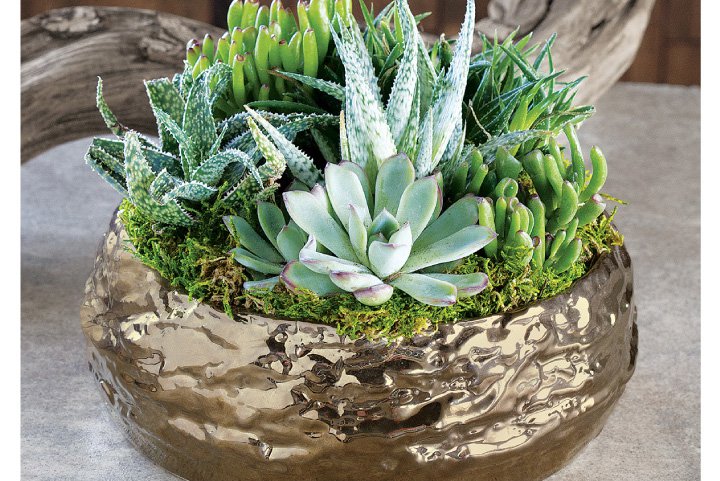 Within a gilded gold-toned metallic ceramic vessel, a variety of exotic succulent plants creates an elegant and easy to care for accent.
Gilded Succulent Potager
What plant lover wouldn't be absolutely delighted to receive an elegant succulent garden in a gold toned potager? This gift is the perfect way to tell your friend they're golden!
Birch Wrapped Heart Succulent
For the green loving friend with a mighty heart, send a gathering of hardy succulents in a natural birch heart-shaped planter. Then watch as the love between you grows.
Zen Garden Succulent
Namaste. Give them an oasis of simplistic beauty. This array of wondrously balanced succulents and moss peek out from a distressed metallic potager, to bring a little calm to your friend's home, office or outdoor space.

THE FLOWER CHILD
A bunch of pretty petals tells someone just how lovely you think they are. Each floral arrangement from Olive & Cocoa is uniquely designed so the one you send flowers to is sure to get a one-of-a-kind gift. Here are a few of our favorite floral gifts.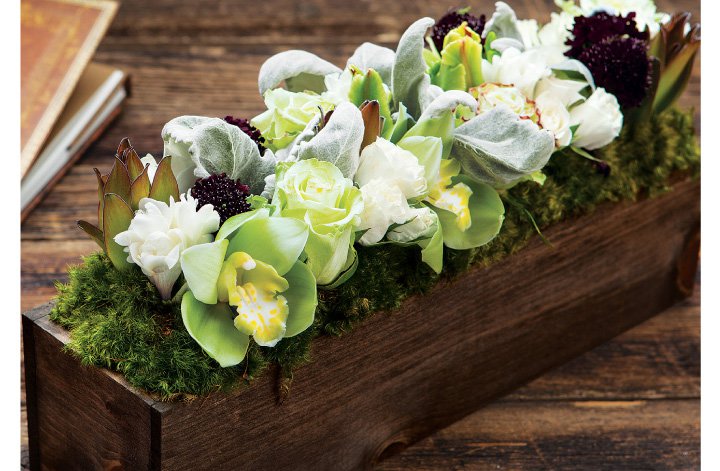 Bianca Grace floral arrangement is a simple gathering of delicate white flowers accented with deep eggplant, vivid chartreuse, and soft silver.
A simple gathering of white blossoms accentuated with deep eggplant, passionate chartreuse and subtle silver, this graceful floral gift evokes a feeling of peace and serenity.
Make their birthday bright and sunny with a gathering of farm fresh florals. Expertly arranged blooms in vivid goldens, auburn, chartreuse and rouge pop out from a texture of foliage and berries.
Make a dramatic entrance with this intriguing blend of vivid color! Sweet peach, amethyst, emerald, and hot, hot pink will make this birthday flower delivery one to remember!

SPA AND WELLNESS GURU
For the friend who loves to be pampered, an at-home spa crate will surely excite them. Here are some of our favorite spa gifts to add a little zen to your friend's special day.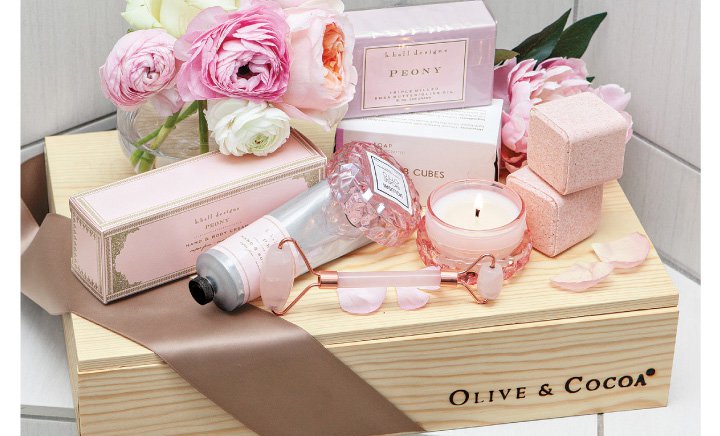 Nothing will make her blush like the scent of peony! This luxurious spa comes with everything she needs for a satisfying spa experience right at home. She'll enjoy a peony bath bomb, skin cream, shea butter soap, rose scented candle, and a rose quartz face massager. The perfect gift for her personality.
Revitalize her senses with the rejuvenating benefits of citrus. A refreshing assortment of citrus-scented bath accessories, vetiver exfoliating pouch, fun lemon scented candle, soothing hand cream, fragrant spritz, and sweet lemon drops, makes this home spa experience simply delightful.
Treat them to the calming effects of lavender. This gift basket comes with artisan soap, lavender scented candle, home-style crochet washcloth, tub tea and body cream.

THE FASHIONISTA
She's no ordinary lady, and her style is just as unique. For the woman of good taste, send a gift of extraordinary fashion. Here are a few of our favorite gifts for the fashionista.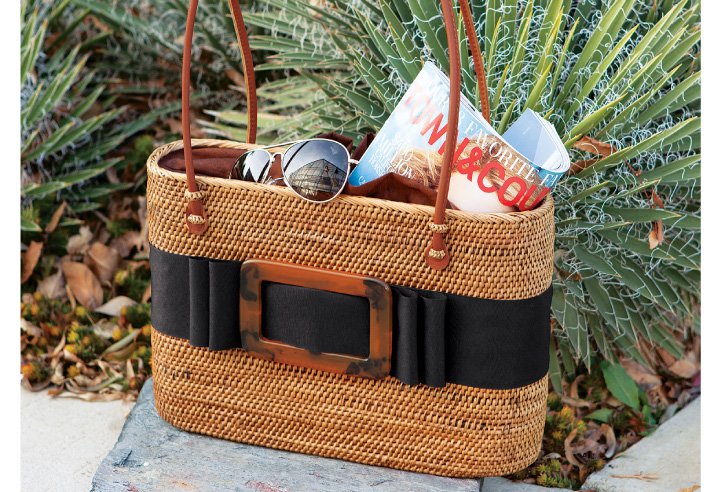 Crafted of wicker and wrapped in a wide black ribbon with a tortoise shell buckle on front, our handbag will have onlookers wondering if she's on her way to a gala or brunch al fresco.
A nod to the pinnacle of grace and perfection, this handbag will make any woman feel like royalty. This stylish bag is crafted from wicker, adorned with a black ribbon and finished with a tortoise shell buckle.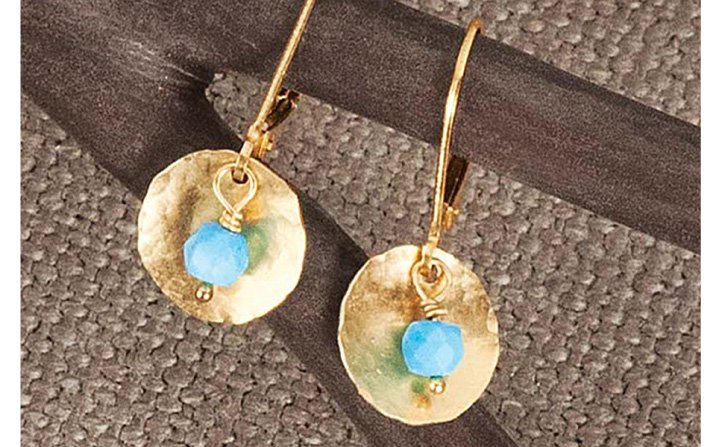 Glimmering gold paired with natural turquoise exudes an aura of elegance.
What fashionista doesn't love to wrap up in luxurious cashmere? Soft, lightweight, and available in a variety of gorgeous hues, this poncho is the perfect fashion accessory for any season.
To congratulate a casual acquaintance, client, or friend-of-a-friend on their marriage, gifts for the home are customary. But before running out the door to buy a toaster, take a peek at these options for practical, yet elegant, gifts couples can use to entertain houseguests.

THE FREE-SPIRIT
Excite their adventurous side with a gift of imagination. Here are some of our favorite gifts to surprise your free-spirited friend on their birthday.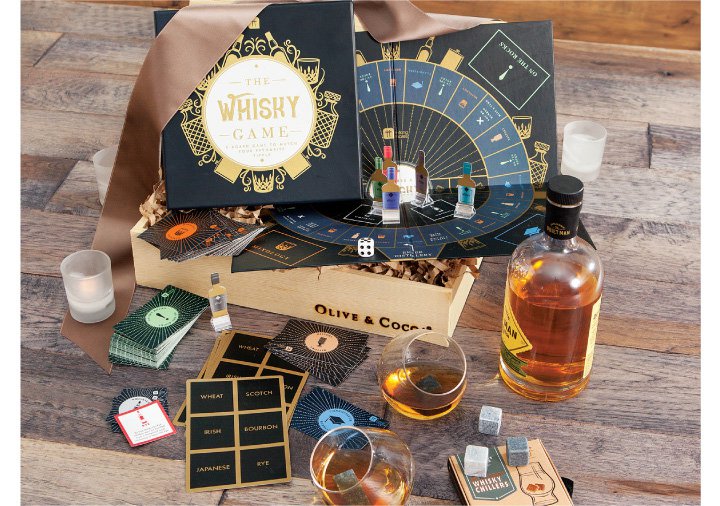 Raise a glass to the most fun game night in town: The Whisky Game with friends.
Raise a glass to game night! Game loving friends will enjoy sipping on their favorite spirit while playing this nostalgic whisky game. This game set also comes with a pair of "tipsy" whiskey glasses and six chilling stones.
Every adventurer needs a signature hat! This handsomely rugged hat is made from durable waxed cotton canvas and features a bendable 3 inch brim for maximum shade, a sweatband, and leather chin strap.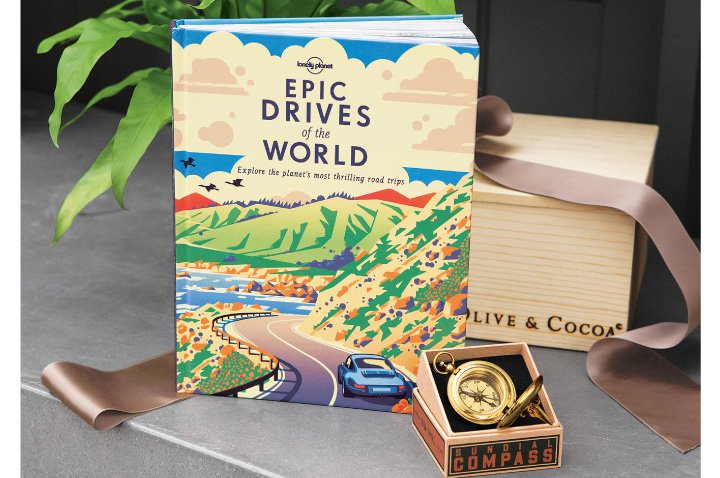 "Epic Drives of the World" highlights 50 epic road trips across 6 continents!
Adventure is calling! From the Kalahari to majestic Iceland, this book highlights fifty of the most breath-taking road trips in the world. For those who like to take the road less traveled, this book comes with a vintage style magnetic brass sundial and compass.

A beautiful gift from Olive & Cocoa is an extraordinary way to let your friends and loved ones know that you're thinking of them on their birthday. Shop for all personality types and find the best birthday gift picked just for them.